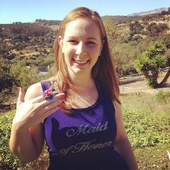 Services for Real Estate Pros
Tanya Knowles
Tanya Knowles
San Leandro, CA

—

SoldsandStats.com
Keeping you in touch with your sphere of influence.
Get to know Tanya Knowles
I can help you keep in touch with your entire sphere of incfluence, and help you increase your referral and repeat business. I specialize in Content Marketing that will make your clients keep coming back until they use a lead generator.
No matter what systems you currently use, I can help you set-up an automatic recurring e-mail campaign to keep in touch with all of your clients. Everything from exporting clients from a variety of e-mail and contact management databases to interpreting statistics.
I've been helping agents take advantace of technology to increase their business for 5 years. I can help you determine your goals, implement new techniques and systems to increase your productivity, and make technology work for you.
Check out our Demo Pages -
Monthly Newsletter Content - www.soldsandstats.com/demo
Don't lose your clients to another agent, just because you couldn't think of something to send them. I can help you setup a year long e-mail campaign that runs automatically, which will only take you about 1 hour with my help, and you never have to think about it again!
Tanya Knowles's Blog Posts
Real Estate General Information
–

almost 7 years ago
Real Estate Market Trends
–

almost 7 years ago
Real Estate Technology & Tools
–

almost 7 years ago
Real Estate Technology & Tools
–

over 1 year ago
Skills
MailChimp E-mail Campaigns
IDX Broker
Diverse Solutions
RealBird
CRMLS Matrix
Rappatoni
FlexMLS
Wolfnet
HTML
CSS
JavaScript
Smart CRM
AppNotes2020.com
www.SloCountyHomes.com
and much more
Testimonials for Tanya Knowles
Wes Burk, Broker/Owner at Patterson Realty, San Luis Obispo

08/23/2013

After years in this business I have tried a myriad of programs and systems to maintain communication with my client base. I've always felt that the products, postcards and newsletters were less than professional and came across and an insincere attempt to solicit more business. However, with DaBest's product I'm finally proud of the communication because it is clearly perceived as a valuable service. Many of the recipients have shared with me that they enjoy and review the information monthly. I'm currently working with a couple I had almost lost touch with and it is absolutely because I began sending them reports and dashboards.

I am not exaggerating when I say that the DaBest system is the most important communication tool that I've ever seen!

Nancy Heins, Realtor

08/16/2013

My clients have been very impressed by the sold reports and detailed stats I send.....very helpful tools, particularly for my out of town clients. Helps them get realistic and have a better handle on what they need to do to be competitive here.

Also helps those that are the detail oriented buyers and I have quite a few of that type of client. It is such a valuable contact piece and something they can really use – not fluff but real information. Thanks!

Sandra Lee, Realtor, Appraiser

08/12/2013

I knew the Reports email was working for me when I overheard three people discussing the data at the gym. As I walked over, two of recipients introduced me to a newcomer who is now on my list too.

My clients love the data and consider me their source for all things real estate in my area.

Debbie Jamison, Realtor

08/09/2013

I just received an email from a client yesterday. He and his wife purchased a home through me last June. He said he is interested in purchasing another home and to please keep sending the sold data as he finds it very valuable! He is happy to see the value of the homes close to him gaining in equity as well from the report.

Kerry Moore, Realtor

08/07/2013

I was at a home inspection yesterday and my client asked if there is a way for them to know what homes sold for in the area. I said, absolutely, I can set you up with my Monthly Sold reports. Today I received an email from them raving about the information. They feel informed and educated on the market which will help them make more confident decisions as we move forward.

I also took screen shots and printed stats graphs for my listing presentation yesterday. My client was VERY impressed with the data and the clear format and presentation. It's a perfect way to visually express trends in the market.

CJ Tatum, Realtor

07/09/2013

I have had 3 clients who I hadn't heard much from reach out to me after receiving the email. I also get comments from others I go visit thanking me for the great information and they look forward to getting it next month. I am just starting out my real estate career and currently send the newsletter out to 43 people, It has really helped solidify my expertise as a Real Estate Agent. Absolutely worth it.

LeeAnne Fisher, Broker

07/05/2013

I only just complied my database for my mailing, I wish I would have jumped on it immediately. The upshot of the very first mailing on my behalf is that two clients, whom I had faithfully been in contact with via US Postal (the Buffini system), reached out to me after receiving the email with referrals - resulting in one buyer and a new listing. After the second mailing a former client was reminded to call me to assist with the disposition of two properties from her father's estate. Two new listings coming on line in the next 30 days.

Though I've been an active user of other systems for many years, I think with the pace of our world these days, the ease of use and relevance of your monthly reports makes your tools work.

Bruce Freeberg, Realtor

07/03/2013

I have had over 30 people tell me that they love getting those emails. I have received emails from people asking where they are when they don't get them right at the first of the month. Some read the monthly reports for fun but most use it to keep an eye on their own property value.

I use the dashboards in my listing presentations because they are easy to understand.

All in all a great tool for my business. Thanks for all your hard work.





Kay Cementina, Realtor

07/01/2013

I just used your sold reports for the first time and I have received several positive comments from clients today. I'm not an early adopter so I feel kind of silly now that I waited so long to jump on board. One gal said:

"Hi Kay,

This page is loaded with great info & easy to navigate. Truly one of the best I've ever seen. Thanks so much for sending. Will this be a monthly treat to look forward to? "

I feel guilty for not giving my clients the reports sooner! Thanks so much for making it available to us.
Introducing a fresh new look for your Profile.
Click the 'Edit Profile' button below to enter 'Edit Mode' and continue the tour.