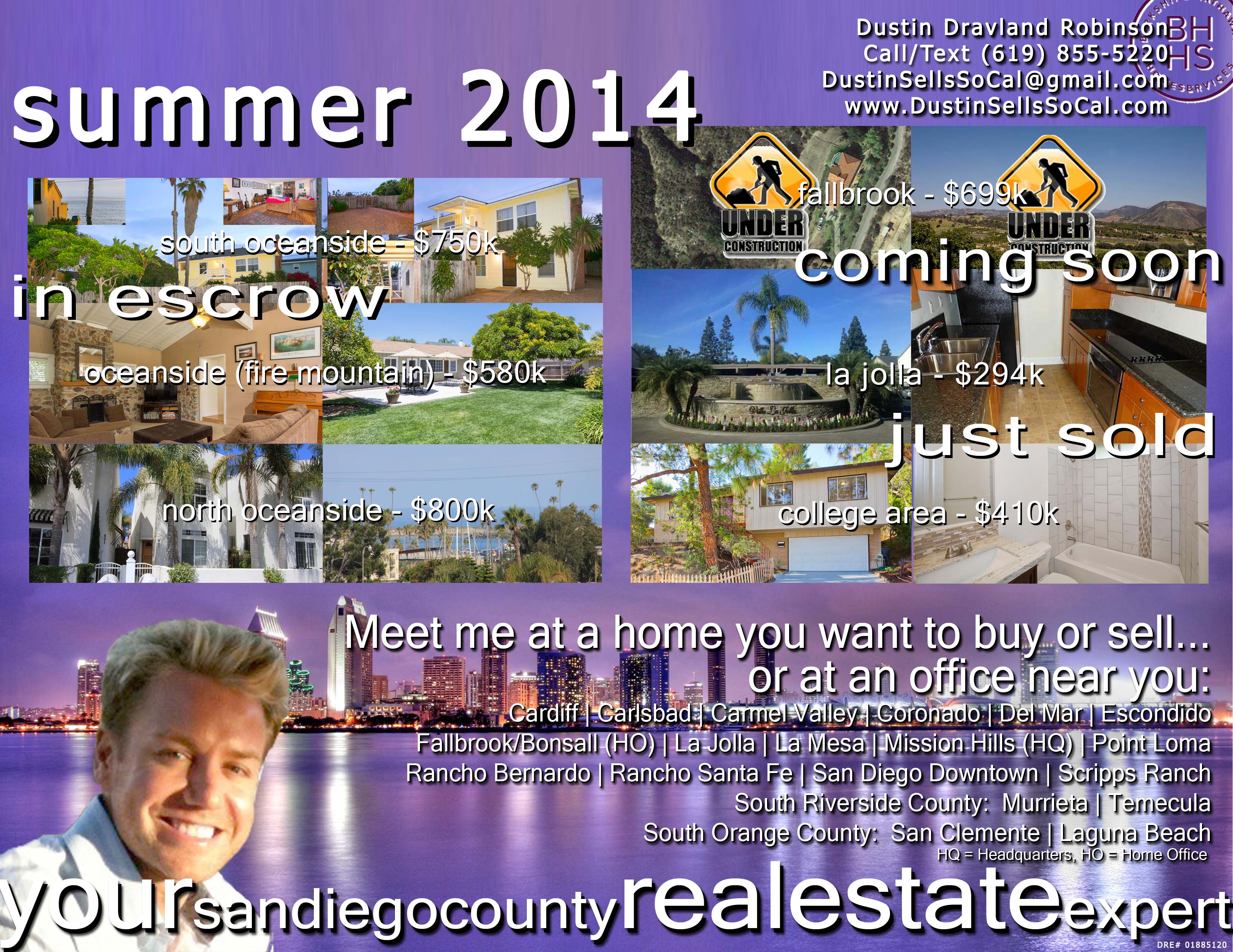 Get to Know Dustin Dravland Robinson
Dustin Dravland Robinson, Realtor has helped first-time homeowners, investors, move-up, and move-down buyers find homes throughout California.  With over $15 million in production, Dustin consistently ranks in the top 3 for agents at his office for sales volume.  Dustin knows the value of homeownership personally, and strives for everyone to achieve the American Dream.  Think you can't buy a house?  Ask Dustin.  Looking for an investment property to flip or rent?  Ask Dustin.  Want to downsize, but don't know if you can sell your home?  Ask Dustin.  Looking for your dream home with everything you ever dreamed of?  Ask Dustin.
CSSPIFS Designation
www.DustinSellsSoCal.com
www.DustinsHomes.com
Certifications
Whether you are buying or selling a home in San Diego, Dustin Dravland Robinson, REALTOR® is your answer to real estate. Home buying is the biggest financial commitment you'll ever make. Buying a home is not just a dollars-and-cents investment; it's an investment in your life. It will create a sense of stability and identity for you and your family. Regardless of how times change, owning a home remains the cornerstone of the American dream. Perhaps you're about to relocate to a new job, or are thinking of retiring. Maybe the kids have moved out and now you need less space – or you just had a baby and you need more. Whatever your circumstances, you want the sale of your home to go as smoothly possible – and within your ideal time frame and, of course, getting the best price. Selling a home becomes easier if you have some guidelines to follow – and Dustin Dravland Robinson, REALTOR® is your agent. Contact Dustin Dravland Robinson, REALTOR® @ 619.855.5220 & DustinRobinson@PruSD.com
Allen & Jenn
11/11/2013
Client, Seller | Cheers!! Dustin, We just wanted to THANK YOU for everything that you have done for us. We truly appreciate all your hard work and for making our dreams come true! Best Wishes & Happy Holidays, Jenn & Allen
Jennifer
11/02/2012
Client, Buyer | Hey Dustin, I signed my title docs this morning and I'll hopefully be fully closed by Friday!!! Thanks for helping me get into my first investment property and saving me 10s of thousands of dollars off the list price. I will definitely be thinking of you when I decide to buy or sell my next property. Get me a mojito!! All the best, Jennifer
format_quote
With nearly a decade of experience, Dustin ranks in the Top 7% in production among ALL BHHS Agents WORLDWIDE, and has been consistently ranked among the Top 2 REALTOR®'s at BHHS' office in San Diego.