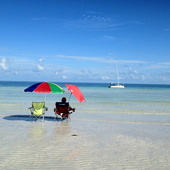 By Seaport Realtors, LLC - Key West Real Estate, Key West Real Estate Now!
(Seaport Realtors LLC)
If you've looked into real estate in Key West, chances are you've heard of 1800 Atlantic. This large condo complex is named after its address on Atlantic Blvd., located right on the beach. Units have some of the best true "ocean views" in all of Key West, as well as an amazing private beach (right next to Smathers Beach), Jacuzzi, two saunas, three tennis courts, shared lending library, recreation room and a heated Olympic-size pool. Yes, I said Olympic-size pool. In Key West! The location allows easy access to Key West activities but with all the amenities, who needs to leave! (Kidding.) Olympic-sized heated swimming pool right on the Atlantic Ocean   Views of the ocean and private beachfront The complex has 168 units in four stories over parking on a beautifully landscaped property. C...