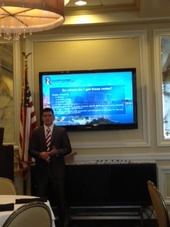 Real Estate Sales Representative
Robert Vazquez
Orlando, FL

—

75 FAST OFFER, LLC/ Countrywide Capital Group, LLC / CRP
Industry Leader in Distressed debt aquisition, short sales, Non Performing Notes, BULK REO and private investing! HEADQUARTERS FOR MULTIFAMILY, BULK REO, NOTES & ASSET MANAGEMENT
Get to know Robert Vazquez

Robert Vazquez is a serial entrepreneur. A go-getter with a keen eye and exceptional insight. He has sought after and acquired some of nations top producing real estate investment and loss mitigation companies under the new umbrella, New Era Real Estate Investors a Division of Countrywide Capital Group, LLC. Mr. Vazquez is an expert in all aspects of the real estate industry to include residential, commercial,finance, debt securities and distressed debt acquisitions. A full time investor and head of a Private Equity Firm.

Mr. Vazquez is also an author, blogger, motivational speaker, educator, coach, father of four and husband. He is an advocate of the use of technologies to increase productivity and reduce cost. Recently acquiring a startup technology company focused on producing software for the real estate industry.

He has assisted in the international Multi-Million dollar finance for allied military housing. Assisted in the fundraising for a casino & hotel project overseas and several other ventures.

Mr. Robert Vazquez is heavily involved in his local community and supports several youth groups. A volunteer at give kids the world, helping terminal children, member of IAVA, American Legion, Veteran of Foreign wars, and a Freemason.

Countrywide Capital Group, LLC, a United States-based alternative investment firm, has launched several Distressed Real Estate Opportunity Funds and Multi Strategy Funds.
According to Countrywide Capital Group, LLC, the fund is seeking to maximize absolute returns utilizing a multi-strategy portfolio framework, while mitigating downside risk through various hedging techniques. The fund is eligible for accredited investors only and sold via offering memorandum with a minimum initial investment of $100,000.

robert@myreocountrywide.com
connect with me today
Specialties BULK REO, Distressed asset fund, NPN.Distressed asset negotiation and aquisition, loan pool negotiation and aquisition. I buy Homes CASH!!!
______________________________________________________________________________________________________________________
Countrywide Capital Group, LLC , headquartered in Orlando FL, is a principal buyer and private real estate investment firm specializing in the acquisition, stabilization, and disposition of distressed (Scratch & Dent) and Non-Performing mortgage loans and REO properties in Florida, the Western US, and nationally.Countrywide Capital Group, LLC acquires one to four unit residential, condominium, and multi-family distressed loans and REO properties from financial institutions, mortgage companies, hedge funds, and other sellers. Countrywide Capital Group, LLC has established itself as a preferred buyer by establishing a proven track record to provide fair wholesale value and still deliver high investor returns.

COUNTRYWIDE CAPITAL GROUP, LLC WILL BID ON A SINGLE LOAN OR PORTFOLIOS UP TO $300 MILLION

VISION:

Countrywide Capital Group, LLC has created a comprehensive investment platform that integrates and aligns acquisition valuations, servicing efficiencies, asset management controls, and disposition solutions to capitalize on opportunistic real estate acquisitions during these turbulent and unprecedented economic market conditions. Countrywide Capital Group, LLC 's proprietary systems enable a successful "multi-win" strategy that benefits sellers/financial institutions, property owners/borrowers, investors and Countrywide Capital Group, LLC Management.

PROCESS:

Visit our site to learn more: www.myreocountrywide.com
Robert Vazquez is a serial entrepreneur. A go-getter with a keen eye and exceptional insight. He has sought after and acquired some of nations top producing real estate investment and loss mitigation companies under the new umbrella, New Era Real Estate Investors a Division of 75 FAST OFFER, LLC. Mr. Vazquez is an expert in all aspects of the real estate industry to include residential, commercial, international finance, complex securities and distressed debt acquisition. A full time investor and head of a Private Equity Firm and website operator of www.lendprivatemoney.com
Mr. Vazquez is also an author, blogger, motivational speaker, educator, coach, father of four and husband. He is an advocate of the use of technologies to increase productivity and reduce cost, recently acquiring a startup technology company focused on producing software for the real estate industry. He has assisted in the international Multi-Million finance allied military housing. Assisted in the fundraising for a casino & hotel project overseas. Mr. Vazquez is considered by some to be a global monopoly player.
Mr. Robert Vazquez is heavily involved in his local community and supports several youth groups. A freemason who dedicates and donates his spare time to whatever projects his community needs and his time can accommodate.
75 FAST OFFER, LLC, a United States-based alternative investment firm, has launched the 75 FAST OFFER, LLC Multi Strategy Fund.
According to 75 FAST OFFER, LLC, the fund is seeking to maximize absolute returns utilizing a multi-strategy portfolio framework, while mitigating downside risk through various hedging techniques. The fund is eligible for accredited investors only and sold via offering memorandum with a minimum initial investment of $200,000 until 30 January 2012, thereafter increasing to $10m. 75 FAST OFFER, LLC is the sole investment adviser of the 75 FAST OFFER, LLC Multi Strategy Fund.
We buy Houses, Blocks, Neighborhoods, & Cities. Hotels & Apartment buildings. Do you have a commercial property you need to sell right away? Call Mr. Vazquez. Want to Earn Better Returns, call Mr. Vazquez Today.
Robert Vazquez operates the fastest growing Wholesale Short sale, Debt Settlement processing company in the United States as well as Mortgage & Title Firms. His affiliate network has reached over 2,000 real estate and mortgage professionals (and growing) who utilize his services as a premier outsourced processing/backend company. If you're tired of the process involved with your short sales, loan modifications do not wait! Become and affiliate today!

Start reducing your stress and increase your profits today!!!! ...Also ask about our residual income program.

888-300-2941
Specialties
Lender negotiation, a leader in "creative, outside the box" approach to lending.
Short Sale Funding!!! Same day funds, no credit, no income check, not a loan, only for the transaction.

Distressed asset negotiation and acquisition, loan pool negotiation and acquisition.

I buy Homes CASH!!!
Robert Vazquez and his team can help you:
•· Buy a home
•· Sell a home
•· Life Insurance
•· Asset Management
Short Sale, Global Finance, Uk, Europe, Canada, Home Purchase, First time homebuyer, Refinance, Sell, Rent, all in one major servicer of consumer finance needs, Need Help call today 888-300-2941 or visit us at:
www.myreocountrywide.com
Call or visit us anytime!
888-300-2941
WE buy NOTES, performing and non performing
BULK REO
Robert Vazquez l Kissimmee l Orlando l Miami l Jacksonville l San Diego l Atlanta l China
Robert Vazquez's Blog Posts
Home Buying
–

over 7 years ago
Home Selling
–

over 7 years ago
Home Selling
–

over 7 years ago
Home Selling
–

over 7 years ago
Certifications
Notes, Asset Management, Real estate investments, Bulk REO, NPN (Non performing Notes)
Introducing a fresh new look for your Profile.
Click the 'Edit Profile' button below to enter 'Edit Mode' and continue the tour.