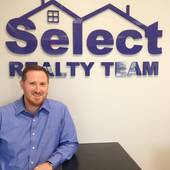 Real Estate Agent
Ian McVeigh
and The Select Realty Team
Get to know Ian McVeigh
I found my passion for Real Estate while studying Finance at Virginia Tech and graduated with a BS in Finance.  The Real Estate market was at an all-time high here in Northern Virginia.  I paid close attention to Market Trends, Reports, and Stocks as I found it hard to look away.  I immediately got my Real Estate License and have earned the Top Producer award every year since.  In February of 2005, I co-founded The Select Realty Team with my business partner, Greg Lydell.
Ian McVeigh and the Select Realty Team are a group of dedicated individuals that work with you every step of the way.  We are eager and committed to serving you. Our team operates as consultants not sales people.  The Select Realty Team sells over 300 homes a year and has specialist in each Northern Virginia market. Here are the benefits of working with Ian McVeigh and the Select Realty Services Team:

Your Neighbor.  I am the co-founder of the Select Realty Team.  I know Northern Virginia inside and out.  As an agent who grew up in a tight knit Military Family, I am no stranger to moving.  Being a Military brat I lived in 9 different houses before finally calling Virginia home.  Northern Virginia became my permanent home when I was 10 years old, and as such I am proud to call it my home for over 25 years.  As your neighborhood Agent, both I and my team bring a wealth of knowledge and expertise about buying and selling real estate in the Northern Virginia area.  I am a proud member of the Northern Virginia community, who supports Sports Youth Teams, Military Families alike and am noted in the Lake Ridge Rotary.
Your Investment.  Buying or Selling your house is one of the biggest investments and decisions you will make in your lifetime.  I truly believe investing in Real Estate is one of the best financial decisions you'll ever make.  I have highly esteemed relationships with Mortgage Lenders, Title Companies, Contractors, and multiple vendors that will be with you every step of the way and get you the best possible rates, and maximize your profits.  I pay close attention to Market Trends, Reports, Stocks, and the Federal Government.  
Top-Notch Management. Our management is ALWAYS on hand to answer any and all questions promptly and accurately. Our phones are answered by a live EXPERT, 7 days per week, from 9am to 8pm. This ensures that all calls are answered, potential buyers will have instant access to your home's information, and shows that potential buyers and sellers will get immediate, knowledgeable answers.  This also includes having your own Listing Agent, Scheduling and Closing Assistant.
Competitive Marketing. Our team will arrange a professional photo shoot & design a custom website for your home, create detailed marketing flyers & professional presentations used to market your home. This person will make sure that your homes information is accurate and current on all marketing levels, while providing you with the highest level of customer service available.
Ian McVeigh and the Select Realty Services Team strive for superior service through education and dedication.  We are passionate professionals whose success starts with putting you first.  Let our team assist you in finding your dream home today!

Testimonials for Ian McVeigh
Ildar and Arain

05/05/2015

We chose Ian McVeigh of Select Realty for the recent sale of our home. We were extremely happy with Ian when purchasing this home and he was the natural choice when we made the decision to list this property. Ian listed this property on a Monday morning while my husband and I were at work and we had a viable offer just a few hours later. We were under contract prior to returning home from work that evening! We highly recommend Ian and Select Realty. They have consistently exceeded our expectations.

Ian McVeigh was an amazing real estate agent. He provided me with first-notch information and makes the selling/home buying process a heck of a lot easier for me! I really valued his knowledge and expertise. I would definitely recommend him to anyone (already recommended his team to co-workers of mine!)

John and Kristina

03/21/2015

My wife and I were amazed with Greg Lydell and Ian McVeigh as our realtors! They put us at ease, even when we ended up looking as more houses than we expected. It was clear that Ian didn't want us to buy ANY house until it was the RIGHT house. Once we found the right house, Greg assisted us with the offer. They ensured we had the knowledge to get the best possible price for our family. We will CONTINUE to recommend Select Realty to friends and family. Their knowledge, honest care, time and friendship was unlike any realtor we have dealt with in the past. We plan to stay in our house for a long time, but if we have to sell - we're only going to trust Select Realty to work for our family.

Ian's responsiveness and professionalism turned out to be vital in the purchase of our home. His working knowledge of the VA LOAN PROCESS and willingness to inform (teach) both buyer and seller was crucial during the purchase of our present home. Thanks Ian.

Jack and Susan

01/10/2015

The Select Realty team is wonderful to work with. They have the knowledge, expertise, and CUSTOMER SERVICE that makes buying and selling your home a fantastic experience. Don't look any further for your real estate team! They are absolutely the best in the business!

Fran and Cinde

11/06/2014

Ian McVeigh was fantastic!! My wife and I can not thank you enough for all you did for us. We have purchased several homes and lived in 17 houses through out our military career and you made our most recent home purchase the smoothest by far. We could not have had a better advocate who worked as hard and got us the best deal ever. He saved us over $30,000 and gave us a check at settlement for $7,000 which PAYED for our new home theater system. We plan on telling all our friends that if they are in the market you are definitely the realtor they need. Again many thanks for all you did.

I very much enjoyed working with Ian on the sale of my Dad's home. I called him frequently with questions regarding different aspects of the sales process and his responses were immediate. I also feel he did a great job when it came to negotiating with the buyer's real estate agent. This was not always easy, but Ian had a calming influence and in the end I feel he was able to get a higher price than was expected. I have recommended him to a friend and would definitely use him again.

We could not have been happier with our experience working with Ian McVeigh. He went above and beyond as far as responding to any questions we had. Whether I e-mailed him at 7:00 a.m. or 10:00 p.m., I got a response within 10 minutes. He was extremely organized, did his research, and always let us know what was happening in the process of selling our home and purchasing another.

I would never take the time to write a review unless I found it absolutely necessary to share my experience with others. I had the best experience with the Select Realty Team, specifically realtor Ed Torres! Ed is like no other, he truly values his client and works around the CLOCK to put your concerns (nothing too small or too big) as his top priority. I initially started the home-selling process as a For Sale By Owner, considering that I'm a pretty savvy market-watcher and understand the industry pretty well. Little did I fully-understand all the negotiation, representation, timeliness, and expertise it really takes to sell real estate. Ed and the Select Realty Team represented me with top-level service as a seller and buyer! Ed is extremely knowledgeable, professional, timely, and thoughtful of his buyer's and seller's needs. Ed's initial presentation was confidant, well-researched and forward-thinking; I thought it was a tall order to fill, however I now realize it was nothing in comparison to the execution that Ed and the Select Realty Team will deliver. Here's the big difference between choosing Select Realty, specifically Ed Torres and any other realtor....you can be a "prospective" buyer or "prospective" seller with any other realtor for many months/years or will BE a very satisfied buyer and/or seller with Select Realty in no time at all. They are CLOSERS, plain and simple!! I will not let any other friend or family member looking to buy or sell their home choose none other than Ed Torres because I can genuinely say that he will represent them fully and he'll be saying "Congratulations" before they know it. I"ll close with these ever-ringing four words that Ed always reassured me with "We'll Make it Happen!" Thank you, Ed! Words can never really fully express how much I appreciate your dedication and persistence in the sale and purchase of my dream home!

After listening to what I wanted in a house and a day of house hunting, Ian narrowed the list and within the first week, I found my house. The entire process from looking, bidding, and FINANCING were as easy as it gets. Incredibly professional and friendly. I would use them again and recommend them to friends and family.
Introducing a fresh new look for your Profile.
Click the 'Edit Profile' button below to enter 'Edit Mode' and continue the tour.