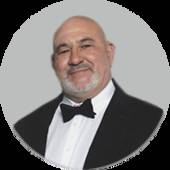 Real Estate Agent
Joel Jadofsky
One of the Top Realtors in Panama City Beach Area
Panama City Beach, FL

—

Keller Williams - homes for sale - Florida - Gulf - Beach

Keller Williams Realty Inc.
309 Richard Jackson Blvd Ste 200
Panama City Beach , FL 32407
---
What's the difference between a house and a home? Anyone can buy a house, but I can help you find your home-the place that just makes you smile; lets you relax. Let's find your HOME!! I'm here 24/7!
Get to know Joel Jadofsky
Hi I'm Joel Jadofsky. I Have been in  construction and sales since 1976. I am very knowledgeable in sales, financing and building of homes. I give all my customers my cell and email and am available pretty much 24/7. I have lived in this area since 1994 so I know about all the school systems as my kids grew up here. I check the hotlist everyday so i know whats new on the market, whats been sold, whats had a price reduction. I have found several investors great deals on investment properties.
So whether your looking for a house, a condo, a $50,000 home or a $1,000,000 home I can help you find the best deals in town. If you want to know what area of town are growing or what proposed new developments just ask.
On the other hand if your trying to sell a home in our area, I am pretty good at marketing them. I use the newspaper and several Internet sites to try and put your home in front of as many buyers as I can. There is a person out there for every home. We just have to find them.
Growing up as a military brat I never really had a home til I was in my mid 20's. I can remember in 1976 Dad and Mom bought their first home ever. We moved off base and into our own home. Now that was a feeling. I was 16, this was the first time in my life we had a place that was ours. Finally no more moving. I had my first bedroom I didn't have to share. I could do what I want with it. it was my space. I can remember that feeling even today.
I get such joy when I have finally closed a deal and we go to the house and they walk in their home for the first time..Young couples just starting out..older couples finding their final place..the gleem in their eyes.. the smile that slides out across their face....that is my reward..its the greatest feeling to see that.
I am not here to sell you a house. That is not my job. I am here to get information from you and try to help you find the home of your dreams. Try and give you the right information so you can make an intelligent decision. There is that home out there for everyone.
I am in the top 10% of all Realtors in my area year after year. In 2014 I started my own team and now have an admin and to buyer specialist working for me. I had a 30% growth in 2014. I have been invited to be on the Leadership Council for both my Keller Williams Broker and the bay County Association of Realtor's. I am on the Multiple Listings Service Committee to make sure you can find the correct information on any house in the area. Also I am on the Grievence Committee.  I also teach classes to new Realtors on how to market and sell Listings. 
Joel Jadofsky's Blog Posts
Real Estate Industry
–

over 1 year ago
Real Estate General Information
–

over 2 years ago
Real Estate Sales and Marketing
–

over 2 years ago
Just for Fun
–

over 2 years ago
Certifications
The Best beach this side of PARADISE!!! Did you know Panama City offers 27 miles..yes 27 miles of the whitest sand beaches..EMERALD green waters..
PANAMA CITY BEACH HAS BEEN NAMED THE BEST BEACH IN THE UNITED STATES ON SEVERAL OCCASIONS AND ALSO ONE OF THE BEST BEACHES IN THE WORLD!!!
Panama City, FL. is located on the panhandle of northwest Florida on beautiful St. Andrews Bay and the Gulf of Mexico. Panama City is known as a popular tourist location year round offering a comfortable climate and friendly atmosphere.

Panama City's attributes provide a highly attractive living environment compatible with a variety of tastes and life styles. Cited most often are: pleasant climate, attractive housing opportunities, fishing and water sports, arts and entertainment, and a pleasing small town environment for raising a family.
As our community grows, so do our cultural opportunities. Our area is blessed with abundant natural beauty, from glittering Gulf waters and white beaches, to the oak-lined shore of St. Andrews Bay. In this setting, the arts and humanities have flourished and enriched the lives of area residents.
LETS FIND YOUR PIECE OF PARADISE... CALL YOUR 24/7 REALTOR
Panama City is fortunate to have had a strong beginning with groups such as the Music and Art Association, Friends of the Library, and Historical Society providing cultural events for many years. These groups have been joined by many others in recent years. To list just a few: Bay Arts Alliance, Junior Museum, Visual Arts Center, and the Spring Festival of Arts.
Panama City maintains 37 Parks and 2 full service marinas giving residents a wide variety of recreational activities. The City offers recreational areas with playground equipment, basketball courts, ball-fields, tennis courts, nature parks, and picnic areas. If deep sea fishing is desired, there are several charter boats to choose from at the St. Andrews Marina.
Although we're best known for sugary, white sand beaches and emerald green waters, you'll find plenty to do off the beach. Just a few of our Panama City Beach attractions include water and amusement parks, a zoo, marine park, racetrack, miniature golf courses and so much more! You can find it all here, on our Real.Fun.Beach.
365 THINGS TO DO IN PANAMA CITY FLORIDA
http://www.facebook.com/?ref=home#!/pages/Panama-City-FL/365-Things-to-do-in-Panama-City-Florida/109684275729562
Awards
I just got back From Keller Williams Family Reunion 2015 where I won a silver medal for sales. I know have won a Bronze and Silver Next year is Gold!!!!
I have been nominated to The leadership council in both Bay County Association of Realtors and Keller Williams and will serve on both in 2015.
I also teach Ignite Classes to other Keller Williams Realktors on How to get listings and How to Market listings as I am one of the TOP listing agents in THe Panama City and surrounding areas. 
Testimonials for Joel Jadofsky
Mark Bort reviewed Joel Jadofsky 01/30/2015 Worked together as colleagues
Joel is an outstanding realtor, knows the business very well and helped me out along my career a tone. would recommend him any day to anyone looking to buy a house or sell one.

Ryan Matthews reviewed Joel Jadofsky 01/10/2015 Helped me buy a home
Flag Review
We met Joel 2 years ago when we were going to buy a condo down there. We ended up backing out of the deal at the last minute. Joel was very patient and understanding. That why 2 years later when we were ready to purchase we would only deal with Joel. Being that we were doing this transaction from 1000 miles away, Joel went above and beyond his duties as a realtor. Even doing the last walk through for us before closing, since we couldn't be there. He always available, never once did we go 24 hours without hearing back from him. A true professional.
Thanks Joel

reviewed Joel Jadofsky 01/05/2015 Helped me sell a home

Joel Jadofsky brings forth professional knowledge and expertise to a personal level.
His team exceeded my expectations and worked quickly in resolving any unexpected arising issues, affecting both buyers and seller.
Whether purchasing or selling; Joel Jadofsky and his team shoulders all the burdens of such a life changing transition and goes beyond his / their call of duty.
Thank you!

Melissa Jackson

08/03/2014

Melissa reviewed Joel Jadofsky 08/03/2014 Helped me buy a home
Flag Review
With little time to find a home, these true professionals did everything in our power to help me and my family find the home for us even while we were thousands of miles away. Thank you Alyssa and team you all are truly the best and will definitely recommend you to our military friends and family. Amazing person, wonderful agent truly has your best interest at heart. THANK YOU!!!
Melissa

xoxosojoxoxo Helped me sell a home
Joel couldn't have been better!

Robert Tritton

06/05/2014

Jaketritton Helped me sell a home
Joel,was most helpful in selling our home that had been on the market for 5 years. Four other agents tried without success.

Leo Murawski Helped me buy a home
Joel was always there when we needed him. I could count him to have an answer for me and my wife. If he didn't know he would get the answer. Because of him we had a most successful real estate experience. I would rate him 5 out of 5 for effort, people skills, and personality.

Melissa Jackson

06/03/2014

owlmom40 Helped me sell a home
This was a short sale and he did great working with all the issues that came up. Couldn't have asked for better help.

Tracey Westmoreland

06/02/2014

westmorelandtracy Helped me buy a home
Joel was very helpful in helping my family purchase a home in Panama City Beach, FL. We could not have asked for a better person to help us. He was very knowledgeable of purchasing a home and helped us so much. I will most definitely recommend him to my family and friends.

lisalou1880 Helped me buy a home
Joel made my first time buying experience a breeze! He was efficient and knowledgeable. I would reccomend him to anyone buying or selling a home
Introducing a fresh new look for your Profile.
Click the 'Edit Profile' button below to enter 'Edit Mode' and continue the tour.