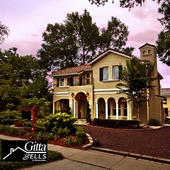 By Gitta Sells and Associates, Where home sellers and buyers always come first.
(Gitta Sells & Associates at Keller Williams Heritage Realty)
Timacuan home sales during the month of October were active. 2 homes sold in Timacuan and both sales were non distressed properties. One home, 734 Powderhorn Circle, Lake Mary was a 3 bedroom 2.1 baths, 2399 sq. ft. pool home located on the golf course and it was sold by Keller Williams Advantage Realty for $315,000 or 90% of asking price. Of course golf course properties achieve a higher per sq. ft. asking price compared to non golf course properties, and this property sold for $131.30 per sq. ft. The other property located at 421 Thomez Ct., Lake Mary sold by Stirling Sotheby's International Realty, a 4 bedroom, 3 bath, 2665 sq. ft. home and it sold at 92% of asking price at $370,000 and it was listed at $400,000 reduced from the initial list price of $425,000. The per sq. ft. price w...