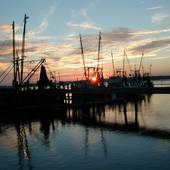 By Mike Sackman, Realtor, Broker ABR, CRS. Closer!
(MAS Real Estate Advisors)
It's no secret that Beaufort has been rated so highly as one of the best places to live in America.  One of the main reasons for that distinction are the natural and historic attractions that fill the area. You'll never run out of natural places to enjoy and explore, along with history to be discovered. Here's a few of the best things to do in Beaufort.Henry C. Chambers Waterfront ParkAs the home for annual events such as the Taste of Beaufort, Water Festival and the Shrimp Festival, Waterfront Park is the most prominent park in Beaufort. Located in downtown Beaufort along the waters of the Beaufort River, it offers a peaceful and scenic diversion while shopping or enjoying the other attractions of downtown Beaufort. There's a playground for the kids, and dogs are also welcome.St. Helen...