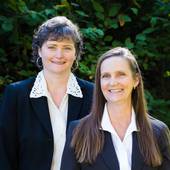 By Becky Schertenleib, Nan Wimmers, "sisters by chance, partners by choice"
(Columbia Gorge Real Estate)
Taken from Remodeling Cost vs Value report 2009-10... some good tips, BUT remember each home has its own unique "issues" give us a call and we will walk through your home with you to review updates you can do to receive the largest return on your investment    1. Tidy up kitchen cabinets. Potential buyers do open kitchen cabinets and look inside, Home owners can add rollout organizing trays so when buyers peek in, they feel like there's lots of room for their stuff."  2. Add or replace tile. "By retiling very inexpensively, you make a room look way cleaner that it was," says Javier Zuluaga, owner of Home Repairs and Remodeling LLC in Tempe, Ariz. "Every city has stores that offer $1 to $2 tile, so home owners have to pay only for the low-cost tile and labor to replace a dated backsplash...