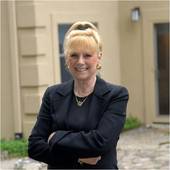 By Gay E. Rosen, As Real as Real Estate Gets!
(Julia B. Fee Sotheby's International Realty)
 Since no photography was allowed, you will have to rely on my descriptions of the foods I tasted yesterday  - those tasty tidbits  that awaited every person who  purchased a ticket for just $45 for members and guests $55, and that also benefited the Larchmont Historical Society. I had conducted a public open house at a Larchmont property earlier, and so since I was a docent from 3-5 at 2 Dawes Place, I only had 20 minutes or so to tour 2 homes out of the 8 homes featured on the tour prior to my duties commencing!  I visited 1 Rochelle Road where a beautiful, new and  large  spacious kitchen awaited… along with mouth watering tempting treats from the Coriander Restaurant  located on Larchmont Avenue. Described as a common street dish, it was anything but…a wrap containing tandoori chick...