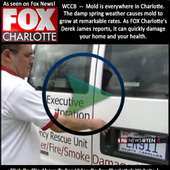 By David Snell 704.545.0098, CERTIFIED MOLD INSPECTOR, CERTIFIED MOLD REMOVAL.
(WWW.ExecutiveRestoration.Com)
So, what is a Himalayan Salt Lamp?Well, it is a lamp that is inside a block of salt.  The heat from the light creates, what it does to the air.  What does the salt lamp create?  The salt lamp creates negative ions, that create indoor air particles to clump together and fall to the floor of the home. Either on the carpet or the hard surface floor.  The weight of the floor causes them to fall to the floor and then you easily vacuum up these particles.  Things like smoke, chemical odors, carbon monoxide, and other things like viruses, bacterial, and Mold.  Mold Removal to the rescue.  Mold Removal Charlotte or any other city or town that you live in.  They are great for respiratory issues or ailments as well as headaches and infections.  By the way, I have 3 in my home and they work wonder...