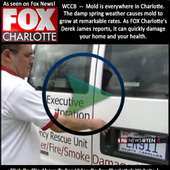 By David Snell 704.545.0098, CERTIFIED MOLD INSPECTOR, CERTIFIED MOLD REMOVAL.
(WWW.ExecutiveRestoration.Com)
What does this look like to you?If you are trying to sell your house, this will definitely turn some people off.  Remove the air conditioner from the crawl space door.  Unless of course, you are trying to ruin the sale of your home and trying to sell your home.If you guessed an air conditioner, you guessed correctly. An air conditioner in a Crawl Space Door, at that. 😉 When I got to this inspection, I was like, what?  I could hardly believe my eyes.  The crawl space vents were open and not closed.  So, do you think this was helping?The homeowner was trying to sell his house.  When I saw this, I had to inform and educate the homeowner that this, might turn off, a buyer.I would not recommend this at all.  Just open your crawl space vents and get some air circulating in the crawl space and...