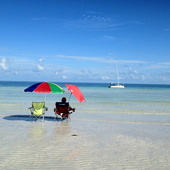 By Seaport Realtors, LLC - Key West Real Estate, Key West Real Estate Now!
(Seaport Realtors LLC)
If you're looking for a classic Conch house in old town, I've got a deal for you! The house at 923 Eaton Street is among the oldest on the island, and has been completely renovated to its full glory inside and out!Watch the virtual tour here: Originally called one of the "painted ladies" of Eaton Street, this two-story, three-bedroom, two-bath home was built in the early 1900s or possibly even before the turn of the century. (You'll note the year built listed as 1933 in the MLS, but many of those dates are not historically accurate.) Regardless of the true date, this home is steeped in Key West history.The current owners have been busily cleaning, painting, upgrading and renovating this home for the past year. The transformation from only a few months ago is truly amazing! Brand new ha...