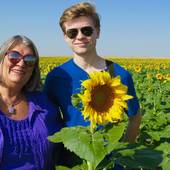 By Carra Riley & Declan Kenyon, Helping people Transition at all ages!
(Brokers Guild Cherry Creek Ltd)
Reverse Mortgage is Not a Bad Word!  Did you know that MANY things have changed in the Reverse Mortgage world in the past 7 years? Come find out how POWERFUL this financing tool can be with financial planning for those who are experiencing some retirement changes. The world is evolving and combining families and freinds into #NextGen homes is proving to be a great help with transitioning into life's changes.  This financing tool might be the answer to long term care in your own home.  The Reverse mortgage changes are helping "Classic Citizens" be able to stay in their own home as long as they need to be there.  Meet Shelley Bayne of MAC5 Mortgage:Shelley Bayne is a licensed Colorado Mortgage Broker with 9 years experience in the reverse mortgage industry.Don't miss this opportunity to r...