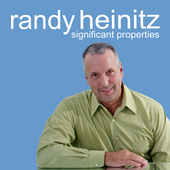 By Randy Heinitz, Realtor - Selling Palm Springs: Itnulls So Sunny!
(Prudential California Realty - www.RHeinitz.com)
  We get spoiled here in The Coachella Valley with so many subsequent days of sunshine and many of us frown on the thought of rain. I grew up in Northern Louisiana and I have to admit, nowadays I miss the rain. I miss sitting on the front porch watching the drops come down while an electrical show paints the sky. Massive storms rarely happen here in the desert. Today however, is the first day of sunshine after a storm system has kept us dark, dreary and wet for three days. We've had periods of outright downpours with streets being closed and traffic at a standstill. Most everyone has opted to stay indoors and ride it out. But, if I had to pick a time when the desert is the most beautiful, the most perfect, and the most amazing I'd have to say it's the day after a rainstorm. No one seems...