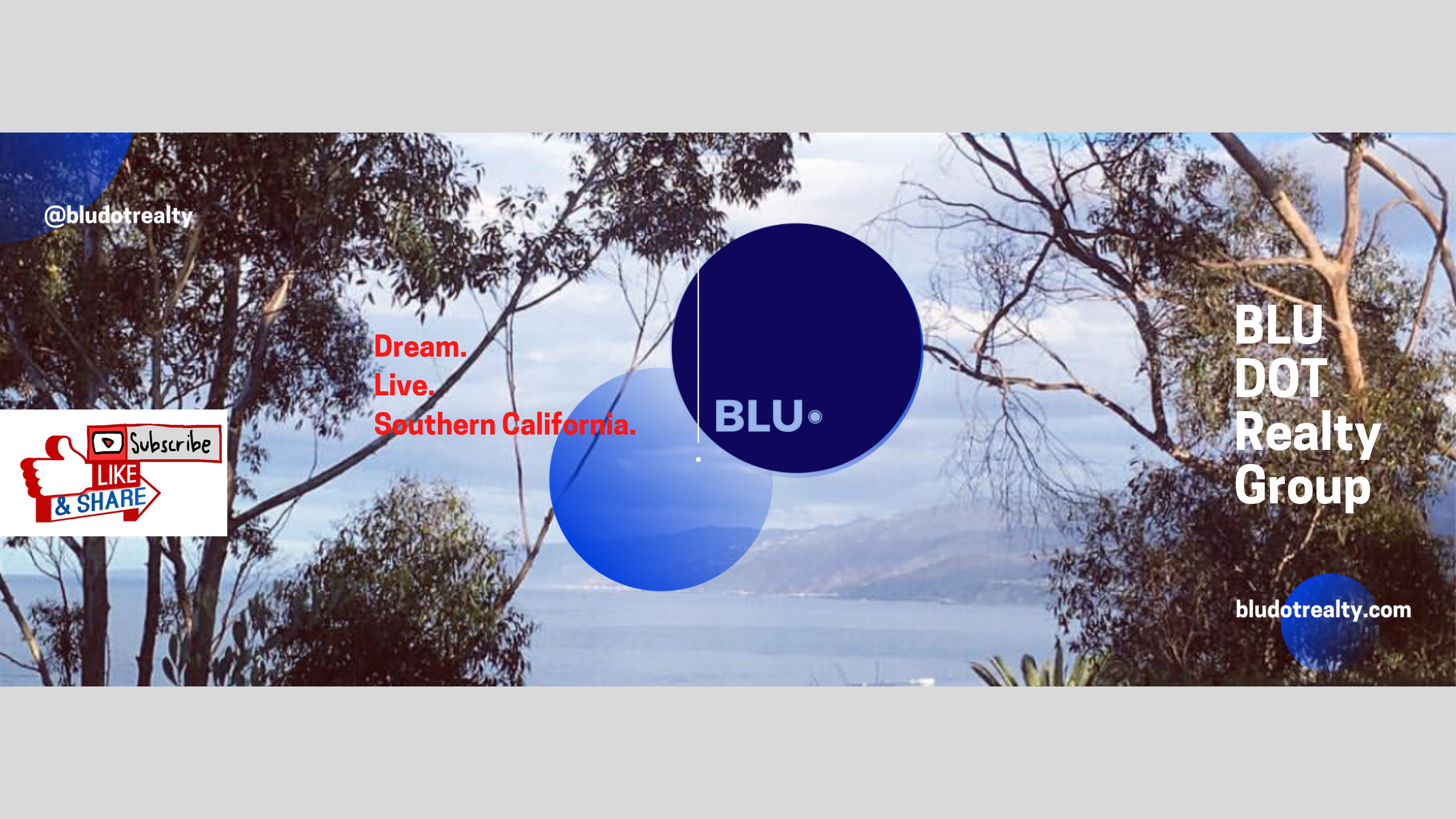 Get to Know Kyle And Norma
We help our clients buy, sell and make money in Southern California Real Estate. 
Sellers, NOW is the time to sell, it's a booming market! Properties are still getting mulitple offers and buyers are still buying.
Buyers, interest rates are at historic lows, you have great houses to choose from and there are more buyers sitting on the sidelines. Your opportunity is here today! Here NOW! DM us right now!
SoCal Real Estate is - Crazy, Fun & Expensive... You Have To Love It, Live It, Feel It, Breathe It. Our Job... Of Course... Is To Sell It!
BLU DOT Realty Group
Our customers have spoken - thank you to all our fantastic and supportive clients. We would not be where we are without you. Thank you for all your trust throughout the years. Because of you, we are able to grow, expand and share our dream of what real estate should be. We love you guys and here's to you.... cheers :) Real estate is about being in the right place at the right time. It's about what's are up and coming, the little niches, nuances and distinctions that make your buying and selling in SoCal a unique and awesome experience. It's about neighborhoods, family, friends, culture. It's about entertainment, dining, shopping and nightlife. It's about your perfect place. We Are Real Estate. We bring people together with the right home, the right investment, the right choice. Our team strives to perfect the systems and strategies that get more homes sold for the most amount of money in the least amount of time. Contact our hardworking team to make your next home sale or purchase. Proudly Serving Burbank, Redlands, San Bernardino, The Greater Los Angeles Area and The SFV. Real Estate Info with the latest real estate market updates, information, knowledge and expertise. Specialties: Home Evaluations, Neighborhood Market Reports, Marketing Resale, Luxury, Condos and Town Homes in The Los Angeles Area. Assisting First Time Home Buyers and Relocation Buyers Realize The American Dream. To many more years of serving you all from Burbank to Redlands.
Certifications
Hollywood Hills, Burbank, Toluca Lake, Studio City, Glendale, NoHo, SFV
Hollywood Hills:

Photo: © The Achievers Group/BLU DOT Realty Group 2014 All Rights Reserve

This exclusive neighborhooh borders Studio City, Burbank, Universal City, Griffith Park, Hollywood and Los Feliz.
Hollywood Hills contains the neighhborhoods of Beachwood Canyon, The Holywood Dell, Whitley Heights and the Outpost Estates
Studio City:

The Jewel of the Valley and one of the most desirable places to live in Los Angeles County. Studio City boasts some of the coolest places to hang out from trendy Tujunga Village and Ventura Blvd to next door artsy and hip NoHo Arts District. Right around the corner is Universal City, where night life and movies are the scene. Studio City has close access to The Westside via Laurel Canyon and Hollywood via Cahuenga therefore no need to commute via the freeways. Studio City neighborhoods range from the hillside multi-million dollar view homes to the tree lined streets of homes with interior character to warrant and distinguish the Studio City Class. 
Burbank:


Photo: © The Achievers Group/BLU DOT Realty Group 2014 All Rights Reserved

Burbank is considered "The Media Capital of The World" - six major studios are nearby – Warner Bros., Cartoon Network, Disney, Burbank Studios, ABC Television, Nickelodeon) and the City itself boasts more than 700 post-production houses employing cutting-edge individuals, and adding a cosmopolitan flair.
Downtown Burbank attracts young professionals -- hip and chic, working in the entertainment business. Of the 100,000 office workers who daily fill Burbank's businesses and retail establishments, 29,000 of them work in entertainment. Burbank is also a established wonderful family community with many choices of outdoor fun via hiking the trails in the hills above Glenoaks to the many parks through out the city. Burbank is home to the mega AMC theaters with 30 screens total in 3 locations. Burbank has it's own school district, police and fire departments.
Toluca Lake:

Photo: © The Achievers Group/BLU DOT Realty Group 2014 - All Rights Reseved

Toluca Lake - Sandwiched between Studio City and Burbank nestled among quaint charcter homes to the multi-million dollars homes on the lake, Toluca Lake offers a quiet almost out of the way feel but being close to all. Riverside Dr boast small cafe's and bistros and if you work your way west you're just a small step away from trendy Ventura Blvd. home to all the variations of cuisine and nightlife possible.
NoHo 91601 (NoHo Arts District):

NoHo Arts District is home to Theaters, Eclectic Shops and International Dining.  The buzz to Hollywood, this is the place for all creative minds. Actors, writers, musicians, poets.... you name it, they're all here.  The hip, chic and bohemian flairs add to the feel and vibe of streets lined up with the best in all fields of art.   
Awards
100% Club
Executive Club
Hall of Fame
Skills
Thrive In Multiple Offer Scenarios, Expert Negotiators, Not Your Same Old Same Old Marketing, Innovative Ideas To Get You More Money - Sellers, Out Of The Box Thinking - To Get Buyer The Best Deal Possible, Persistent, Tenacious!
Brett and Tiffany
07/17/2018
Norma and Kyle are a phenomenal team of real estate superstars. They made the headache of selling and buying a whole lot easier? -made it super easy for us every step of the way. They helped us with selling our house and finding a new one. Even when we had to deal with some horrible dishonest people they made sure we were on top. Didn't even need to have an open house at all, to sell our home, Norma and Kyle found good, not waste your time home buyers and we literally sold within days of a private showing. Always on time and always there when you need them. Calls and texts right back. Paper work is done ASAP and emailed. Tell them what you want and get answers right away. We finally found our dream house and we're living in it right now. We are beyond happy and ecstatic! Thanks for everything we couldn't of asked for better realtors. If you are looking for good, honest, straight to the point realtors. I highly recommend Norma and Kyle
Randy Lawson
06/27/2017
My experience with Norma and Jason was a 10 of 10! The expertise they bring to the table was invaluable to me being that I am busy person and had very little time to help in the process myself. They guided me every step of the way answering any questions I had with a complete picture of what to expect. They took the reigns and completely put me at ease. My house sold faster than I had ever expected. Norma and team definitely are not your typical real estate agents. Personal attention, guidance and most of all...honest! Sign me up! Thanks again Norma and Jason!!!
Bill and Theresa Fritz
05/08/2017
My wife and I retained Norma as our real estate agent to assist us with the purchase of our condo. We successfully closed escrow on our purchase in March of 2017, thanks in large part to Norma. We can't imagine a more knowledgeable realtor when it comes to downtown Burbank area - literally sales history, surrounding businesses, future development prospects, etc. - everything that has to do with fair valuations for property, as well as what adds or detracts to property values and usefulness and people who can help a buyer or seller reach their goals when a sale involves more than simply agreeing on a price. But above all, when Norma gives her word about something, her word is completely trustworthy. She will go the extra mile to make sure that things work for her clients, and she is able to do that regardless of whether she represents the seller or the buyer or both, and works very well with others. She is truly an exceptional real estate agent.
Raju Chintalapati
05/01/2017
Norma understood my situation and requirements behind selling the apartment. She always took, and also suggested, considering them, which made it easy for me to work with her. E.g., She encouraged me to deal with clients that were serious to buy the apartment, so that the sale would be faster (which was one of my key requirements)
Arnie Netka
04/30/2017
Local knowledge: 5 stars Process expertise: 5 stars Responsiveness: 5 stars Negotiation skills: 5 stars They informed us up front what to expect and then took care of everything, from cleanup, minor repairs, manufacturer warranty repairs and staging, and kept us informed each step along the way.
Chuck and Alicia
06/04/2016
I had the pleasure of using Kyle and Norma on multiple occasions. First with a purchase and then on a sale, could not be more pleased with both results. Their knowledge and patience was extremely helpful, we will be entrusting them with all of our future real estate needs.
Hank Dietz
08/11/2015
I have been an SIOR, CCIM real estate broker specializing in industrial and investment real estate for over 30 years, and I can safely say that Norma is the most capable, competent, responsive and effective real estate broker or agent with whom I have ever dealt. She represented us in acquiring a Burbank, CA Condo and I can only say that she is the best. You cannot do better than using her services.
Andrea and Brandon Roberts
06/26/2015
If I could give 100 stars I would! Norma and Kyle were more than you could ask for - true gems. My husband and I recently bought our first investment property with the help of The Achievers Group. Norma kept us focused and grounded every step of the way. She set us up on CloudStream so we could keep track and see the latest updates on properties while having instant conversations about the ones we were interested in. She learned our tastes and interests so she could better focus on the properties we gravitated towards. Norma is an experienced agent, offers straightforward advice, doesn't play games, answers all questions clearly and quickly, and most importantly is honest. You can trust her opinion 100% and know that she has your back. She keeps an eye on every detail in the paperwork, looks into anything that might come up, and plans ahead. Even after we closed escrow, she has been there to guide us and answer our many questions about being new landlords. We have come to enjoy Norma and Kyle as friends , not just as agents - due to their humor, kindness, good nature, and honesty. We are so thankful we met them and look forward to keeping them in our lives.
Mike Sosnowski
02/13/2015
Kyle and Norma were an absolute joy to work with. They were an excellent source of information and advice. I highly recommend there services to anyone that would like to sell their home. I recently moved to Mi. and am looking for a house to buy. I wish I had Norma and Kyle out here to help. Even though she isn't in Mi. She did help me find a good agent.
Jerry Orlandini
01/29/2015
Norma was great to work with, very professional and knowledgeable in regards to pricing. She and Kyle helped me with 2 properties and a 1031 exchange and did an excellent job. I would highly recommend their services
Liz Prescott
08/12/2014
I was lucky to find Norma's name on a sign several years ago when I was searching for a house. I realized instantly that she was totally looking out for my best interest- something I had not encountered in previous dealings with other realtors. She made sure I did not settle for the wrong house...I listened to her and we waited until we found the right house for me. 10 yrs later, I still really love my house! Norma is an outstanding realtor and an overall great person. I can't say enough good things about her.
Anush Paltadzhyan
07/06/2014
Norma helped my brother buy a house, so I decided to call. Our family will always use Norma and her team. I refer all my friends and family to Norma and she recently helped my niece purchase her first home. Our family was very excited to work with Norma again and we will continue to do so in the future.
Dorothy Corbett
02/24/2014
I've have used Norma's real estate services throughout the past ten years. I've have purchased several homes from Norma and have sold real estate through Norma and her team. She always makes time to help you thoroughly understand the process even after several sales transactions. I can't say enough about her work ethics, professionalism and attentiveness towards her clients. There are a lot of choices for agents in real estate but I only use Norma and referral everyone I know to her as well. Trust me you can't go wrong. You will be pleasantly surprised when you hire Norma & team.
Segalit Oz
02/07/2014
"Norma is always available, professional, happy, knowledgeable and patient. We purchased our first home with Norma and the experience was the such an amazing experience. Norma made our experience such a fluid enjoyable process. 3 purchases, 1 sale and 1 lease later - We continue to use Norma for all our real estate endeavors."
Lus and Martina
01/28/2014
My family and I were very fortunate to work with Norma, she is the best. She knew exactly what we wanted and she was very patient with us. Thank you Norma, we always remember you :) If it was not for you we would not be living in our beautiful house.
Rob Collister
08/28/2013
Norma and Kyle are great marketers and really on it when it comes to all the aspects of selling my home. I never felt out of touch even though I was in another state at the time of the sale. If you want your home to sell quick and you want a strong advocate representing you in selling or buying, hire them. Great work and no drama. Thank you!
viggen1218
08/17/2013
Great Job. I recommend this agent.
John Mullaney
07/09/2013
Norma and Kyle are the absolute best in the industry. I don't care where you go in this country you will never find this level of expertise, knowledge, character, friendliness, I can go on and on and on... Their service and understanding of what you need and want is amazing! Although this may not be my final move in life, I will always use Norma and Kyle due to their impeccable record keeping, personalities, and overall knowledge and ability whether or not I am buying or selling a home in the future. My move was from the east coast to the west coast which was difficult, however, Norma and Kyle make it easy and found me the perfect property for my needs. They are simply the best!
Dan and Chris Zemanek
05/14/2013
We have worked with Norma as both a buyer and seller. She knows her business and her market. We very much appreciated her speed and urgency she operates with in the buying and selling environment. When you need answers quickly she makes it happen. If you want honest, straight forward answers and advice during the process of buying or selling your home Norma is your person.
Marian Paras
05/10/2013
Norma had helped us with the short sale of our home and made what could of been a stressful process, run smoothly. We considered Norma our expert during this process and she kept us well informed or what to expect along the way until we completed our short sale. We now consider Norma as part of our family and plan on contacting her in the near future, when we are ready to sell our current home and purchase our retirement home. We also continue to recommended Norma to our friends and family when selling, purchasing or doing a short sale.
Anna
05/10/2013
We have worked with Norma many times. We love here :) She works very hard and provides the best for her clients. She is like one of our Family members. When she is your agent she will give you the best advise, she works very hard to make sure you get what you want. She gives you great input. You can not go wrong with Norma. She has great professionalism and is friendly. She will work harder than you to get you what you want and will not let others push you around.
Anthony Brower
04/24/2013
It sounds cliche to say that Norma went the extra mile for us, and the truth is that it was more along the lines of several back-to-back marathons of effort. She was so much more than an agent for our purchase. She took us through the process with the attitude of someone investing in a long term relationship as opposed to a short term sale that I felt from so many other agents. Norma even acted as our therapist at times during the process, sans the couch and clipboard. I wouldn't recommend Norma as much as I would recommend that no-one else could possibly measure up to her.
Ella & August Craanen
04/20/2013
Being from out of state we had to look for a realtor to sell a condo in Burbank, we selected the Achievers group based on the fact that they were located in the area were the condo was. We realized instantly that they were totally looking out for our best interest, something we had not encountered in previous dealings with other realtors. Norma and Kyle are very knowledgeable in the Burbank market. They are great in keeping you updated throughout the selling process and are never too busy to take the time to talk and address any questions or concerns we had. We received many offers, they simplified the process by breaking down each offer and comparing the pros and cons. We can recommend the achievers group without reservation.
Sandra and Keith Davis
04/02/2013
"We had planned to use a recommended agent, but after talking with Norma, we decided to work with her. We were thrilled with the work she did. She was very prompt and detail oriented and was very attentive to our home purchase. We have touted Norma's exceptional work to many friends and they will be calling her when they are ready to purchase a home."
Randy Lawson
03/28/2013
What can I say about Ms. Norma and her team, only that they are great to work with and very knowledgeable with the aspects of real estate. They take the time to answer your questions, you never feel rushed or pushed into doing something out of pressure. They look out for your best interests and always advise in doing what is best for you." I sold my condo through them and purchased a single family home a year after my condo sale. I am now again using their expertise to sell my property in Burbank."
Tzi Ma
03/27/2013
"Norma is a terrific gal! She's really easy to work with! Too bad I can only choose three attributes for her as she should have all seven! Top Qualties: Great Results, Personable, Expert
Steven And Teresa
03/27/2013
Working with Norma was one of the most pleasant real estate experience that we've had. In the past, we have dealt with many different real estate professionals (agents and brokers), and didn't have the same quality service that Norma had delivered. She was always very responsive, and most of all friendly, in spite of the encumbrances that we encountered along the way. She followed through every step of the way, and successfully got us to the end. We are very happy with our place. We are glad that we met Norma, and will definitely work with her again in the future. We will also highly recommend her to anyone (friends, relatives, co-workers) for any real estate needs.
Lawrence Hill
03/27/2013
"Norma ad her team arranged several sales at our homeowners association, as well as numerous leases. I always found Ms. Rodriguez extremely helpful and well versed in all aspects of real estate. Her customer service always extended well past the sale and included advice and recommendations regarding our future real estate needs." 3 sales, 2 purchases and 3 leases in our 9 unit complex in Toluca Lake.
Barry Aerabi
03/27/2013
"We have purchased two homes in Burbank through Norma and her team. She is great. We have been very happy with her services." Top Qualities: Great Results, Expert, On Time
Vincent Truitner
02/28/2013
"Norma and her team are very knowledgeable in the Burbank market. They are great in keeping you updated throughout the selling process and are never too busy to take the time to talk and address any questions or concerns you may have. If you're looking to sell, this is the team for you. No one knows Downtown Burbank like they do."
format_quote
Our Team's constitution, giving our clients the assurance that their interests are being honored & protected. We believe "that you should hold us accountable & we are because you matter most!"