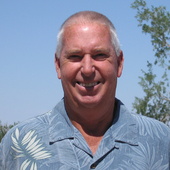 Real Estate Broker/Owner
Tim Haight
Broker/Owner
Arizona City, AZ

—

Pinal Realty & Property Management LLC
I serve Maricopa,Casa Grande,Arizona City, and the surrounding areas. The growth potential in these areas is immense. If you are looking for an affordable place to purchase a home or land please call.
Get to know Tim Haight
I am a one man operation licated in Arizona City. I have been a Real Estate Agent for over 10 years and A Broker for over two. I offer service as a Sellers Agent, Buyers Agent, and do residential property management. I service the Casa Grande, Eloy, Arizona city areas and can also help you find a good agent in other areas
Certifications
I have over ten years as an agent and in 2013 I received my Broker's License. I have been involved in over 100 transactions in the last four years and I can help you find a home in the areas I serve or can find you an agent in areas out of my expertise. If you are thinking of listing your home or are in the market for a home please contact me. 
Testimonials for Tim Haight
Testimonials:
September 11, 2007

To whom it may concern:


If allowed to choose five people with whom I would willingly be stuck on an elevator for two hours, many names jump to mind-Jon Stewart, Stephen Colbert, Jon MacEnroe, Maureen Dowd, William Buckley, Gore Vidal, Mary Carrillo, the list is almost endless. A category that is not represented in my list is real estate agent. The only celebrity that pops into my head when I think of celebrity and real estate is Donald Trump, and he would not be on my elevator dream team.

Tim Haight understands the stereotype by which he is judged. But he doesn't apologize for being a member of this not-so-popular group, nor does he defend his choice of profession. He simply breaks the mold.

He has a varied work experience, which comes in handy in a number of ways. He had a tire business for a while. He knows the importance of high quality, well maintained tires; a comforting thought as one sits in the passenger seat of his vehicle. His work in the construction industry gives him an advantage when it comes to considering the construction of a house or the cost of adding onto a house.

People who are really good at what they do, make it look easy. Although we looked at property in Oracle, Camp Verde and Tucson, Tim never hesitated to meet us at a moment's notice, no questions asked. His demeanor was always cheerful and interested.

"Meeting us" does not quite describe what was entailed. We were looking for a piece of property that would allow a horse arena, a minimum of 200 feet by 66 feet. For every trip we took, Tim had to come prepared to measure the land. He has a wheel that measures distance. He ran that wheel over hill and dale, boulder and riverbed, and in and around cactus and trees. At one point, we had to help him pick cactus spines from his back. In some cases, he had to climb over fences that stood in his way. On one occasion, he came straight from a memorial service for a colleague, so he was in dress pants. This did not deter him from climbing over a fence that blocked his path.

He never questioned our specifications, and he was quick to recognize and accept that a piece of property was not suitable because there was not enough usable land. He developed a good eye for what we wanted. He was sometimes the first to say, "This won't work." His quickness saved us time and energy.

Looking for a new home is an adventure, but all adventures have ordeals and drama built into the experience. Tim was always professional, but we came to see him as a friend who was invested in helping us find the house of our dreams. He never once tried to talk us into settling for property we didn't want. We looked at elegant homes and scraper-homes (his term for hopelessly dilapidated dwellings) in our search. We led the way and he followed, offering guidance or opinions when asked. We had many questions, and he always made the necessary calls to get answers.

Just imagine trying to satisfy an engineer and a psychologist. We are probably every real estate agent's nightmare. Obviously, we are not easily pleased, but pleased we are. With Tim's help we found and bought the perfect house for us. Although we are relieved that the search is over, we will miss spending time with Tim. His sense of humor and intelligence are uncommon.

Susan Parrish and Ron Isaacson
Introducing a fresh new look for your Profile.
Click the 'Edit Profile' button below to enter 'Edit Mode' and continue the tour.