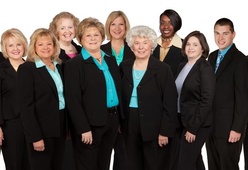 Real Estate Agent
Team Honeycutt
Team Honeycutt is a mother/daughter team formed in 1993 and has grown from 2 to 12 members and has the reputation as the top team in Cabarrus County located just outside of Charlotte, NC.
Get to know Team Honeycutt
Many real estate agents will do an outstanding job of selling themselves. Team Honeycutt would rather sell YOUR home or assist YOU with your purchase. Your needs are their concerns! Team Honeycutt combines a hardworking team approach with in depth community and real estate backgrounds to provide the perfect setting for getting the job done. With combined real estate experience of over 75 years, and community involvement that reaches from volunteer provider roles to volunteer leadership roles, Team Honeycutt knows Cabarrus County and the surrounding area intimately. This enables them to look at each transaction individually and form the perfect strategy for meeting your real estate needs. Combining technology and caring, human touch has enabled Team Honeycutt to continuously be Top Producers for many years. In real estate, the true challenge is putting the puzzle together. Whether it is finding the perfect house, selling a white elephant, matching a builder with undeveloped land or working with investors, when you call Team Honeycutt you will be making a good decision. You will be calling a group who will take on your real estate quest, exhaust their knowledge to meet your expectations, and finish the job. Join the others who have trusted Team Honeycutt with their real estate needs, you won't be disappointed. Team Honeycutt, where your dreams come true through their hard work!
Only a phone call away, Team Honeycutt consists of 12 licensed real estate agents, which means someone will always be available and ready to assist you and meet your time frame. The entire Team Honeycutt are long time Cabarrus County residents. Patience and understanding, plus knowledge, will afford you the best advantage for your transaction. Team Honeycutt has a vast source of information just waiting for you. Community involvement is important to each member of Team Honeycutt. Serving in both leadership and volunteer capacities has allowed them to give back to a community they care about deeply. One of Team Honeycutt's trademarks include their yearly distribution of hundreds of Halloween bags at the police station, fire departments, post offices and nursing homes. Being cross-trained and surpassing industry standards allows Team Honeycutt to be in the forefront of the real estate industry.
Diane Honeycutt - Team Leader CRS, GRI, CRB, ALHS Diane has been a licensed agent since 1978. She has a degree in Business Administration from Pfeiffer University and also has the REALTOR? designations of CRS (Certified Residential Specialist) and GRI (Graduate Realtor Institute), CRB (Certified Real Estate Brokerage Manager) and ALHS (Accredited Luxury Home Specialist). Betty and Diane have worked together as a mother/daughter team since 1990 and have been "Top Sales Agents" for many years. Community involvement is important to each member of the team. Diane has served in leadership roles in the Cabarrus Regional Chamber of Commerce, Concord Rotary Club, Cabarrus County United Way, American Red Cross, CVAN and NorthEast Foundation. Currently, Diane is chairing a three year Breast Health Campaign for the NorthEast Foundation to raise $5.5 million for a new Breast Health Center, mobile mammography unit and community outreach. As a team leader, Diane's leadership, vision, organization and desire have helped provide the ultimate in customer service for the team's clients. In addition, Betty and Diane were nationally recognized for their real estate expertise by the Star Power organization which recognizes top agents across the country for their past performance and high standards by which they operate their business. Being selected as a Star with this organization is like being listed as one of the Fortune 500 companies. Betty Honeycutt - Team Leader CRS, GRI Betty has been in real estate for over 40 years and has a love and enthusiasm that is hard to match. She loves the challenge of helping customers and clients find the right home for themselves and truly enjoys the opportunity to assist people when they are buying or selling real estate in the Cabarrus County area. As a seasoned professional and long-time resident of Cabarrus County, Betty has mastered the real estate market. She also knows this county on a personal basis, having been active with the Salvation Army Auxiliary, Cabarrus Regional Chamber of Commerce, Concord Rotary, a member of the Social Services Board, and many other volunteer activities. Betty also has the REALTOR? designations of CRS (Certified Residential Specialist) and GRI (Graduate Realtor Institute). Betty and Diane were recognized nationally for their real estate expertise by the Star Power organization which recognizes top agents across the country for their past performance and high standards by which they operate their business. Being selected as a Star with this organization is like being listed as one of the Fortune 500 companies. Call Betty today and experience her enthusiasm and zest for life! Margaret Dabbs REALTOR® Partner, ABR People can count on Margaret to listen to their ideas about a new home! She always commits herself to helping people achieve their dreams and goals. If you are selling your current home, Margaret will be committed to making that happen as fast as possible with the least amount of stress and worry. Joining Betty and Diane Honeycutt in real estate 15 years ago set the stage for a thrilling career change for this member of Team Honeycutt. Margaret's past work experience included public information, public education, human service work and public relations. Having worked in the public sector in Cabarrus County for many years provided the perfect training and exposure for her change to a real estate professional.
Jeanne Hodges REALTOR® Partner, Listing Manager Jeanne is the Listings Manager as well as a Realtor Partner for Team Honeycutt. As the Listings Manager, Jeanne takes photographs, makes home materials, measures homes and follows up on showings as needed. Her attention to detail is a definite plus for Team Honeycutt clients. In addition, she is an Accredited Staging Professional and is available to all of Team Honeycutt's sellers for staging tips to make the home show better. Jeanne combines her experience, her creative talents and her knowledge of the market and the area to help Team Honeycutt clients get the most for their homes in the least amount of time. Patience and understanding are two qualities that make Jeanne well suited for this business. Prior to joining Team Honeycutt, Jeanne worked with young people and handled contest direction and public relations for a national baton twirling organization. Jeanne plays an integral role in the efficiency and high standards of Team Honeycutt and we know you will find her an asset to your real estate experience as well! Kathy Taylor REALTOR® Partner Kathy was a teacher for 30 years before embarking on her second career of real estate. This has proven quite valuable for her as well as her clients. She has an innate ability to teach you everything you need to know about buying or selling a home, allowing you to achieve all of your desires. Kathy's primary goal is to assist you in this process. She loves helping people find not just a house--but a "home." Kathy is an active member of the Epworth United Methodist Church. She is a member of the Board of Directors for the Cabarrus Literacy Council, which provides all citizens of the community an opportunity to learn to read and write.
Leslie Bost REALTOR® Partner Leslie is a licensed broker full of knowledge and enthusiasm. She has a degree in Business Administration from the University of North Carolina at Wilmington and was previously using her education while working in the marketing industry. She is passionate about her work and will go above and beyond the call of duty to help you with your real estate buying and selling needs. Leslie is a native of Concord and is very committed to her involvement in the community and in helping with the continued growth of Cabarrus County. She has also been an excellent role model for our youth as a dance educator in Huntersville for the past eight years. Her energy and excitement will mesmerize you, so "if you're feeling lost...Call Leslie Bost!" Chris Wagner REALTOR® Partner Chris is a native of Cabarrus County with plenty of experience working with buyers and sellers. He has a strong background in real estate investments and even owns his own real estate investment company. Chris' strong work ethic and outgoing personality will make your real estate experience second to none. In his spare time, he enjoys spending time outdoors, especially fishing and boating. When you work with Chris, you can feel confident that he will work hard to help you reach your goals.
Shelton Johnson REALTOR® Partner Shelton attended the University of North Carolina at Charlotte on a four year Women's Basketball Scholarship and graduated with a Bachelor of Science Degree. She then graduated from the NADA Dealer Candidate Academy and spent 20 years in the car business only recently leaving it to attend and graduate from the Allen Tate School of Real Estate. With Real Estate being Shelton's second career, she plans on using her years of experience in customer relations to bring buyers and sellers exceptional service in the buying and selling of their homes. Let her go from "handing you the keys to your new car" to "handing you the keys to your new home." Shelton has a positive outlook on life and enjoys contributing to her community. She has been an active member of the Concord Rotary. She has coached basketball and baseball for the local YMCA and was an assistant varsity softball coach for Cannon School. She is also a Divemaster and a Private Pilot. Blake Honeycutt REALTOR® Partner Blake Honeycutt Blake attended Southern Wesleyan University in Central, South Carolina on a 4-year baseball scholarship. He won numerous academic and athletic awards including the Intercollegiate Academic Achievements Award and the National Christian Colleges Baseball Player of the Week. He then moved onto St. Louis, Missouri where he played professionally for the River City Rascals. Sports taught Blake to be focused, think ahead and be in position to make a successful play. He will use that same focus working for you to make sure your real estate transaction goes smoothly. Blake has that "never give up attitude" and will assist you in any way. He most recently left his career with Allstate Insurance to pursue a career in the real estate industry with Allen Tate's Team Honeycutt. Blake really enjoys being involved in the community and will combine his personal skills with his strong work ethic to help your next real estate transaction be a grand slam! Call Blake today for all of your real estate needs!
Megan Bowen Office Manager - BROKER Megan was born and raised in Concord and is a graduate of Concord High School. She attended Campbell University and graduated with a degree in Mass Communication. In 2005, she acquired her real estate license and joined Team Honeycutt. She is responsible for managing the day-to-day functions of the Team Honeycutt office. She works with all of the team members and clients to ensure that everyone's needs are met consistently and professionally. Jackie Moser Closing Manager - BROKER Jackie is here to make the closing process as smooth as possible for her clients. She is a licensed broker full of personality and excitement. Creating an exceptional real estate experience for everyone is Jackie's goal. A graduate of Winston Salem State University with a Bachelor of Arts in Political Science and Public Administration, Jackie is well prepared to serve all of your needs. Prior to real estate, she worked with computer systems, databases, and a variety of computer applications. She is also an active member of the University Park Baptist Church located in Charlotte, N.C. Jackie Moser has a passion for people and is dedicated to helping contribute to the painless and successful process of your real estate ventures.
Team Honeycutt's Blog Posts
Real Estate Sales and Marketing
–

about 8 years ago
Real Estate Sales and Marketing
–

about 8 years ago
Real Estate Sales and Marketing
–

about 8 years ago
Real Estate Sales and Marketing
–

about 8 years ago
Certifications
COMMUNITY INVOLVEMENT
As longtime residents of Cabarrus County, we value the "quality of life" we enjoy daily. We are committed to giving back to the community! You will find members of Team Honeycutt involved in many different community efforts. This area is a wonderful place to live, work, and raise a family, and we love the opportunity to "show off" its spirit and all it has to offer its residents. Members of Team Honeycutt are or have been involved in:
Cabarrus Regional Chamber of Commerce Cabarrus Convention and Visitor's Bureau Concord Rotary Club Coltrane Life Center NorthEast Medical Center Foundation Leadership Cabarrus Program Meals on Wheels (delivering meals) Hospice Cabarrus Arts Council Cabarrus County Education Foundation Habitat for Humanity All America City Award 2004 for Concord Breast Health Campaign Fundraiser School Lunch Buddy Program
Introducing a fresh new look for your Profile.
Click the 'Edit Profile' button below to enter 'Edit Mode' and continue the tour.