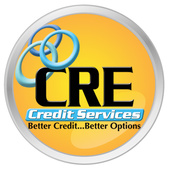 Services for Real Estate Pros
Simon Webster
Plano, TX

—

CRE Credit Services
My passion is to help others out with their credit and finances. This is a great country, but our financial education is lacking. We are trying to change that one person at a time.
Get to know Simon Webster
My name is Simon Webster and I am the CEO of CRE Credit Services. I work closely with many real estate and mortgage professionals all around the country. I have a passion for helping people, increasing financial literacy and financial awareness around the country, and I have a passion for real estate and getting people into a home. I big part of the American dream is home ownership and unfortunately over the last decade a lot has changed in our economy and in real estate. I have an extensive background in financial education as does my business partner and our goal has been to help as many people as we can not only become qualified, but become well qualified buyers. We do this with credit and financial education and helping consumers improve their credit. I believe our experience, combined with our passion to truly help people, and our forward thinking have allowed us to be successful, grow quickly, and help tens of thousands of consumers.
I have represented CRE Credit Services and NACSO (National Association of Credit Services Organizations) to promote financial literacy and credit repair awareness with the FTC, the CFPB, the House Financial Services Committee, and many important congressional staffers. I have consulted with fortune 500 companies and many small, medium, and large banks, mortgage companies, and real estate agencies on the importance of credit education. There is no hiding how many negative connotations come with the words "credit repair", however credit repair is legal, legitamate, and necessary for consumers all around the country. Unfortunately, since no real licensing is involved there are many "credit repair companies" that have popped up that have no real knowledge other than referencing a few laws that they do not understand and knowing how to send form letter disputes that one could print off the internet. Credit repair is a service just as any other financial service, but since it is such an important service yet so many unexperienced companies are operating in credit repair it has given the industry a bad name. With our involvement in NACSO and our involvement in promoting credit education we hope to change that. The fact is credit reporting and credit scoring are two of the most complex things there are to understand. There are many laws, how the are applied, the precedent, the internal policies of the credit reporting agencies, the policies of creditors and collection companies, many different scoring models, and the complex algorithms that go with them. This is not something that should be taught be people who do not have an extensive understanding of it. There is a lot of misinformation about credit out there. We travel all around the country putting on free seminars to mortgage companies, real estate companies, financial services companies, churches, schools, and non profit organizations.
Get important up to date information from our CRE Blog
Simon Webster's Blog Posts
ActiveRain Community
–

almost 9 years ago
ActiveRain Community
–

almost 9 years ago
ActiveRain Community
–

almost 9 years ago
ActiveRain Community
–

over 10 years ago
Certifications
CRE Credit Services is the leading credit restoration and education firm in the country. Our COO is a former member of the legal and compliance department (CASS) at Experian. He was actually deposed as an expert witness in federal court on Experian's behalf. He felt that Experian, like many large companies were making their own rules and were more concerned with making money than truly helping people. He decided to leave and work to help the consumer finally stand a chance. He is known as the top credit expert in the country and due to his experience directly within the bureaus he understands their internal policies and how they deal with consumers and credit repair companies. Due to his experience we have established the fastest growing and most successful credit restoration company in the country. We average over 50% deletion of inaccurate, unverifiable, or incomplete items in the first 30-45 days and over 75% in our 6 month program. CRE Credit Services is insured, bonded, registered with the secretary of state, and follow the CROA and all applicable state and federal laws that pertain to us.
We understand the hesitation of many to work with any type of credit repair company. However, there are many good people that have experienced bad times or many times just have things reporting completely inaccurately on their credit report. By now most people know that just sending out disputes is something that anyone can do and it usually doesn't yield desired results. Many companies tell you that there are consumer protection laws in place and that they have to validate items on your credit report. Most people don't realize that those don't really come into play when you just do dispute with the credit reporting agencies which is why it is important to also go after the creditors, collection companies, or other data furnishers reporting to the consumer's credit report. The credit reporting agencies are a business and their goal is to make a profit and they make their money from the creditors and collection companies that report to their credit. Obviously, they make it as easy as possible for them to "verify" that information and as hard as possible to remove it. Many times it may not even matter if the account is truly inaccurate or not if you don't know how to keep them accountable for the laws that have been established. Laws are only good if you know how to make sure they obide by those laws. Credit is very complex and Credit Repair is a great service if done by a reputable company. Credit Repair is a necessity and if you are not offering it to your clients you are doing them and yourself a disservice, because they will go somewhere else and will eventually will have to repair their credit to qualify.
Introducing a fresh new look for your Profile.
Click the 'Edit Profile' button below to enter 'Edit Mode' and continue the tour.