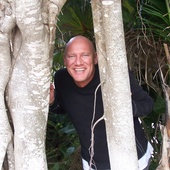 Managing Real Estate Broker
shawn cassel
S Cassel
Naples, FL

—

Woodruff Real Estate and Property Management
Property Management at a new RESPONSIVE level.
Get to know shawn cassel
Who is the bald man above. That would be me, Shawn Cassel. Gray by experience Bald by choice. I entered into the real estae industry head first. Leaving 10 years of experience in food and beverage behind me in Nebraska in 1999, packing a moving turck full to the brim and headed West to Colorado.
3 days into my residency in Colorado started real estate school with every penny to my name fitting into the front pocket of my jeans and baby number one on the way.  Passed the new requirements of the Broker Status test in Colorado the first go around and never looked back. Closed my first transaction within 45 dyas of being lisenced. Held every open house available Monday through Sunday, attended every in house training available, attended every office meeting, and pushed ahead as fast as possible. Earned runner up for roockie of the year with a margin of just $300 shy of Gross Commission Earned and 7million in sales my first year in a market with $ 250k average sales price. Year two I saw the writting on the wall, LIST LIST LIST, and built my lock box collection and listings to 21.
Missing the management side I left behind I quickly aproached the managing broker and president of the company and let them know they were missing out on my talent and within 45 days I was the Assistant Managing Broker and within 1 year I was the Managing Broker an office.
I combined my office in the downsizing phase of 2007, with another for a combined count of 120 lisenced agents and 8 staff. We achieved the #1 status for two years straight out of 21 offices in our region.
The days of training, babysitting, fixing, bailing out and the four walls closed in and I decided to get back to the roots of real estate and went back to listing and selling.
I was aproached several times to open a strat up franchise as the Managing Broker and eventually caved in and took the position. The walls closed in much quicker and back to the sales I went.
Joining up with an agent I trained several years ago i am now expanding his property management company with him into new markets.
shawn cassel's Blog Posts
Just for Fun
–

about 7 years ago
Real Estate General Information
–

about 8 years ago
Certifications
Woodruff Property Managemnt LLC
Colorado      Florida
First and Foremsost, We answer and return phone calls.
Give It a Try.
My personal Cell Phone Number is 303-548-2345
"We Don't Charge a Dime Until the Lease is Signed." We don't charge any up front fees. Not even a "Non-Refundable Set-Up Fee". If we don't preform, you don't pay. There are no "hidden fees" in our contracts.
Tenant Quality Assurance Guarantee: We are so confident in our Tenant Qualification Process that, if we have to evict a tenant we qualified and moved into a property we manage, we will pay for the eviction and find a new tenant. This is a FREE service, not an "Eviction Protection Plan".
We advertise your property more extensively than our competition. Over 85% of renters now find their next home online. We post your property to over 200 websites and 150 media sites. More advertising means less time on market and more money in your pocket.
We show properties from 9 am to 9 pm 7 days a week... when the tenant prospects need to see the rentals. Our competition shows during normal business hours. What exactly are normal business hours?
We are Green - 98% paperless. All our contracts, leases, and documents are signed digitally. Tenant and Owner On-line Portals allow 24/7 access to all invoices, documents, statements, reports, and financials.
We are Real Estate Brokers/ Broker Associates and Lisenced Agents. We are trained professionals who know how to negotiate and facilitate the rental process. We will get the highest possible rent for you, and, as an added bonus, you get the benefit of our years of real estate experience and accumulated knowledge.
We don't Nickel and Dime you on Maintenance. We ask for approval on all work orders so you don't get surprised when you receive your statement. We don't have an in-house maintenance staff that we pay $15 per hour and bill out at $50 per hour. Rather, we use our buying power to get discounts of 10-50% from our Preferred Vendors... and pass that savings directly on to you. We don't have hazy language in our contracts that allow us to mark up any invoice for any amount at our discretion.
We get your money to you fast. We use ACH direct deposit to collect rent and pay our owners so we can pay you up to 10 days faster than our competition... in time for you mortgage payment. We don't start you out a month behind on paying your mortgage. Ask yourself, Do you really want to wait and depend on your tenant to deposit a check at your bank?
We do not work with Public Assistance. Even though it may be easier to place a Section 8 tenant in your residence, we go the extra mile and find fully qualified tenants who makes 3x the rental amount. Our tenants can truly afford to live in your rental and they respect it as if it were their own since they have "skin in the game".
We offer Leasing Only service for those who don't need Property Management.
Average TIme to Rent: 19 days. National Average: 34 days. We also maintain a Tenant Wait List: We may already have a tenant who is looking for a property just like yours.
Responsiveness: We answer / return 99.2% of our phone calls. The National Average is only 60% returned / answered calls. Our voicemail will never say: "We will get back to you within 48 hours.".
Our Reputation is Everything to us: We have Zero complaints with the BBB (the BBB tells us we are the only property management firm in Colorado and soon to be Florida as well, with zero complaints), and Zero complaints with the Real Estate Commission.
We only charge our tenants the application fee. We have a fiduciary responsibility to our property owners to get them the best tenant possible. One of our competitors charges their tenants an additional fee of $200 upon lease signing. We do not. We gratefully accept good tenants.
We Are Essentially FREE: All of our fees can be written off against income at tax time.
Introducing a fresh new look for your Profile.
Click the 'Edit Profile' button below to enter 'Edit Mode' and continue the tour.