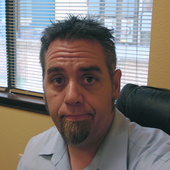 Real Estate Agent
Matt Stigliano
San Antonio, TX

—

Kimberly Howell Properties (210) 646-HOME
San Antonio real estate agent and former rockstar, Matt Stigliano gives San Antonio an "all access pass" and provides insight, opinion, and information on local events, real estate, and technology.
Get to know Matt Stigliano
I moved to San Antonio a few years ago after leaving the cold confines of Philadelphia, Pennsylvania.  I loved PA, but the winter is not for me at all.  My wife and I wanted somewhere warm with a decent cost of living (we had lived in Los Angeles when we got married, so that was out of the picture) and San Antonio won the battle of "where to live."  Since moving here, I've become a big fan of the city.  It offers just what I need in a city (just enough life and excitement and just enough rest and relaxation) and after settling in, I decided to move from my former career as a rockstar, to something new.  It had to be just as exciting, but for a different reason (and without the hectic overseas touring schedules).
I've owned two houses in my lifetime and had four agents that I've worked with while doing so.  Two of them in particular inspired me to become an agent myself.  When I bought my house in San Antonio, I had all but given up on real estate agents after having had a bad experience with one.  My agent here, showed me things didn't have to be the way they had gone in my last transaction.  He was there for me all the time.  He took care of every detail.  He let me vent to him occasionally.  He understood what I was going through as we struggled with our loan company.  He showed me that you could be a great agent and care about your clients.  He showed me exactly who I wanted to be as an agent (and I still speak to him).
My goal in real estate is to continue to look at the transaction from the viewpoint of a consumer (something I am), but with the knowledge and expertise of being a licensed agent.  To be able to understand what my clients are experiencing and going through as they make the largest purchase of their life (in most cases) will only allow me to properly help them.  Sometimes I think the "consumer-minded" thinking is lost in real estate.  We spend so much time learning "sales" and not enough time taking bits from our own experiences buying and selling homes as consumers, that we become robotic-selling-machines.  I am not a machine.
I not only hope to help my clients, but other agents as well, because I believe that the better we are as a whole in San Antonio, the better we can all serve our clients.  I continue to further my education, not just for my mandatory licensing requirements, but because I want to know more.  The more we know, the better we can serve our clients and help each other out.
Technology is fast becoming a big part of all real estate transactions - from the home search to the final closing day.  With technology comes great responsibility to keep the "human" side of the transaction open, while dealing with the fast paced environment of the internet, texting, social media, and email.  As a former web designer (I built our entire band's site from scratch and maintained it with the help of one other designer), I love technology and all that it provides, but still understand the need for the personal contact.  I cater each experience for every client based on their needs and skill levels with technology (doesn't make sense to email a client important documents if they only check their email once a week).  My involvement in sites like RealEstateShows, Photosynth, Twitter, ActiveRain, Localism, AgentGenius, Dwellicious, and others allows me to help expose your home to the most possible people and bring things back to a community level, all while maintaining a global reach.  Come experience a fast, beautiful, full featured home search on my site: www.RErockstar.com and begin your search for a home in San Antonio, Texas or contact me to discuss how technology can benefit you in the sale of your home.
Matt Stigliano's Blog Posts
ActiveRain Community
–

over 8 years ago
ActiveRain Community
–

over 1 year ago
Real Estate General Information
–

almost 11 years ago
Real Estate Technology & Tools
–

almost 11 years ago
Certifications
Client service - Every client is treated like a rockstar when working with me.  I want my clients to end the day feeling like they are being treated above and beyond the normal real estate experience.  When working with me, they can expect me to go the extra mile for them and not only help them through the purchase of their home, but become their trusted adviser.  And that treatment doesn't end at the closing table.  My goal is to build a client base that think of me like they think of a family doctor.  Who do you call when you are wondering about anything involving your home...your rockstar agent.  I don't subscribe to the theory of "next" in real estate, bouncing from transaction to transaction, instead I want to follow those clients through their lives and help them throughout.
Education/Knowledge - I am dedicated to learning more at all times.  In Texas, all licensees must take 60 hours of SAE credit in their first year.  Then every year after that, they must continue with 15 hours of MCE credit.  In my first year alone, I amassed over 18 hours of MCE credit.  Credit which is not required for my license, but rather classes I took in order to further my knowledge and continue to be up to date and ready for anything.  I promise to continue that ethic throughout my career for my clients benefit.
Care and community - I care about my clients.  Most agents get into the business because they do.  We're a giving, caring bunch.  I plan on staying that way for the length of my career.  Its just part of who I am.  I want to see people fulfill their dreams and find new ways to acquire the life they are looking to have.  And as my client base grows, my clients benefit, because I am a firm believer in connecting people who can help each other.  That's why I been involved in the RE-community's social media side.  I like meeting different agents, with different concerns, and connecting them with other agents, programmers, lenders, builders, and title companies that can help them out.  And I do the same for my clients.  I like the feeling of knowing that I made something happen, because I knew that one person needed the skills of another I knew.
Communication - My phone line is always open as is my email.  I love hearing from my clients, friends, and other agents.  I am often frustrated by the lack of response from companies in this world (ie, customer support) and I refuse to watch that happen to people as they're trying to buy or sell a home.  I think that client/agent communication can prevent many of the difficulties we see in real estate and I will always keep those lines open in order to prevent those difficulties.
Introducing a fresh new look for your Profile.
Click the 'Edit Profile' button below to enter 'Edit Mode' and continue the tour.