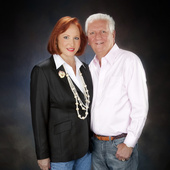 Real Estate Agent
Chris and Dick Dovorany
Broker/Associate at Premiere Plus Realty
Naples, FL

—

Homes for Sale in Naples, Bonita Springs and Estero, Florida
...370 12th Avenue S. #100
... Naples , FL 34102
---
Experienced buyers agents in Naples, Bonita Springs & Estero, FL. 2nd homes, investment, retirement or vacation homes or condos. Beach, boating, golf, tennis or just to get away from the cold.
Get to know Chris and Dick Dovorany
QUALIFICATIONS
Investment and 1031 exchange specialists Proven Exceptional Negotiating Skills Complete service from the first walk through and beyond Extensive knowledge of the entire Naples area Assistance in financing options Attention to Detail Effective Communication Techniques Creative Thinking and Problem Solving Ability to Relate Well with All Types of People Respected for Honesty, Integrity, and Reliability Highly Superior Dedication, Motivation, and Energy Marketing Expertise Checking "hot sheets" daily, looking for price reductions
Chris and Dick Dovorany have been in real estate in the Naples Florida area for 12 years.  They are full time Realtors with an extensive knowledge of every development in and around Naples.  When looking for someone to help you find the exact home or condo for your retirement or a permanent move to Naples, Chris and Dick Dovorany are the best.  Call them today and find out for yourselves.
For 27 years Dick was CEO and Chairman of the Board for a $25 million union aluminum die cast company in the midwest. His extensive knowledge of the negotiation process through his union negotiations brings a unique skill when he is working on your behalf.  He holds a finance degree from the University of Notre Dame and a Masters Degree from The University of Chicago.  Dick was also a Lieutenant in the United States Navy.
Chris raised 2 successful boys while pursuing her love of the construction industry.  Having built a number of spec homes and designing and building their own residences, Chris has the unique ability to be able to see past a badly decorated home and be able to mentally make it your dream home.  This is a talent not shared by many.
While chosing a Realtor in Southwest Florida you want someone who is not only full time and know the area well but also someone who will be on your side and fight for you, their customer.
Chris and Dick Dovorany's Blog Posts
Real Estate General Information
–

about 6 years ago
Real Estate General Information
–

about 6 years ago
Real Estate General Information
–

about 6 years ago
Real Estate General Information
–

over 6 years ago
Certifications
We know that you want a great property for a great deal.  Please visit our website at ChrisAndDick.com.  You do not have to register for anything and you can easily search for properties and also get to know a little about Chris and Dick.  That really is the easiest way to begin.  Call us if you have questions about the area or a particular property.
Naples, Florida is unique.  It is a resort market but also very much a family town with 11 high schools and the average age of our residents is 43.   Most, but not all, of our communities are gated.  We have over 200 golf courses in the area and Chris and Dick can help you find he perfect fit for golf, beach, tennis, boating or what ever your reason for wanting the best life has to offer.  Nothing compares to Naples, Florida.  Come on down and see for yourself.
Real Estate has historically been a terrific investment except for a few years ago when the banks forced the market to take a plunge.  We have recovered.  The whole country is in recovery but especially Southwest Florida has recovered.  There is no better time to purchase that real estate investment.  Prices are climbing and inventory is low but that will all change.  Why not be on the upswing?
Chris and Dick Dovorany know their market well.  Visit their website at http://ChrisAndDick.com today and navigate through all of the different developments.  Chris and Dick are different in that they do not force you to register for anything while using their website.  Search all you like then contact them with all of your questions.  Chris and Dick are in business to help you.  Help you find the right property for yourself so therefore you will do them the honor of referring all of your friends and relatives to the best Realtors in Naples, Florida, Chris and Dick Dovorany.
Whether you're looking for that retirement/investment condo to get your feet wet and take a temporary move out of your home state or you've decided it's time to jump right in and move to Florida, now is the time.  Prices will never be lower than they are right now but they are on an upward climb.  If you're golfers we can get you into an equity golf community or a bundled golf community or maybe a condo surrounding a public golf course.  If you prefer tennis there are many tennis communities.  There are also the people who prefer to play public golf and live on the beach.  Walking out your door and stepping into the white sandy beach here in Naples Florida is an experience you will love and rave about to all of your friends up north.
Naples residents have alot of discretionary money but of course that does not apply to everyone.  We do have our 4 and 5 star restaurants but also all of the chain restaurants and wonderful family owned Italian, Chinese, German and American restaurants as well.  Shopping can come in the name of high end boutiques or the Coastland Mall or the Miramar Outlet Mall.  You choose.
Testimonials for Chris and Dick Dovorany
Carol and Charlie

05/07/2013

Dear Chris,

Perfect, just perfect. Here we are just out for the day walking around the neighborhood and of course who doesn't love an open house. I knew the moment I walked in that this was the one. We're still painting and finishing up on the crown molding but love love love it.

I don't know how I convinced Charlie to go back into a house after living in that villa, I guess he's in love. Now I have to convince him that I need my pool back.

We're leaving on the 3rd for NY. Be back around Thanksgiving. Hope you see you then.

Carol and Charlie

P.S. Romeo DID graduate from Bark Busters. Howie the UPS guy is thrilled.

Mike and Teresa

03/11/2012

Hey Guys,

The furniture came in yesterday. Everything now looks great. Shutters to be installed next week then we're off to the beach. Teresa and I played in a scramble Sunday and came in 2nd place. Not bad for being a little rusty, we were paired with a great couple. Anyway, stop by next week before we leave to see the newly decorated.

Thanks for your help. Everything came together just like you said it would.

Mike and Teresa

Redhook, ME

Dear Dick,

How confusing was this whole process. lol. Thanks for sticking it out with us and leading us to the greatest house on the planet. Shirley and I are so thrilled to now be able to call you and Chris, friends.

Redfish on the grill next Thursday?

Mark Wiessner

Bloomfield Hills, MI

Dear Dave,

I just had to drop a quick note to you to let you know that Chris and Dick Dovorany are in our minds the best Realtors in Naples. They found us what we wanted and it was even a little below our target price. Please put this in their file, they are the best.

Larry and Betty Marina

Boston, MA

Dear Chris and Dick,

After showing us properties for a few years on our trips to Naples you convinced us to finally take the plunge. Why we did not take your advice and do this earlier is beyond me. Thank you so much for your patience.

Joan and Randy Duenas

Dix Hills, NY

Bruce and Susie Golyak

02/14/2010

Chris and Dick,

Good job. We love it. The Strand is perfect for us and we can't wait to bring the kids down to see their "inheritance", lol.

I had no idea the golf community was so active. I never have to look for a 4 some and Susie found a real fit with her tennis buddies.

Thanks much. Appreciated.

Bruce and Susie Golyack

John Bertin recommends Chris and Dick through Linkedin

07/09/2009

John Bertin, CPA has endorsed your work as a Realtor.


Dear Chris and Dick,


I've written this recommendation of your work to share with other LinkedIn users.


Details of the Recommendation: "Chris and Dick are a great team that I would recommend to anyone looking to either buy or sell a home in the Naples, FL market. They do not treat a client as a one time sale but rather, look at every transaction as though they are helping a family member. I would highly recommend them and would use them again for my real estate needs in Naples."


Service Category: Real Estate Agent
Year first hired: 2004
Top Qualities: Great Results, Expert, High Integrity


(note) John continues to send us friends and colleagues
Introducing a fresh new look for your Profile.
Click the 'Edit Profile' button below to enter 'Edit Mode' and continue the tour.