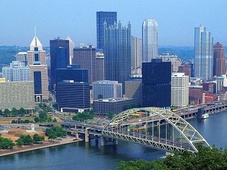 Mortgage and Lending
Justin Rosenal
pittsburghresources
Pittsburgh, PA

—

First Capital Mortgage Group
Pittsburg home and mortgage loan company specializing in USDA loans, FHA loans, VA loans, Jumbo loans and conventional home loans for Pittsburgh Pa. home buyers and residents.
Get to know Justin Rosenal
Pittsburgh Home Loans and Mortgage Loans

We provide home loans and mortgages for Pennyslvania residents
in Allegheny County and the Pittsburgh area.

We specialize in FHA loans, Conventional home loans, USDA loans,
VA loans and also Jumbo loans for all types of real estate, homes
and condos.

If you are looking for a reliable and professional company and
loan officer who can help you get funded and process the paper work
to get you in your next dream home call Justin Rosenal at
First Capital Mortgage Group in Pittsburgh for fast and reliable
mortgage funding programs and resources from HUD for down payments.

Mortgage Officer Justin Rosenal
Licensed by the PA Department of Banking NMLS# 336744
First Capital Mortgage Group
Manor Oak II 1910 Cochran Road Suite 545 Pittsburgh, Pa. 15220
Office 412-942-1020 ext 22 / Cell 412-913-0756
Email: jrosenal@hotmail.com
USDA Rural Home Loan Company
USDA Rural Home Buyer programs, guaranteed home loans USDA,
rural home loans Pennysvlvania, Pittsburg USDA home loan,
Conventional Home Loans,
Justin Rosenal's Blog Posts
Home Buying
–

over 8 years ago
Home Buying
–

over 8 years ago
Home Buying
–

over 8 years ago
Home Buying
–

over 8 years ago
Certifications
Pittsburgh Conventional Home Loans / Resources and Information
Requirements for Obtaining a Pennsylvania Conventional Mortgage
In most cases, a buyer should be aware that conventional financing may not be available if the home in question will bring housing costs above 28 percent of their monthly income. Most lenders calculate housing costs by adding the estimated monthly payment, property taxes and required insurance. If this total is $1,000 per month and the household or individual income is less than $3,570 then a conventional loan may not be possible. Potential buyers will need to discuss their particular situation with a mortgage professional.

Generally, most lenders offering conventional financing have a minimum FICO score requirement of 620. A conventional lender is more likely to look at trends and consider each applicant individually rather than deny the loan based on a single negative event in the credit history. This means that if you have a late payment or delinquency still showing up on your report but in the years since have had a perfect record, the lender may be willing to look past the history.

Unlike federally backed loans like the USDA mortgages, conventional mortgages require a down payment. In most cases, lenders will want to see 5 to 10 percent down. On a $200,000 house, you may need to cover $12,000 to $25,000 in upfront costs once you calculate down payments, taxes, fees and closing costs. If you plan on seeking the conventional route, it's a good idea to start saving early.
Benefits of Conventional Loans
There are several possible benefits to conventional mortgages for people who can qualify. First, conventional mortgages come in more term lengths than some other loans, including terms that range between 10 and 40 years. Finally, there is usually not a penalty for most conventional conforming mortgages, making it a good option for those who plan to pay off debt early.
No matter what type of mortgage you apply for, you should always do your homework regarding interest rates and the company you are dealing with. This is especially true with conventional lending that may not conform to government standards.

Visit www.pittsburghomeloans.com to learn more about conventional loans. The staff at Home Loans Today can assist you in finding the right mortgage type for your home purchase.


Apply Online for a Pittsburgh Conventional Home Loan
Types of Conventional Loans
Adjustable rate, fixed rate, bridge home loans, balloon loans and hybrid loans are
types of conventional home loans. Each of these offers different interest rate structures
and payment terms.

Credit
Conventional loans usually require a higher credit score than FHA loans.
This is partially because conventional loans aren't backed by the government.

Debt-to-Income Ratio
A conventional home loan has a lower allowable debt to income ration,
usually between 33 percent and 36 percent, whereas an FHA loan allows
up to 41 percent.

Considerations
A conventional home loan may require a down payment of 20 percent.
In some cases, this amount may be higher depending on the borrower's credit.


Pittsburgh Pennsylvania USDA Mortgage Loan Programs
in Rural Communities for First Time Single Home Buyers
Pittsburg Pennsylvania area USDA Single Home Loan Resources Application
Apply Online for a USDA Single Family Home Loan
USDA Rural Development Single Family Housing Guaranteed Loan Program
Guaranteed Loans Offer Affordable Financing To Rural Homebuyers.
The mission of USDA Rural Development's Single Family Housing Guaranteed Loan Program is to assist low to moderate income rural homebuyers achieve their dream of homeownership!
Rural Development partners with approved local lenders to extend 100% financing opportunities to eligible rural individuals and families for the purchase of safe and sanitary dwellings. Guaranteed loans have assisted thousands of homeowners to purchase a home with affordable interest rates and loan terms.
Applicants must purchase a home within the eligible rural areas, and have a household income that does not exceed the established limits where the home is located. Additional Guaranteed Loan Features include but are not limited to:
•100% financing, no down payment is required. The loan amount may not exceed 100% of the appraised value, plus the guarantee fee may be included. •Guarantee Fee applies: may be rolled into the loan amount. •Flexible credit guidelines. Non-traditional credit histories may be accepted. •Fixed 30 year interest rates apply. Lenders and applicants agree upon interest rate. •Qualifying ratios are 29% for housing costs and 41% for total debt. Lenders may request an exception to exceed these ratios when strong compensating factors are identified. •No maximum purchase price. Qualifying ratios and the applicant's stable and dependable income will determine home affordability. •Eligible property types include existing homes, new construction, modular homes, Planned Unit Developments (PUD's), eligible condominiums and new manufactured homes. •Eligible closing costs and lender fees may be included in the loan or paid by the applicant. •Gift/Grant Funds/Mortgage Credit Certificates (MCC's)/Seller Concessions are allowed. •Eligible repairs and improvements may be included in the loan. •Applicants apply with an approved lender of their choice. •Not limited to first time homebuyers. Lenders who wish to join the Guaranteed mailing list should sign up at http://www.rdlist.sc.egov.usda.gov/listserv/mainservlet
Introducing a fresh new look for your Profile.
Click the 'Edit Profile' button below to enter 'Edit Mode' and continue the tour.