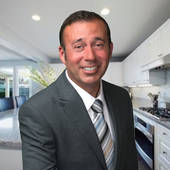 Real Estate Agent
Mike Baltierra
Full Service at Your Service Realtor-Eastvale CA
Eastvale, CA

—

Rise Realty
I'm a Full Service at Your Service Real Estate Professional. My Service Area: Eastvale, California. If you need assistance I'm ready!
Get to know Mike Baltierra
Mike Baltierra
As a Professional Realtor, Customer Service has always been my Priority which includes regular communication with any changes and updates of your real estate transaction. Always available to answer your questions and to make sure you are satisfied with your real estate experience. My Goal is to be "Your Realtor For Life"
 When I'm not working you can find me either playing volleyball, golf, volunteering, snowboarding, or hang-in at the beach depending on the season.
As a Professional I take my profession very serious and I always listen to my clients. I realize buying or selling is a emotional time. Your excited about buying your next or your first home, but at the same time it's a big decision to make. A big commitment. That's where I come in, to help you realize that your making a wise or not so wise decision. I'm here to consult with you on the details. When it comes to selling your home I realize that too is also hard, because for so many reasons. Maybe you raised your children there, maybe it was your first home and you did so much to make it your own, or maybe you just can't afford it anymore, I understand these things. My goal is to make you feel comfortable with your decisions and get what you want. Let me help you in your next big decision as I have with so many other happy clients reach their dreams and goals.
My Personality Style is a Interactor/Supporter according to the D.I.S.C profile.
The D.I.S.C. is a tool which is used to describe behavioral style. It is used to describe a person's behaviors and how each style is seen by others. The D.I.S.C. stands for the four different personality styles.
D- Director I- Interactor S- Supporter C- Thinker
The contribution to an organization is that I'm Optimistic, Enthusiastic, Warm, Loyal, Cooperative, Patient, Consistent, and Steady.
The summary report-Tend to do well in professional and social environments. The ability to talk comfortably with people you've never met is a valuable asset. This ability makes you extremely approachable and building relationship is priority. Personal behavior is very warm and you are known as Interactor/Supporter. You tend to be sociable, optimistic and loyal. You tend to be trusting. You base your decisions on the safety and security of the situation.
Of course that what's my personality profile say's, but if you want to know for yourself, just ask some of my past clients and team members.
My Service Area. 'The Inland Empire of California'
The Inalnd Empire has pleanty to offer especially when it comes to Mexican Food. Miguel's Jr is famous in our area. Anyone who lives here can tell you about them.
Mike Baltierra's Blog Posts
Real Estate Market Trends
–

over 2 years ago
Real Estate Market Trends
–

over 2 years ago
Real Estate Market Trends
–

over 2 years ago
Real Estate Market Trends
–

almost 3 years ago
Certifications
My Specialty and Expertise
* Pre-Forclosure- Helping in giving options, explaining the process and directing you to my team of expert's in their field such as our attorney and CPA for their advice if needed, which is always recommended. As a Realtor I do not practice law or claim to know the financial retribution of a foreclosure, I leave that to the professionals in their field. I thus do what I do best and give you information from a real estate view.
* Short Sale- Once you are informed by an attorney, CPA and listen to my advice you decide to sell your home doing a short sale, this is where I do my best. I market your home to get it sold fast so that you don't have every buyer in your city bothering you. I understand that this might not be a good time for you. Your trying to start a new life, and get started as soon as you can.
* Sellers- In Traditional homes sales getting your home sold for the highest possible price the market is selling for is what I enjoy most. I get your home set up to sell for the highest price by staging it. Making your home look its best and making buyers imagine themselves living there. I've sold homes fast using two simple methods, pricing it right and staging it to show at it's best. Of course I have a whole marketing campaign to reach as many buyers as possible and would love to have a chance to show you this. 
* Buyers- I'm always happy to work with buyers as well. It's what Realtors really enjoy about this business the most and that is handing the keys to your new home. That's a great feeling. After all the paper work, sign this, sign that ,it really is a joy and satisfaction that I helped you with such a big decision. 
 * Probate-Certified. Probate is a specialized field for a Realtor. Understanding the process and working closingly with attorneys is a must. Not just any Realtor will do. As a Certified Probate Realtor I've been trained in helping direct Administrators or Executors in this journey. 
Testimonials for Mike Baltierra
I've had the pleasure of meeting Mike and having him as a real estate agent. He is not only honest, but has proven to be on his client's side. I was at a lost and thanks to Mike's quick thinking and diligence, we were able to get the place sold and for asking price. He kept me informed and went above and beyond for me. The photos he took were amazing. I not only highly recommend him, but would call on him again. There maybe a lot of good realtors , but he is one of the best. Robin A


I wouldn't be living in my home right now if it wasn't for Mike Baltierra. He is very professional and gets the job done. He goes above and beyond to get answers and communicates exceptionally well. If something seems unusual he will find out why, which happened in my case. A house in the community I was interested in was already in escrow, but should have closed and been a done deal. Mike talked to the realtor and found out the circumstances. Long story short, the people were having financial difficulties and eventually dropped out.. I swooped in and mike helped me get my first home.

Mike's hard work really paid off. He listened to me and showed me many listings even though I was kind of set in certain area. Nonetheless, he never tried to sway me or move me away from what I truly wanted. I am very appreciative of mike and all he has done for my family and I. it was a pleasure working with him. I recommend him to anyone and everyone that is looking for a home. Trust me, you won't be disappointed!


Anthony and Crystal Arballo

03/30/2016

Mike was there for us every step of the way. As first time home buyers, we had a lot of questions. Mike was very patient and professional, and answered them all.
He found us exactly what fit our budget and needs

Craig and Jenni

02/19/2016

Mike was a true professional who exhibited patience and understanding of our needs.
He went above and beyond, even when the closing on our purchase developed a few snags.
I would highly recommend Mike for your selling or purchase needs.

The Littletons

I wholeheartedly endorse Mike Baltierra, Realtor, for all of your real estate needs. I had the great fortune of working with him to sell my home and it was a very good, stress less experience. I was moving out of state and that in itself is very stressful. Mike was wonderful to work with as he is an outstanding professional with great customer service skills. He was very aware of my deadline and always had my best interest in mind. I found him to be hard working, energetic and conscientious. He always kept me informed by text or phone calls, made sure I always had the brochures outside (nice nice brochures) and also the pictures he took for the internet and brochures were beautiful. I was on a deadline and thanks to his hard work we made it! It is a very hard to sell a home with all that must be done and Mike has all of the skills needed to make it the best experience possible. I have had other Realtors and he was by far was the best. He is very trustworthy! Sincerely, Lois Sowa
Introducing a fresh new look for your Profile.
Click the 'Edit Profile' button below to enter 'Edit Mode' and continue the tour.