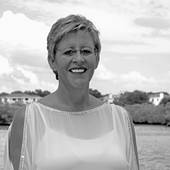 Real Estate Agent
Manuela Baginski
bilingual Real Estate Professional in Tampa Bay
Tierra Verde, FL

—

Coastal Properties Group/Christie's International Real Estate
Full time, bilingual Real Estate Professional with years of experience working with buyers and sellers from all walks of life. Serving St Pete Beach, Madeira Beach, Treasure Island and Redington Beach
Get to know Manuela Baginski
I came to Florida from Berlin, Germany in 1998. My previous work experience allowed me insight into communication while I worked for a TV station, the development and sale of properties on a large scale while I worked for the "Treuhand", An Agency established by the German government to develop and sell properties formerly owned by the GDR. You could say, this is when I got bitten by the Real Estate bug. I also worked for a branch of the Australian Defense Industry (ADI) in Berlin for the clean up of military sites and military occupied land. In 2004, while working at the State Attorney's Office here in Clearwater, I decided to go back to what I love doing - Real Estate. To top it off, I'm able to work in Paradise here in the greater Tampa Bay area!
Manuela Baginski's Blog Posts
Testimonials for Manuela Baginski
Joanne and Ken Hale

02/27/2014

We purchased our Seminole Isle Condo with Manny Baginski just over 2 years ago. We were impressed with her attention to detail at that time and, therefore, chose Manny again when we were ready to sell. It is always more difficult to sell than to buy, but we were again impressed with Manny's expertise, knowledge and diligence in getting it sold. The photos that were taken were absolutely spectacular (far superior to the competitors listings) and the buyer actually purchased our unit by seeing the pictures online. Thanks so much Manny for all your hard work and getting the job done! We will be sure to pass your name on to friends and family in the future

Monika and Peter Tillack from Germany

10/29/2013

Hi Manny,
this was really a great job! Because of the different systems in Germany and in Florida, we didn't think it would be an easy one. You guided us safely towards our dream of the own house in sunny Florida. You managed all the smaller and bigger hurdles, and helped us 24/7 in answering all our questions and explaining differences, not only related to the purchase itself. Thanks a lot for your help Manny. For sure, You are invited to the next pool party!!!


Thank you Manny! I feel very fortunate to have sold the house with this flood insurance issue still looming big. The reason it sold is because you worked so hard to find a way to get it done. I thank you for that. Looking forward to finding my next property in Kenwood.

Coming to the conclusion to list my home as a short sale was not easy. I turned to Manny Baginski at South Beaches Real Estate Professionals for assistance. Manny showed me the process could be easy and less stressful – with Manny my short sale was a lot easier than I had ever dreamed! She was thorough and maintained excellent communication for the duration of the process. Without your dedication and expertise, I would be experiencing the consequences of a foreclosure on my record. My decision to have her as my agent was the best decision I could have made. I HIGHLY recommend Manny Baginski! I'm grateful for a job well done! If you are looking for more than just a Realtor, hire Manny Baginski!

Frances L. Parianous

04/04/2012

I am writing this with hopes that you will find it useful in choosing South Beaches Real Estate Professionals when buying or selling your house. They recently completed a short sale of my primary residence in Pinellas County and the whole process was handled with professionalism, promptness and expertise beyond my expectations.
As a first time homeowner who now needed to sell my house quickly due to a job transfer, I had no previous experience in handling and negotiating the myriad of decisions and legalities involved. Despite the endless amount of information available via the Internet and much time spent to become more knowledgeable with what I needed to do and understand to sell my house, I found it overwhelming; there was too much information and I did not know who and what to trust for competent guidance. It was clearly a buyers market and I had no idea how to make my house sell quickly when there were so many others also for sell.
Fortunately, I followed my instincts and contacted South Beaches Real Estate Professionals after visiting their website.
From our first phone contact and subsequent meetings, both Anne Hensel and Manuela Baginski, were punctual, thorough, excellent communicators who answered all my questions, explained the legal language clearly, and treated me with individual attention. Although they were other countless properties also for sell that were well above my price range, they both regarded me with the same level of respect and kindness that clients with million dollar properties are shown. They always responded quickly to any questions I had and always kept me informed on where we were in the whole process from the initial first offer through the closing date. Knowing at all times where we were in the negotiating process with the buyer and bank was key to easing my concerns with the pressure of relocating to another area and job transfer taking a lot of my time and attention.
As a result of their dedication and professionalism, a buyer with an acceptable offer was found in a matter of days.
I was able to relocate to my new work location and not worry about having to sell my house. They took the stress and pressure off of me and I could adjust to my new surroundings.
Other than telling them what my needs were and providing required documents, I had nothing else to do; no endless phone calls and voice mails, no confusing form letters from the bank. I had complete faith in South Beaches Real Estate Professionals from the very beginning and they never disappointed or misled me.
They kept their word, always did exactly what they promised and showed much care and sensitivity to my needs and concerns. How often can you say that about the people you deal with every day?
Whether you are a buyer or seller, save your valuable time and money, by contacting South Beaches Real Estate Professionals to discuss your real estate needs. You'll be treated with a level of expertise and individual attention that is rarely found in today's world.


Ich bin eine deutschsprachige Anwaeltin hier in St Petersburg und befasse mich hauptsaechlich mit Erbrecht fuer Deutsche, die hier im Ausland leben oder Eigentum besitzen. Waehrend all der Zeit habe ich selbstverstaendlich mit vielen Maklern zusammengearbeiten. Guten und Schlechten. Anne und Manny gehoeren zu den Guten. Es gab noch nicht eine Immobilie, die die beiden nicht fuer meine Klienten verkauft bekommen haben. Selbst in Zeiten, wo der Markt voellig am Boden war und andere Makler nur die Haende ueber dem Kopf zusammengeschlagen haben, haben die beiden es immer verstanden und erreicht, unsere Immobilien zu vermarkten und Kauefer zu finden. In einigen meiner schwierigeren Faelle, in denen Zeit eine grosse Rolle spielte, konnte ich mich immer auf Anne und Manny verlassen. Ihre Zuverlaessigkeit, Tatkraft, Ideenreichtum auch mal ausserhalb des Rahmens zu denken, Elan, und ihr Spass an der Arbeit ist beeindruckend.

Manny,
I just wanted to say thank you for all your help in the sale of our property. I am convinced that the place finally sold due to your candor, persistence and your tenacity. You were great to work with and always a true professional. Plus, you always understood the St. Pete Beach / Treasure Island market conditions and subsequently always knew what to do in regards to pricing, advertising, etc.. I am very, very appreciative of the work that you did for my wife and I. I know that when we sell our other places in Florida, you will be the first realtor I call to help us. Thanks again for being there and being so nice. You guys were great. I hope we cross paths again.

Introducing a fresh new look for your Profile.
Click the 'Edit Profile' button below to enter 'Edit Mode' and continue the tour.