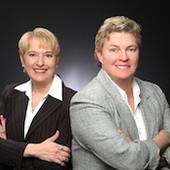 176981
Real Estate Agent
Kathy O'Brien
Kathy and Mary - Connecting Atlanta
Atlanta, GA

—

Keller Williams Realty Metro Atlanta

Keller Williams Realty Inc.
We are proud of our excellent customer service and providing you with a stress free transactions. Call us today at 404-295-9491!
Get to know Kathy O'Brien
We take great pride in our working and helping buyers and sellers achieve their goals.  It may be helping a first time home buyer or assisting a seller stage and market their home.
We create Clients for Life.  The client is our top priority and we make ourselves available to answer your questions, provide expert real estate advice and guide you through the process by holding your hand and creating a stress free experience.  Our focus is on you, the client, and understanding your needs.
We have been in business in the Atlanta area for many years and specialize in residential real-estate in the following areas:
Buyer Representation
Relocation Buyers
Seller Representation
Interactive/Web-based Marketing 2.0
Foreclosures
Short Sales
New Construction
Investment Property
Real Estate Consultation advice aimed at what is best for the client
For more information or to begin your home search, please visit:
Area of Expertise
Our business focus is on the in-town neighborhoods of Atlanta and Decatur, including Oakhurst-Decatur, Kirkwood-Atlanta, East Atlanta, East Lake-Atlanta, Grant Park, Ormewood, Virginia Highland, Morningside, Inman Park, Candler, and Lake Claire neighborhoods. We are also familiar with the North Atlanta suburbs such as Dunwoody, Alpharetta, Marietta, Smyrna, Sandy Springs and Roswell. 
 SEARACH FOR HOMES OR CONDOS IN ATLANTA NEIGHBORHOODS
Brookhaven
Brookhaven is less than two miles (3 km) from Lenox Square Mall and Phipps Plaza, located in Atlanta's Buckhead district and two of the most affluent shopping centers in the United States. Within Brookhaven, there are two commercial districts. The first is along Peachtree Road, immediately east of Lenox Square Mall and Phipps Plaza. The modest homes in the Brookhaven Fields neighborhood south of Peachtree Road around Roxboro Road and Colonial Drive have been largely replaced with upper-middle class and upper-class housing that is typical of high dual income families.
Buckhead
Buckhead is an upscale uptown district within the city of Atlanta and comprising approximately the northern one-fifth of the city.  It can be characterized as mostly suburban in character with a highly urbanized center with many high-rises centered along Peachtree Street and US 400.   Buckhead is sometimes promoted as the "Beverly Hills of the South".
Candler Park/Lake Claire
Originally the city of Edgewood, established 1890, its citizens voted in 1908 to become part of Atlanta.  Candler Park area bounded by Clifton Road on the east, DeKalb Avenue (where the Georgia Railroad tracks are) on the South, Moreland Avenue (the eastern boundary of Inman Park) on the west, and North Avenue on the north.   
Home to around 7000 wildly diverse people, it has more the feel of a small town than that of a neighborhood in a major metropolitan area.  Like all the neighborhoods in and around Atlanta, it declined as a desirable place to live after the 1920's but began its upswing in the late 1960's.
Several years ago, there was a momentary plague of bumper stickers urging us to "Ski Lake Claire!"   While there may indeed be a 4.7 acre Lake Claire Park, there is NO Lake Claire.   However, there is, in fact, a Lake Claire neighborhood starting east of Candler Park and also bounded on the South by the Georgia Southern Railroad tracks and DeKalb Avenue
On the East is the city of Decatur, and on the North, well, it gets too complicated and there may not be any official boundaries, anyway.  Just know that the Druid Hills neighborhood claims the parks south of Ponce de Leon Avenue, so Lake Claire goes no further north than them.
Decatur
Decatur is a city in and county seat of DeKalb County, GA.  With a population of 18,147 in 2000 census, the city is sometimes assumed to be larger since multiple zip codes in unincorporated DeKalb County bear the Decatur name.  An in town suburb of Atlanta and part of the Atlanta Metropolitan area, Decatur's public transportation is served by three Marta rail stations.  Decatur's official motto is "a city of homes, schools and places of worship." 
Oakhurst
Oakhurst is a historic neighborhood in the southwest corner of the Atlanta, Georgia suburb of Decatur. It is located south of downtown Decatur and approximately six miles east of downtown Atlanta. Oakhurst primarily consists of residences built in early 20th Century and neighborhood businesses. It is roughly bounded by the City of Atlanta's Kirkwood neighborhood (west of Winter Ave.) on the west ; the Atlanta city limits (Northern St. & Pharr Rd.) on the south; West College Ave. on the north; and South McDonough St. on the east. There is also a neighborhood near the College Heights Early Learning Center (roughly centered on South McDonough St. & Lenore St.) referred to as "College Heights", but it is part of Historic Oakhurst is an eclectic, diverse liberal-minded community . According to the 2000 Census, slightly fewer than 5,000 people live in Oakhurst.
East Lake
 East Lake is one of Atlanta's more historic neighborhoods. Located on the trendy but family oriented east side, East Lake is conveniently located 4.5 miles from downtown Atlanta. With its 1940's bungalows, cottages and convenience to local eateries, shops and transit, East Lake has enjoyed a rebirth in recent years.
The Atlanta Athletic Club began looking for land to build a country location, and in 1908, East Lake Country Club opened. Although there was a golf course, golf was not the primary recreation at that time. East Lake was the site of an amusement park with swimming pool, hot dog stands, and penny arcades and even had a steamboat on the lake. The lake was an excellent spot for fishing and boating.
East Lake was incorporated as a town in 1908, with Thomas Paine as the first mayor.
In 1909, an auto road was constructed from Ponce de Leon Avenue to the gates of East Lake Country Club, making East Lake even more accessible. By 1916, a $10,000 school building had been erected on Fourth Avenue, making East Lake the perfect suburban neighborhood. According to an Atlanta Journal Constitution article in May, 1916, demand for East Lake homes was "almost to boom proportions".
In 1928, East Lake was annexed into the City of Atlanta.
Many famous people have been forefront in East Lake's history, including Asa Candler, golfers Bobby Jones and Alexa Stirling and Johnny Weissmuller, winner of 5 Olympic gold medals and the first movie Tarzan, who swam at East Lake.
East Atlanta
East Atlanta is an area located east-southeast of downtown Atlanta.  It is generally considered to be roughly 10% of Atlanta's area which was part of the 1909 annexation into neighboring county, putting it into DeKalb while the remainder is in Fulton.  For this reason, it is also sometimes referred to as Atlanta in-DeKalb, particularly when referring to taxes and government services handled by the City of Atlanta and DeKalb County.   The urban village of East Atlanta and its surrounding neighborhoods have seen considerable urban renewal efforts since the late 1990's.
Kirkwood
Kirkwood is a neighborhood in eastern Atlanta that was designed by architect, Will Saunders. It is situated entirely in DeKalb County and near Lake Claire, East Lake, and Oakhurst. Kirkwood is bound on the north by DeKalb Avenue and on the south by Memorial Drive. Kirkwood is situated just minutes from Downtown Atlanta and Decatur work and entertainment centers and is conveniently served by the Eastlake MARTA Station.
Prior to the Civil War, much of the property that now comprises Kirkwood belonged to the Kirkpatrick family. Another portion belonged to the Dunwoody family. The name Kirkwood was derived from a blending of the two family names.[1] During the early part of the last century, streetcars ferried Kirkwood commuters into Atlanta.
Kirkwood traces its beginnings to residential development begun as early as the 1870s. While no one would consider Kirkwood a suburb of Atlanta today, an early tour book described it as an "area of beautiful suburban villas." Kirkwood was an early streetcar suburb to Atlanta. By 1910 streetcars provided express service to and from Atlanta three times daily, and street cars continued service along some streets including Kirkwood Road until the early 1950's.
Kirkwood was incorporated as an independent municipality in 1899. Governed beginning in 1899 by its own city council and mayor, the town boasted its own water system, school systems and fire department. The former Kirkwood School is a handsome building from this period, located on Kirkwood Road just north of Bessie Branham Park. Individually nominated to the National Register of Historic Places, the primary building on the property's south side was originally designed by John Francis Downing, the son of the noted Atlanta architect W. T. Downing. Both buildings now comprise the Kirkwood Lofts apartments as a result of a $1 million renovation in 1997.
In 1922, Kirkwood residents voted for annexation into the city of Atlanta.
Grant Park
Grant Park is the oldest city park in Atlanta - fourth in size only to Chastain Park, Freedom Park and Piedmont Park.  Grant Park has two major attractions besides the park itself: Zoo Atlanta established in 1889 and originally known as the Grant Park Zoo; and the Atlanta Cyclorama featuring the 1864 Battle of Atlanta from the American Civil War. The park serves over two million visitors per year.
Grant Park is also the in-town neighborhood surrounding Grant Park, and is Atlanta's largest historic neighborhood. It includes the 88 acres  or 35 acres of Oakland Cemetery (established 1850), where Margaret Mitchell, Bobby Jones, 25 former mayors of Atlanta, six former governors of Georgia, and many Civil War dead are buried. It also includes the Atlanta Stockade Fort Walker, and the Grant Mansion for which the area was named. The Grant Park Neighborhood Association represents local residents.
Ormewood
Ormewood Park is a neighborhood located east-southeast within the Downtown Atlanta area of Ormewood Park is east of Grant Park south of Reynoldstown  west of East Atlanta, and north of Boulevard Heights.
The trolley service made this area more accessible to city workers and a number of Victorian homes were constructed.
Another period of growth took place after World War II. The wood sided cottages that are scattered between the older Victorian and Craftsman homes are typical of this era. During the late 1950s and early 1960s a number of brick ranch style homes appeared and many of these still retain their original particular charm.
Ormewood Park is currently undergoing a period of gentrification.
Accomplishments:
•·         Atlanta Board of Realtor's Life member of Million Dollar Club and Phoenix Award - awarded based on cumulative sales volume and DeKalb County Board of Realtors.
•·         Associate Broker
•·         Accredited Buyer's Representative
•·         Short Sale Specialist and Certified Negotiation Expert
Kathy O'Brien's Blog Posts
Home Selling
–

over 5 years ago
Real Estate General Information
–

over 5 years ago
Home Buying
–

over 5 years ago
Real Estate General Information
–

over 5 years ago
Introducing a fresh new look for your Profile.
Click the 'Edit Profile' button below to enter 'Edit Mode' and continue the tour.