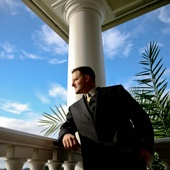 SL3210139
Real Estate Agent
Ira Joshua Parker
P.A.
Trinity, FL

—

Profusion Property Group, powered by Keller Williams Realty

Keller Williams Realty Inc.
1657 Davenport Drive
Suite 103
Trinity , FL 34655
---
I've been in the real estate industry for over a decade now, having served in the Title, Mortgage, Lending, Notary and now Realtor aspects of the business.
Get to know Ira Joshua Parker
JoshSellsREOs is a username that I utilize to display who I am to a perfect stranger! I am Josh. I sell stuff. Specifically, I sell REO homes! JoshSellsREOs is a coined phrase that I use to promote my Real Estate business, Ira Joshua Parker, P.A. I'm a licensed & insured Realtor and Notary Public in the State of Florida. I've been engaged in the Real Estate industry for over a decade now, having entered back in 2000 as a HUD-1 processor for one of the largest Title Companies in the region. My 11 years of experience have included Title, Closing, Notary, Lending, Mortgage Origination, and now Realtor duties. The vast array of past experiences helps me to understand the entire home buying process, from inception to completion. It also helps me form a solid relationship with the other service providers engaged in the transaction, because I can relate to the hurdles & struggles they may be facing on their end of the transaction and can usually relate that information to my clients successfully to keep all parties feeling warm & fuzzy from start to finish!
I would love for you to swing by my personal Facebook page, and get to know who "Josh" is! Be sure and follow me on Twitter to see what's going on in the local Tampa real estate market. If you're interested in all things Tampa Bay real estate related, you can catch up with me and subsribe to my online blog at the Tampa Real Estate Examiner! I'm also on YouTube, Zillow, LinkedIn, and many more websites!
Ira Joshua Parker's Blog Posts
Real Estate Best Practices
–

almost 6 years ago
Real Estate Best Practices
–

almost 8 years ago
Home Improvement
–

almost 8 years ago
Home Improvement
–

almost 8 years ago
The Keller Williams Realty Real Estate Search Mobile App
JUST RELEASED! GPS automated mobile search app with Real-Time MLS updates for your iPhone, iPad, Android Phones, and Android Tablets! This app is so much more powerful than Zillow, Trulia, or any other Real Estate app on the market! No junk, no ads, no pop-ups, nothing - just the information you want: Homes for Sale & Homes for Rent nearby your location (or do a search in other areas, too). All for free! Here is HOW you get it for free: 1.) You can visit the following link: http://app.kw.com/KW3CGHWD 2.) You can TEXT: KW3CGHWD to 87778 3.) You can scan the QR Code uploaded here in the photos 4.) If you can't get it to work in any of those other methods, please go to your iTunes or Google Play app stores, type in a search for Keller Williams, download the app, hit OK when asked about using current location, accept the terms of use, and then enter KW3CGHWD in the Agent Code Box to have access FOR FREE to find your next home!
Certifications
In today's economic climate, it's most important for Buyers & Sellers to align themselves with professionals that are experts in their fields. I am an expert in the REO, Foreclosure, Bank Owned, and Short Sale arenas. I've been solely focused on these market areas for the past 3 years as a Realtor. I've successfully managed upwards of 50 REO's at any given time, through my JoshSellsREOs Team and through our 5 branch offices here on the West Coast of Florida. I personally closed 59 transactions and over $7 million in volume in 2010 as an REO Agent. My team produced over 100 transactions closed, and breached the $20 million mark company-wide in total sales volume. Did I mention we're a small, family-owned & operated, commission-only, group of like-minded individuals that focus our talents & efforts in the distressed property market? We're the answer to your problems. We're the agents you have been looking for. I'm here for you, and look forward to helping you conquer this diverse market!
Testimonials for Ira Joshua Parker
-Joe & Wilma Herberson, After purchasing a home in Hudson, FL in 2012 with Josh as their Buyer's Agent.

09/03/2012

Josh made finding and buying a house easy. He was very helpful before, during and after the sale. Josh made a video of the house and property so I could see what I was buying (from out of state), provided me with a great home inspector's contact info and met him there to complete inspections, he setup the survey and meet surveyor there, he also setup all of the closing process for us. Even after the sale Josh still provides me with any contact or other information that I ask for... I consider him a friend, not just a Realtor.

-Mat & Christine Morgan, After purchasing a home in Trinity, FL in 2012 with Josh as their Buyer's Agent.

08/20/2012

My wife and I could not have asked for a better agent, his real estate knowledge is outstanding. After a long painful short sale offer went south, he successfully kept us positive and found us our true dream home. We cannot thank him enough. If you're looking for a hardworking, determined, and personable agent, he is your man!

-Aaron & Melanie Ramboldt, After purchasing a home in Weeki Wachee, FL in 2011 with Josh as their Buyer's Agent.

07/07/2011

My husband and I first found Mr. Parker online in 2008 as we were starting the very long and tedious process of buying our first home. He happened to be showing a "fixer upper" in Dunedin that we thought we might be interested in. We were immediately impressed with his vast knowledge of the home buying process, as we had never done this before. He directed us to an outstanding bank and financial adviser whom was personally known to Mr. Parker. He put us on an immediate financial plan to get our credit scores up enough to buy a home. During this time we continued to look for homes using any real estate agent that happened to be showing that particular property, all the while getting back in our car after the showing, never as impressed with any of the other agents as we were with Mr. Parker. Within 7 months of first being referred by Mr. Parker to the bank and starting our personal financial plan, our credit scores had risen over 100 points and we knew who we needed to contact. We immediately got a hold of Josh, who by this time was like one of the family since he had stuck it out with us for a period of over 2 years, personally overseeing every detail of the process. After showing us dozens of homes in Pinellas, Hillsborough, Pasco, and finally Hernando County, Josh was there, as always, when we found and put a bid in on our dream home. We have now been in our home since 2/11 and not a day goes by where we are not thankful that we went with Josh Parker. If your looking for an honest, hard- working, and dedicated Agent who will treat your family as he does his own, with the utmost respect and one on one attention, then we highly recommend not buying or selling your home without Josh Parker. Thanks for everything Josh... Your Friends, The Ramboldt Family!

-Capt. C.K. Epstein, US Army, After purchasing a home in Trinity, FL in 2011 with Josh as his Buyer's Agent.

03/23/2011

Mr. Parker is an outstanding professional and business man. He went more than the extra mile for me without me even asking. He made my first home purchase seem easy. I had a lot of extra scenarios involved since I was out of the country at the time, but even with all of those outside factors we closed on time and they took our first offer. I'd highly recommend Mr. Parker to anyone that's looking for a home in the greater Tampa Bay Area.

-Tiffany Piemontese, After purchasing a home in Spring Hill, FL in 2010 with Josh as their Buyer's Agent.

03/23/2011

Mr. Parker is an awesome real estate agent in that he genuinely cares about his clients. He is a great person and it shows through his hard work. Unlike other agents that I have contacted, Mr. Parker has taken the time to answer any question and made me feel like my opinion mattered to him, that I was more than a commission paycheck. He was readily available and walked us step by step through the process of searching for a home all the way to closing on a home found. I would definitely, without hesitation, recommend Mr. Parker to anyone looking for a genuine and goodhearted real estate agent!

-Mike & Jera Lord, After purchasing a home in Wesley Chapel, FL in 2010 with Josh as their Buyer's Agent.

03/23/2011

My husband and I were pregnant with twins and expecting very soon:) Josh was so persistent and on top of things that it made everything less stressful! We are so gracious that he found our family the perfect home and that he worked so dilgently so that we could close ASAP! We can never thank him enough. He is truly the best at what he does!!!


-Scott Cushman, After purchasing a home in Spring Hill, FL in 2010 with Josh as his Buyer's Agent.

12/23/2010

I was buying my first house and I wanted everything to be perfect, I was in no hurry and looked at houses all around Tampa bay by myself and with a couple of other agents for over a year with no luck. Then I found Josh he cared much more about what I wanted and didn't try to talk me into a house. I probably bothered him too much but he was always courteous. He returned my calls even when he was busy and treated me the same even though I wanted a less expensive. He was always up beat and after each time I lost a house to higher offers he always said we'd find a better one, and he did. He found a few houses listed by NHMSI for government auction, he worked extra hard getting the right paperwork done so I could bid. After the week of bidding I found out my offer won, I couldn't be more happy with my experience with him. My only complaint is I didn't meet him sooner. P.S. While I was trying to find a house, I recommended him to my best friend, and he found him a short sale and they closed a month before me. He was also very satisfied.

-Tim & Lisa Stevens, After renting a home in Holiday, FL in 2008 and again renting a home in Tarpon Springs, FL in 2009 with Josh as their Rental Agent.

12/22/2010

Josh put as much effort into helping us find a rental home as he would have with a sale. We love our home. And we recommend him to our home buying friends on a regular basis. As soon as we're ready to buy we know exactly who we will call first. Josh is honest, upstanding and a pleasure to be around. He will make your home buying or selling process as painless as possible.

-Danielle & Billy Wellington, After purchasing a home in Brooksville, FL in 2009 with Josh as their Buyer's Agent.

12/22/2010

A great experience with him, he made it easy for us to get in and was very flexible with our schedules.


-Justin St. John, After purchasing a home in New Port Richey, FL in 2009 with Josh as his Buyer's Agent.

12/22/2010

Josh is a true go-getter.As soon as I called him I knew I had found someone who understands real estate and works hard to succeed.He knew the area and pinpointed what I was looking for right away.He also fought hard during negotiations and got me a great deal.
Introducing a fresh new look for your Profile.
Click the 'Edit Profile' button below to enter 'Edit Mode' and continue the tour.