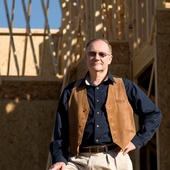 Services for Real Estate Pros
John Mulkey
Housing Guru
Waleska, GA

—

TheHousingGuru.com
TheHousingGuru.com. Providing the latest information for those interested in home repair, buying, selling, building, and remodeling homes. A valuable resource for both consumers and Realtors®.
Get to know John Mulkey
Buyer's market, seller's market, foreclosure, mortgage crisis, recession, inflation—the headlines can be both frightening and confusing—and many of those wishing to buy or sell a home don't know where to turn. With a real estate market that has experienced extreme fluctuations during the past few years, sellers may wonder if it's even possible to find a home that suits their needs and to secure financing if they do.
Such uncertain conditions create the perfect environment for The Housing Guru. Statistics have shown that Americans change residences approximately every five years, so at any given time there may be literally thousands who are in the market for a home. For some, the purchase will be their second, third or more; but for others, it will be their first leap into the frenzy. Regardless of which group you may be in, The Housing Guru will prove to be a valuable resource to help you locate the home of your dreams and to purchase it at the lowest possible price.
As a homebuilder with 40 years experience I developed TheHousingGuru.com so that Realtors, home buyers and sellers, as well as those interested in improving or remodeling their homes could benefit from the knowledge I've gained building and marketing hundreds of homes. Having been top executive in two of the largest homebuilders in the southeast and later running my own company, I learned valuable lessons and gained information that can help both buyers and sellers. My website includes numerous tips that will speed the sale of a home and has information on credit, finance, negotiating, home staging, and current market and real estate trends.
I have twenty years experience as a "hands-on" builder and almost twenty more as a corporate leader. In the corporate world I wrote manuals for both builders and subcontractors, and conducted training seminars on construction technique, customer service, and marketing. I am a published author, having completed two books, and I am currently editing my third, the manuscript for "Shrewd Homebuying," a guide for both novice and seasoned home purchasers.
Buying a home is, for most people, the largest purchase they will ever make, and it may also prove to be their best investment. In today's complex financial environment, it can not be taken lightly. Market fluctuations, changing escrow requirements, environmental considerations, financing options, zoning requirements, neighborhood associations, tax implications, and hazardous conditions are just a few of the obstacles one may encounter in purchasing a home. Therefore, it's not just helpful, it's critical that you have an experienced guide to steer you through the minefield that home buying can sometimes present.
As a former homebuilder who has built and sold hundreds of homes and who has also managed large construction operations involving thousands of workers, I offer my services. In addition to building homes "from the ground up," I have also renovated, remodeled, and flipped dozens of others, and even physically moved a few houses, relocating them to new neighborhoods. My extensive experience has shown me how to market homes in those times when buyers are scarce, and cost effective ways to make a home more appealing. During my career I learned dozens of ways that sellers can make an average home stand out against the competition, and I'll share the marketing secrets of the "big boys" with big budgets. I'll show you what buyers should look for in order to avoid falling victim to clever sales techniques. Whether you are a seasoned professional or a first-time buyer, you'll find information here that will simplify the process and perhaps allow you to save you thousands on your home purchase.
I began TheHousingGuru.com to provide consumers with the latest news in housing. The website format allows us to constantly provide updates to keep you abreast of current market trends, financing options, and the latest techniques to help you sell a home. We'll also alert you to creative tricks that zealous sellers sometimes use. By combining the extensive information contained on my website with the updates found on our blog, you will be well on your way to becoming a savvy consumer.
And The Housing Guru is not just a guide for the novice; seasoned home buyers and sellers regularly use its helpful tips to give them the edge needed in today's tough real estate market. With separate sections dedicated to all aspects of the home purchase or sale process, The Housing Guru is packed with 4 decades of building and marketing wisdom. In an easy to follow format, the website details topics that will help purchasers analyze their personal finances, select their team of experts to assist in the process, locate the best home possible, and negotiate the terms of the purchase. Purchasers can explore financing options, home inspections, how to prepare for closing, and topics of current interest in our chaotic housing market.
Eager sellers will discover how to apply the secrets that the corporate housing giants use to help them sell thousands of homes. From home staging tips to how to make a home irresistible, sellers will be armed with the tools to help them sell quickly and at the best possible price.
Finally, for those who own a home but need some guidance with repairs, The Housing Guru offers a wealth of easy to follow tips for home repair. Using photos, illustrations, and written in simple language, this section can help home owners protect their investment while saving money in the process.
As developer of TheHousingGuru.com, I am continually adding content in an effort to make it the most comprehensive source for all housing questions, a site dedicated to providing the latest information in Home Purchases or Sales, Home Finance, Home Repair, Home Staging, Remodeling, and Home Repair Tips.
John Mulkey's Blog Posts
Home Buying
–

about 1 year ago
ActiveRain Community
–

almost 9 years ago
ActiveRain Community
–

almost 9 years ago
ActiveRain Community
–

almost 9 years ago
Certifications
TheHousingGuru.com provides information to help both buyers and sellers make informed decisions. A powerful tool with insights that come from building and marketing hundreds of homes, we are continually updating and adding information on all facets of the home building, buying, and selling process.
Those considering a home purchase will find the information in the "Buyers' Corner" extremely valuable. Divided into sections that include:
Preparing for the purchase
Credit information
Choosing between new and resale
How to recruit the experts
The foreclosure market
Tips on negotiating and financing
Green building tips and other informative sections.
In the "Sellers' Corner", eager sellers will find tips including:
Is Now The Time To Sell?
How To Determine Price
Preparing Your Home For Sale
For Sale By Owner Or With Agent?
Must Do Repairs Prior To Sale
Finding Hidden Buyers
Staging Your Home
Making Your Home Irresistible
10 Don'ts In Selling Your Home
What is a Short Sale?
Visitors should also check out The Housing Guru Blog, for daily updates of important news in the housing and financial markets; the Frugal Living section, for tips on how homeowners can save money; Hot Topics, for major news affecting home ownership; and a section on Smart House Plans and Downsizing Tips.
Featuring articles from respected Experts in the fields of Home Staging, Real Estate, Finance, and Home Repair, TheHousingGuru.com showcases some of the most knowledgeable voices in the housing industry. Additionally, we offer Consultation Services for all phases of residential construction including: plans and site review, selection of materials, budgeting, construction scheduling, inspections, and guidance throughout the building process.
Introducing a fresh new look for your Profile.
Click the 'Edit Profile' button below to enter 'Edit Mode' and continue the tour.