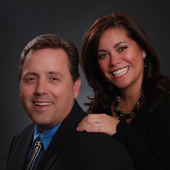 600636
Real Estate Broker/Owner
John & Irma Nelson
San Antonio Real Estate Agents - San Antonio Homes
San Antonio, TX

—

San Antonio Real Estate Broker/Agent with Get It Sold Realty
Get It Sold Realty - John and Irma Nelson
22211 IH10 W. #1206
San Antonio , TX 78257
---
Whether you are buying or selling a home in Stone Oak, Shavano Park, Helotes, Alamo Heights, Alamo Ranch, Dominion, San Antonio, Boerne or Bexar County we have the real estate expertise you need now.
Get to know John & Irma Nelson
Make Sure and CONNECT WITH US TOO!!!
Real Estate Broker/Agents located in San Antonio, Texas specializing in working with military families that are moving in our out of the area, first time home buyers, seniors looking to downsize or transition, luxury buyers and sellers and just ANYONE looking to work with the Best in town. 
We are the owners of Get It Sold, LLC and the Elder Resource Group (www.ergtx.com) where we specialize in helping those making a transition in life create a plan for their move.  This may include coordinating elder law services, estate sales, move management, remodel and repairs along with the Real Estate Services of listing and selling their home.    We also help find Senior Housing for those looking to move from their home into Independent, Assisted Living or Long term Care options.      
I truly believe if we help others succeed in their business and lives - we will reap the benefits long term for the seeds we plant today.   Pay it forward is my motto!   Give first.  We pride ourselves in understanding our clients first, making sure we know what it is they are looking for in a home or property (if they are a buyer) and what their motivation is to sell a property - Once we understand our clients than we can focus on being the best real estate agents in San Antonio and doing everything in our power ethically and with purpose. 
 A little bit about us - Irma and I were married on 10/10/10 so you can bet I would never forget that date.   It's amazing how you can go through life thinking that you have it all until you meet the one that makes life worth living.   Than you see what a gift we have.   Why am I sharing this with you in my profile?  Because I want you to know what kind of people we are - loving people that truly care about our clients.   We never think of people as strangers but more as friends we haven't met yet.   I think it's so important to treat everyone equally no matter what size or price of house they are buying or selling or what area they might be looking in.  Irma just loves working with buyers and has mastered the art of FINDING the hidden gem in the pool of listings that appear on an hourly basis on the MLS.  She just knows when something special hits the market and makes sure our clients find out about it pronto and sets up a showing sometimes the same day so we don't miss it.   We owe it to our buyers to be on top of the market and Irma surely does that.  
I on the other hand just love Listing homes and negotiating the best deal for our clients (buyers and sellers).  Understanding the market is critical to both SELLING homes and BUYING homes. 
John & Irma Nelson's Blog Posts
ActiveRain Community
–

over 5 years ago
Home Buying
–

about 7 years ago
Home Buying
–

over 4 years ago
Home Buying
–

over 7 years ago
Certifications
Some of the areas that Irma and I specialize in are luxury homes in San Antonio which include areas such as Alamo Heights, Bentley Manor, Dominion, Terrell Hills, Sonterra, Canyon Springs, Fair Oaks Ranch, Menger Springs just to name a few.  You can get more information on listings in these areas by visiting our www.aboutluxuryhomes.com site.  There you will find each area broken out by subdivision with listings applicable for that area.  As you know Irma and I are a team and we work with First Time Home Buyers, Military Families, Spanish Speaking clients (Irma) and investors.   I  love helping agents build their business - I truly have a passion for teaching agents how best to lead generate and market themselves in the industry - with all the tools available to agents these days there is no reason for failure.  I feel like training agents on how to build businesses for themselves is much better than handing over leads we may get on our websites - If we don't teach others how to do it themselves how will they learn when the leads and referrals stop coming in.   My true passion is helping others and coming from a position of serving others.  It brings joy to me to help a buyer find their first home or for an agent to get their first lead - It all means a great deal to me.  

Irma is an Accredited Buyers Representive (ABR) and just is a true buyers agent who does start to finish one of the best jobs of taking care of her clients.  I have to hand it to her as she just has an instinct for finding things that might be hidden to others.  I as I have probably said before love selling homes - homes that others just struggle with or haven't been able to 'coach' the seller to understand the market (of course some sellers are under water in their homes and in these situations we would work with them and their lenders to discuss the possibility of doing a Short Sale).   I am a USMC Veteran as well so I understand what is involved in the relocation of our service men and women.       I have a Bachelors Degree in Business from Univeristy of Phoenix as well as an engineering background in Telecom and Networking.   I get asked quite often when working with other agents as to why I am at KW and why do I stay?   I think it's the people.  The agents here at KW (in my office of 500 or so) all help one another.  There isn't a competition amongst our peers - Agents come to my classes all the time and are just amazed that as an agent myself why would I give away all my secrets!  They are not secrets - They are tried and true actions that others like myself have proven over time.   Honestly if I wasn't and agent and didn't practice and try all the things I 'teach' how can i be credible?   Exactly.  So thats enough of me - Now to learn a little about why I chose Keller Williams San Antonio-Cityview office.
Why did Irma and I choose Keller Williams? If you want to learn more about who we chose to work with, please read below at a little about the Culture, the Training and Coaching, Profit Share and More.
Culture:
Keller Williams Realty is a company that changes lives. The culture is as diverse as the countless ways in which associates and market centers commit themselves to finding and serving the higher purpose of business, and is united by cohesive understanding of our Mission, Vision, Values, Beliefs and Perspectives.During our first, annual RED Day, which is now a companywide tradition, 22,000 associates participated in a coordinated effort to give back with their local communities.At the heart of Keller Williams culture in action is KW Cares, a public charity created to reach out and support each other during times of extreme and unexpected hardship.
The Best Wealth-Building Opportunities

Spread the word and create another stream of income
In keeping with the philosophy that agents are partners and stakeholders in the success of the business, Keller Williams Realty has created a distinct profit sharing program in which approximately 50 percent of every market center's profits every month are returned to those who have contributed to a market center's growth by attracting productive associates to the office. To date, 14 Keller Williams associates have earned more than $1 million in profit share and fully 23,769 associates are participating in the profit share program.
Technology
Gain the high-tech edge!As technology continues to transform the ways in which buyers search for homes and real estate professionals communicate with their clients, Keller Williams Realty's, agent driven technology development group is on the forefront of advances that continue to sharpen our agents' competitive edge.Read about our latest technology initiative, eEdge, the real estate industry's first and only complete lead-to-close agent business solution, and the winner of the 2011 Inman Innovation Award!"Keller Williams is determined to stay ahead of the curve to provide the most services and  support in the industry to our entire network – especially in today's real estate climate."-Mark Willis, CEO of Keller Williams Realty
Training and Coaching
Tap into the real estate industry's brightest minds and top producers!A commitment to training and coaching at every level is at the heart of what sets Keller Williams Realty apart. Keller Williams University provides an industry-leading curriculum addressing every aspect of success in real estate. Multimedia training is offered online, via KWConnect, the real estate industry's most innovative distance learning program. Among the industry's top tier coaching programs, MAPS Coaching, led by Dianna Kokoszka, is having a profound impact on the careers of thousands of real estate professionals.
At the core of Keller Williams Realty is a conviction that who you are in business with matters. We believe that the company we keep can contribute to our lives in untold ways. To help cement this understanding, we've formalized a belief system called the WI4C2TS that guides how we treat each other and how we do business.
Win-Win:  or no dealIntegrity:  do the right thingCustomers:  always come firstCommitment:  in all thingsCommunication:  seek first to understandCreativity:  ideas before resultsTeamwork:  together everyone achieves moreTrust:  starts with honestySuccess:  results through people
Our Mission
To build careers worth having, businesses worth owning, and lives worth living.
Our Vision
To be the real estate company of choice.
Our Values
God, Family, then Business.
Our PerspectiveA training and consulting company that also provides the franchise systems, products, and services that lead to productivity and profitability. Keller Williams thinks like a top producer, acts like a trainer- consultant, and focuses all its activities on service, productivity, and profitability.
If you ever have questions about Keller Williams and how it could help your business just let me know.  I would be more than happy to share with you in more detail.
Technology - e-EDGE
No more hunting for passwords on post-its and logging onto seven different systems a day to run your business.Exclusively built for Keller Williams Realty associates, eEdge is the real estate industry's first and only complete lead-to-close agent business solution – including lead management, contact management, a marketing library and a paperless transaction system. All your contacts and data feed straight through the system – no double entry, no multiple log-ons.    myLeads•    Leads feeding from more than 40 KW and agent sources, along with 350+ listing syndicates•    Immediate lead notification when new leads come into your business•    Automated lead response to capture hot leadsmyContacts•    Robust contact management system•    Ability to group contacts for targeted marketing campaignsmyMarketing•    SEO-optimized lead generating Website options•    Customizable and automated marketing campaigns for farms, buyers, sellers and past clients •    Pre-listing Presentations, Listing Presentations and Buyer Consultations•    Listing syndication to 340+ real estate search enginesmyTransactions•    Faster, seamless, practically paperless transactions•    Ability to invite all parties into a transaction loop to exchange documents •    Unlimited document storage capacity•    Electronic signature capability (where allowed by law)
Winner of Inman Innovator AwardInman Innovator Winner, Press ReleaseInman Innovator Finalist, Press ReleaseInman News, Keller Williams Rolling Out New Platform for All AgentsRECON Intelligent Services, Will Consumer Demand Create a New Tipping Point for the Real Estate Transaction?Real Estate Magazine, Keller Williams eEdge Combines all Agent Functions into One Cohesive System
_______________________________________________________________________
Careers Worth Having Gary Keller notes on the cover of The Millionaire Real Estate Agent, his best-selling guide to success without limits in real estate: "It's not about the money. It's about being the best you can be!" Having studied the systems used by thousands of the highest producing agents in North America, Keller Williams has created the model for what it takes to succeed in real estate and reinforces its winning models through training, coaching, educational events and a best-selling series of publications. Businesses Worth Owning The Keller Williams perspective is that real estate is a local business driven by individual associates and their presence within their communities. It's a perspective that stems from Gary Keller's deep conviction that the agent, not the company is the brand, and that the company's primary role is to help agents to build their own brand and grow their own businesses – beyond simply selling real estate.  
Lives Worth Living Great riches only matter to the extent that they fund a great life with great meaning. Keller Williams Realty is defined by a culture of agents who care deeply about each other and are committed to having a positive impact on their clients and their communities. Indeed, the focus of Quantum Leap, Gary Keller's signature training class is on discovering and achieving one's life mission. Keller Williams Realty is a company that changes lives.
The Proof is in the Numbers
As the only major real estate franchise company in the North America to experience positive growth in 2009, Keller Williams Realty's time-tested models and systems establish a framework for profitability in any market. There's a reason why Entrepreneur magazine recently ranked Keller Williams Realty as the No. 1 real estate franchise, and why we were the only major real estate franchise company to report an increase in both the number of associates and the number of sides for both the 2009 REAL Trends 500 and the RISMedia Power Broker Reports.
For more information on KW contact me at getitsold@johnnelson.us
Introducing a fresh new look for your Profile.
Click the 'Edit Profile' button below to enter 'Edit Mode' and continue the tour.