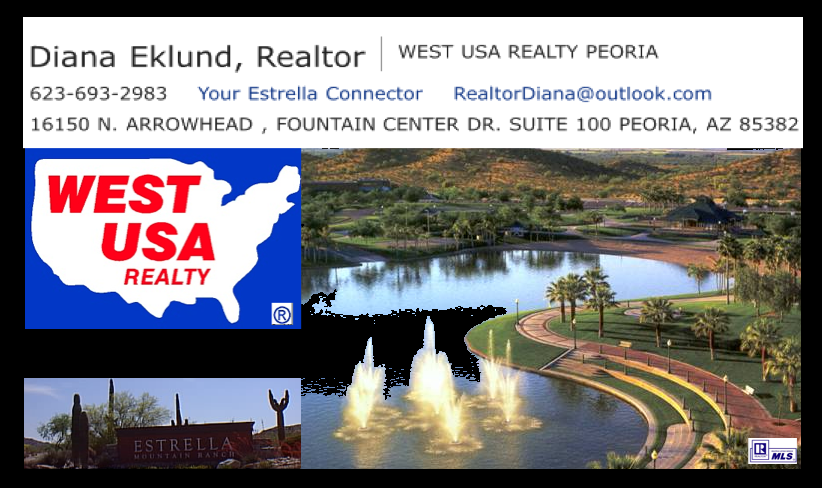 Get to Know Diana Eklund
After eighteen years of selling Pampered Chef, I've been trying to figure out what I wanted to be when I grew up!  Well, I think I finally have!  Real estate has been on my radar for years; as of January 9th, I officially became a licensed REALTOR in Arizona and can refer anyone to a REALTOR in the nation.

I love watching real estate programs, looking at homes, renovating and decorating; as well as helping people connect with various needs.  Thus, my tagline:  Your Estrella Connector.

I've been a devoted educator and board member serving a wide range of traditional students and adult learners.  I'm adept at setting up environments and pay attentional to detail, taking the extra mile to do things above and beyond.

I"ve been an active volunteer in the community, including serving as a  PTO board member, coordinator and classroom volunteer.  Organizing and running successful fundraisers has also been a success of mine.  I have a passion for helping the less fortunate and have been an active volunteer for the homeless and a girl's safehaven, called Natalie's House.

I enjoy cooking, crafts and creating, as well as serving others with my culinary skills.

I've had many people tell me I'd be an excellent REALTOR because I'm honest and they know they can trust me .  I take my responsibility as Fiduciary seriously and pledge to put my client's needs first and to do the best I can to serve them well with integrity.

Being a twenty two year resident of Estrella Mountain, , as well as being approximately one of the first one hundred home owners in Estrella, I clearly possess a passion for our neighborhood.  I've volunteered at our Youth Club, Yatch Club and Activities Department over the years.
Awards
Proud winner of the Blue Ribbon Home of Tour  (Sponsored by the West Maricopa County Regional Association of REALTORS, INC.)  June 2014.
Karen and Carl L., San Diego, CA
07/31/2014
We have known Diana for 20 years plus, socially and personally. When she became a REALTOR(Real Estate Agent), we trusted her with our mother's estate and have been very pleased with the decision we made. Respect and dignity are part of her character and was evident throughout the entire selling experience. In addition to being trustworthy, incredibly hardworking, somewhat obsessive because she owns the commitment to sell, she is a perfectionist and above all else is kind. Her integrity is high, from start to finish. Diana insists on regular communication and we are proud to recommend her to others. We are proud to tell you that Diana Eklund ( DE) is our REA ( Real Estate Agent). Karen and Carl San Diego, California
Jean L.
06/09/2014
Diana Eklund recently helped me purchase my retirement home at beautiful Estrella Mountain Ranch. I was unfamiliar with the real estate market in Goodyear, but Diana listened to what my needs and wants were and then recommended certain homes that fit those criteria. Diana is a very friendly, honest, ethical, and trustworthy person which made me feel that she was looking out for my best interests. She informed me of both the positive and the negative aspects of the homes I liked so that I was able to rank them. The offer and closing process went smoothly and we were able to close the sale in less than a month. Diana continued to assist me outside the sale process with finding local service providers for utilities, landscaping, and pest control. I was referred to Diana by a friend of mine, and I would definitely refer Diana to my friends in the future.