David Bailey and Erika Bailey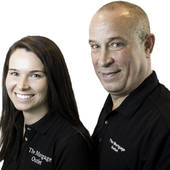 NMLS # 3458 & NMLS 217190
Mortgage and Lending
David Bailey and Erika Bailey
"Creating Clients for Life" Cell # 631-589 3600
Sayville, NY

—

The Mortgage Outlet NMLS # 36861
Unlike most lenders we utilized today's modern technology to enable us to provide fast closing on both Purchases and Refinances. Loan Approvals in under 5 days. Clear to close within 30 days.
Get to know David Bailey and Erika Bailey
Everyone always want to know why work with a mortgage broker over an internet site of your local bank?  It is simple!
They work for the lender, I work for YOU!
They work their job, I live my JOB!
They clock out at the end of the day, Not me!
30 to 60 day lender approvals, I provide 2 to 5 day loan approvals.
60 to 90 day lender closings on a refinance,  I provide 30 day closings.
60 to 120 day lender closings on a purchase, I will be ready to close in 30 days.
As mortgage rates go up or down you need fast reliable service to gurantee those rate locks!
I provide our borrowers with the best mortgage options.
You deal with one person throughout your entire mortgage process.
You deserve the highest level of customer service from application to closing.
Try calling your online lender or bank after hours or on the weekend because you need to know answers on your mortgage all you get is an answering machine. With me you get my dircet number to answer your questions.
I provide you over 26 years worth of experience in the mortgage industry running my own mortgage company.
You deal directly with me on every aspect regarding your mortgage application.
I look forward to making you a "CLIENT FOR LIFE"
David Bailey and Erika Bailey's Blog Posts
Lending / Financial
–

over 1 year ago
Lending / Financial
–

over 1 year ago
Lending / Financial
–

over 1 year ago
Lending / Financial
–

over 1 year ago
Testimonials for David Bailey and Erika Bailey
Robert G. Bayport NY 5.0 star rating see on yelp

08/06/2013

I have worked with Mr. David Bailey during one original mortgage application and a refinance application. I have consistently found superior service from David, and low rates and costs from The Mortgage Outlet. David is extremely conscientious, and quickly solves the problems that inevitably arise. He promptly returns phone calls, and always responds to emails. He has taken the "Worry" out of the mortgage application process.

I have recommended David and The Mortgage Outlet to friends and relatives. I no longer shop around for the best interest rates--I call David first, because I trust him, and I believe that no one else will do better.

Chris G, Sayville NY 5 stars out 5 see review on yelp

08/02/2013

I have been doing business with David for a number of years now. I've represented some of his clients while purchasing homes and have also been on the opposite side of transactions selling homes to his borrowers. They have all been smooth transactions and his clients always know all aspects of their loan prior to closing. Never had a "surprised" client. I try to refer David any clients I can because I know they will be treated with respect throughout the process and I know he will do the best possible job he can for his borrowers. During one of the biggest purchases you can make in your life it's nice to have someone like David on your side. I was more then happy to use him on my own transaction when I recently bought my new home.

Vin V Kings Park NY 5.0 star rating see on yelp

07/30/2013

We weren't sure if we should take the step to refinance our home. Moments into the process, we knew we had selected the right team to help us through. Thanks to David and Jackie, of The Mortgage Outlet, we felt informed and confident that we had made the right choice. What an efficient and well-organized team! They knew exactly what to do and talked us through each step. They are reliable and readily available. The interest rates we were able to secure, impressed us, our families and even the lawyer! David and Jackie are professional and helpful. We even got an unexpected refund after the closing! We can't say enough good things about the quality of service and satisfaction we experienced during and after working with David and Jackie Bailey, of The Mortgage Outlet. What a great experience! Thanks!


Heather H Bohemia NY 5.0 star rating see on yelp

07/30/2013

David came as a recommendation from a very close friend and when we first met with him to pre-qualify he took the time and effort to go through our finances, and to provide us with a thorough analysis of what we could afford and what our different financing options were. We had also sought out the opinion of another mortgage broker, who was pushed by our local union. They never took the time to meet with us in person, nor review any documentation. In fact, after we advised him we were pre-qualified already through David that mortgage broker pre-qualified us based off of David's work. At that point, I realized that if this broker was going to be taking short cuts, I had little faith in his ability secure a mortgage for us.

Between Hurricane Sandy and the holidays, the banks were slow to respond with all the reappraisals going on. David was in constant contact with us, and always reassured us that everything will work out.

As first time homebuyers, David walked us through what at times appeared to be an extremely daunting process. I had heard so many horror stories of others who have gone through this process and were kept in the dark and were constantly stressed out, only having to find out their mortgage fell through or they had unforeseen circumstances arise at closing. I think people thought I was too laidback throughout the process. In reality, any time I had a concern, I'd call David, he was so informative and easygoing it gave me peace of mind and that is something you cannot put a price on. Working stressful jobs, we didn't need the extra anxiety and David took that pressure off our shoulders. I never needed to ask him to follow up on anything, he was always on top of the process, steps ahead of the banks and always anticipating the next move. David helped us get into our dream home and for that I am forever grateful. If we are ever in the market to purchase another home, or we know any friends that are looking, we will always recommend David. While other brokerages have to advertise on gimmicks to get clients, I will say this: David does business and gets referrals based on his reputation and in the mortgage business that is of utmost importance. David was upfront, honest, accessible and reassuring. Since purchasing a home is likely the largest and most important purchase families will make, it only makes sense to choose the right brokerage firm, and by that, I mean David and the Mortgage Outlet. I do not believe we'd be in our dream home without his help and guidance. We cannot thank you enough, we are so very happy.

Edward M Brightwaters NY 5.0 star rating see on yelp

07/30/2013

I have known David Bailey for many years, and he is a fixture in Sayville. I consulted with him when I bought my house fifteen years ago, and though I didn't sign with him because I ended up going in another direction, he was still helpful, and he walked me through the process even though he wasn't getting anything from it, except goodwill. That brings us to today. The mortgage industry and culture have changed drastically, and navigating all the pitfalls is that much harder now. SO I went to see David about a refinancing. The market has been turbulent, but David always keeps me abreast of what's happening. He is wealth of knowledge, and he isn't afraid to share it, even if you ultimately don't sign with him. Call him. You have nothing to lose. He'll look at your situation and make recommendations that WILL save you money. If you don't like what you hear, say "thank you for your time," and shake his hand. You've lost nothing. I fully endorse David. If you're paying more than 5% on your mortgage, call him. You'll get professional service, and you'll end up better off. Five star operation.

Nancy B, Sayville NY 5.0 star rating see on yelp

07/29/2013

It gives me great pleasure to write a recommendation for Mr. David Bailey of The Mortgage Outlet.

I have had numerous interactions with Mr. Bailey and can say without reservation that he displays a professional and honest approach to his work. Mr. Bailey presents a positive, but realistic outlook on situations, especially those of a challenging nature. He is extremely well spoken, clear in the delivery of the facts, eager to enlighten clients about their financial situations and very willing to teach them how to improve in that area. I have never felt that Mr. Bailey was trying to "sell me" on one product or another, but have always felt he genuinely tried to assist me in getting the best available product for my situation. (Even when I was previously committed to another financial institution, Mr. Bailey offered to review my paperwork and advise if the rates/numbers being presented were fiscally appropriate.)

I would highly recommend Mr. David Bailey and The Mortgage Outlet to consumers, family and friends alike.

John C, Manorville NY 5.0 star rating see on yelp

07/26/2013

For the past two years, I have been searching for a home. In that time frame I have dealt with several mortgage agencies. Do to the fact that I have had a troubled financial past due to hard times, most mortgage brokers, including those whom I had given allot of business to in the past basically treated me like a second rate citizen. No return calls, never around to answer a question not limited to being deceptive and giving me the run around. That was when I asked my Realtor's Eric and Debbie Sinensky with Talamage Trail Realty in Manorville (whom are the best Realtors that I have ever dealt with) if they knew of a reputable Mortgage Broker. They referred David Bailey and the Mortgage Outlet. Upon my first conversation with David, I knew that I was dealing with someone who knew his business. David always answered the phone, and when it came to processing our Mortgage, he was precise and handled every aspect of the transaction expeditiously. We had many bumps along the way throughout the process of obtaining our Mortgage but in the end he got it done. And at a surprisingly lower rate then we expected. We even got money back at closing... Yes you read correctly. We got money back! Great job Dave! You have our business for life and I plan on sending you everyone I know.

Maria W, West Sayville NY 5.0 star rating see on yelp

07/26/2013

We just refinanced our mortgage through David and had a great experience. He was able to help us move from our first meeting to closing in 3 weeks. He was able to answer all of our questions and responded to all emails within minutes. Unlike working with a big bank, there are no buttons to press when you call and no, "Please wait for the next available representative." We have referred man of our friends and know that they will all be as satisfied as we were.

Cynthia G, Holbrook, NY, 5 star rating see on yelp

07/26/2013

We used the Mortgage Outlet when we purchased our new home. Dave Bailey was professional through out the whole process. He answered and concerns or issues we had and was able to obtain us a great mortgage rate. I highly recommend David and the Mortgage Outlet.

Deborah S, Manorville NY 5 star rating see on yelp

07/25/2013

I have Done business with The Mortgage Outlet and Dave Bailey for the past several years and have had outstanding results. As a full time real estate professional I have to have a go to person when one of my clients has questions or concerns about financing there home purchase. Dave Bailey and the people at the Mortgage Outlet have the knowledge and tools to get the job done with the ease. Dave is quick to pick up the phone and handle all inquiries. Real estate is a fast moving business and the financing of a home is very important factor. I have no hesitation in referring people to The Mortgage Outlet for personalized and top notch service. Keep up the good work Dave and thanks to your staff at The Mortgage Outlet

Debbie Sinensky Licensed Sales Agent
Talmage Trail Realty 460 County Rd 111
Manorville, NY 11949
Introducing a fresh new look for your Profile.
Click the 'Edit Profile' button below to enter 'Edit Mode' and continue the tour.