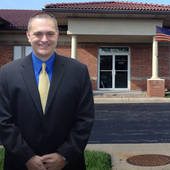 164545
Mortgage and Lending
Darren Copeland
Darren Copeland
Lee's Summit, MO

—

Leader One Financial
Darren Copeland Mortgage Team is a team of professionals who are dedicated to helping clients with their FHA, VA and Conventional mortgage needs and answering any and all questions!
Get to know Darren Copeland
This Is Who I Am:
I love real estate and strategizing with my clients to help them meet their goals especially when it comes to finding the right mortgage. With more than 10 years in the home loan and finance industry, my goal is to make the home buying experience easy and stress-free for my clients.
Who Do I Help:
All real estate owners and buyers in the Lee's Summit and Kansas City area who want the best mortgage rates, superior service and a knowledgable advisor to help them navigate their home financing. We also help Real estate professionals who want to grow their business and showcase their properties with the latest marketing and technology available to the real estate market.
This Is How I Help Home Owners and Buyers:
My team works with each client to determine the best mortgage package for every scenario taking into account not only the impact of the loan on their finances today, but 5 and 15 years down the line.  We take into account their personal finances, credit, and goals to create the best action plan to set them up for success in the future. We are problem solvers and our passion is helping those through the buying process.
This Is How We Help Real Estate Professionals:
Our team loves working with Realtors to help them build their business with video marketing, advanced listing presentations, and social media training just to mention a few. To get more information about how we can help you, call us at (816) 268-4025 or check out www.kcloantips.com 
Securing a Mortgage
We're not your typical loan officers at LeaderOne Financial. We're passionate about helping you every step of the way. We provide free consultations where clients can get advice on things like:
    How much mortgage can I afford?
    Can I refinance my home?
    Can I buy even with poor credit?
    How can I restore my credit?
    How can I lower my monthly house payment?
    Do I qualify for any special loan programs?
    How can I get a pre-approval letter so I can start home shopping.
And these are just a few of the questions our team receives.
Buying a Home in Lee's Summit
Many choose to buy a home in or near Lee's Summit, MO because the Kansas City area is a great place to live! Many of the suburbs of Kansas City have been nationally recognized as great communities. Fantastic school districts, shopping, entertainment and more are just minutes away in Kansas City. House prices are low. Neighbors are friendly. It's a great place to call home.
Apply for A Mortgage in Kansas City Metro
Applying for a mortgage may seem scary, but we're here to consult you the whole way through. We work hard to build our client's trust, and have successfully helped hundreds of families get into their new homes - or into a lower rate.
To get started on your home loan, please contact us! You can also apply online to get preapproved! After you complete our online form, we'll contact you to review your options in-person.
Darren Copeland's Blog Posts
Lending / Financial
–

about 6 years ago
Lending / Financial
–

about 6 years ago
Lending / Financial
–

about 6 years ago
Mortgage / Finance
–

about 6 years ago
Choose Darren Copeland as your Home Loan Lender
Hey Guys, it's Darren Copeland your mortgage banker and I'm with Leader One financial here in lee's summit and today the reason why we're doing this video is we want to give you several reasons why you want to use us as your mortgage provider and then also give you some tips and tools to avoid as your own through the mortgage process so for many of you buying your first house or a repeat house is going to be the biggest purchase that you guys have in your life and the thing that we wanna make sure is #1 that you have a great experience did a great deal and also as you go through the process that can be completely stressed out the entire time so uh... few reasons i've been doing this and business for over ten years our local here in kansas city is so we underwrite, fund, close all of our dear deals here locally and we do all the uh... normal loans so we do majority of our businesses FHA, VA, USDA and conventional so also if there are some issues that you have on your credit that you need help with we can help you with that as well this is definitely more of a educational processes on a big sales process so you know we encourage people not to fall for the "too good to be true" ads on the TV, the radio, on the web so give us a call will be more than happy to do anything we can to help you out and avoid some of the pitfalls as you go through the process though again thanks for the time and we look for the working with you Mortgage consultant Darren Copeland and his experienced home loan team are committed to educating home buyers about home loans, purchasing a new home, refinancing and credit repair. LeaderOne Financial has helped home owners choose the best home loan program, from FHA, VA, USDA, and Conventional loans along with Reverse Mortgages and Refinancing Darren will make sure you receive the most affordable home loan rate in Lees Summit and has been doing it for over 8 years. http://www.kcloantips.com http://www.facebook.com/kcloantips http://www.kcloantips.wordpress.com
Certifications
 Choosing your Loan
 There are so many loans out there to choose from that it can be a daunting task, however our team at LeaderOne Financial in Lee's Summit, MO can help you choose the home loan that's right for you.  One of the best places to start would be seeing if you pre-qualify for a home loan. Here's why pre-qualifying for a home loan is important; it lets you know what you can afford as you look for a house, so get started today by pre-qualify for a home loan. 
Here are a few of the home loan options that we offer:
Conventional loans are the preferred choice of home loan for borrowers who have funds available for a down payment and excellent credit history. Conventional loans make the homebuying process quicker, and homebuyers find they build up equity faster through conventional loans.
FHA loans are a great option for the homebuyer who needs to finance their entire loan amount, or is looking for a lower down payment and closing costs than conventional loans. FHA loans are backed by the US Department of Housing and offer an easier application and more flexible qualifications for those needing to secure a home loan.
The U.S. government insures USDA loans to promote home ownership in smaller communities. Also known as the rural development loans, USDA loans offer several advantages for those purchasing property in small towns with no down payment needed. 
We're experts in VA home loans and have helped several active and non-active military professionals apply for and secure VA loans for their home. VA loans allow verterans to purchase a home with no funds needed if the seller is willing to pay the closing costs.
Skills
Mortgage Lending, Mortgage Banking, Real Estate Marketing, Real Estate Technology, 
Real Estate Consulting Real Estate Investing Real Estate Finance  Home Loans, FHA, VA, USDA, Conventional Loans.  VA Home Loan expert for Jackson County Missouri and other MO areas.  Call us at 816-268-4025 to get an answer to any and all questions!
Testimonials for Darren Copeland
I wanted to refinance my home to get a better rate. Darren did a great job for me! Darren is very thorough and quick! Very personable and doesn't treat you like a number. Will do all he can to get you the best rates!

We were new to KC metro area had no idea where to start looking for a lender. Very skeptical and not interested in being "sold" on a plan or program that sounds too good to be true. Against our better judgment we went online and that is when we came across Darren's video. We watched it and thought let's give him a call. WOW what a blessing! Darren and his team were professional, knowledgeable and actually fun to work with. Can't stop bragging about this team and I have already referred them to friends who are using LeaderOne and they are just as happy. Thanks Darren to you and your team we move into our new home in two weeks! Mark McCune

Darren provided our family with exceptional service. He guided us step by step through the process of financing a lease to own home. We had a 3 year contract to purchase the home and a very bad experience with our landlord, who was determined to make us break the contract. Darren worked with us to ensure we met the deadline to purchase our home. Darren and his entire staff are very helpful, kind, personal and professional. He kept us in the loop during the entire process by calling or emailing us as soon as information was needed. He went above and beyond our expectations. He made the process so easy. We are so grateful and blessed for Darren and all his knowledge and dedication in providing excellent customer service. We highly recommend Darren and the awesome LeaderOne team to everyone.

Darren was awesome to work with. Very comforting when you are buying a home which is a stressful time. I recall first meeting with him and thinking how simple he made everything for me. I also remember the first time I called he quickly notified me of my approval! I would definitely recommend Darren

Darren and his staff where very helpful to me and my wife, as first time home buyers. He gave us a lot of information about which loan, would be best for us. He also help us with are interests rate as well. They also help us thru a unexpected issue during are loan process and Darren and his staff walk us thru, step by step to help resolve that issue. Overall we had a great experience with LeaderOne. Thank you

Darren's Team was great! They are friendly, knowledgeable, and on top of everything, and this was the smoothest closing I have ever had. Love the videos! They made the whole experience a less stressful one.

Darren;
WOW! I am truly impressed, and I am a difficult guy to impress, especially in the way of computer technology! But the videos you used to explain the process really are a very clever and innovative use of modern technology. My hat is doffed to whoever came up with that idea and whoever did the work on producing those videos. Again, VERY IMPRESSIVE and I will not hesitate to sing your praises wide and far!
Thanks to you and all of your staff for your superior professional service with this job!

S. Siestra, Overland Park, KS

08/21/2013

I want to personally thank Darren and his team at Leader One Financial for helping me close my purchase in 10 days. I had been pre-approved with another lender before coming across Darren and couldn't be happier!

Jeff, Lee's Summit, MO

08/15/2013

Darren is, simply put, an AMAZING PROFESSIONAL! My wife and I wanted to buy a home after spending years doing Dave Ramsey's plan of paying down debt we were ready. Problem was, we didn't have credit cards! We pay with cash and live on a budget. After seeking a loan from another company and losing out on one home and then being told there was nothing we could do but go charge stuff for a couple of years, our realtor referred us to Daren and Michelle at Leader One. With Their skill and expertise we were pre-qualified in two days, and our loan was closed about a month later. The knowledge and experience of this team made my wife's and mine dream of having our own home a reality.

Josh, Lees Summit, MO

06/18/2013

Darren was recommended to my fiancé and through our realtor/friend. We were impressed with the level of dedication and customer service Darren and his team provided us through our first time home buying experience. Not only did Darren and Leader One provide great guidance, their financial advice and estimates were very close to the actual figures. We will definitely use the Leader One & Darren Copeland team again and greatly appreciate everything they did for us!
Introducing a fresh new look for your Profile.
Click the 'Edit Profile' button below to enter 'Edit Mode' and continue the tour.