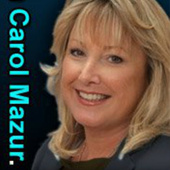 NCREC #258258 lic 25+ yrs
Education & Training
Coach Carol Mazur
Real Estate Top Pro Training & Coaching Education
Jupiter, FL

—

Real Estate Training - Top Pro Training, LLC
Top Pro Training, LLC
Real Estate Training
Jupiter , FL 33477
---
TOP 10 PROVEN SYSTEMS OF TOP PRODUCERS. ♦ Actual Agent Result ♦ $320,000 this year / $20,000k last year ♦ Plan YOUR strategy today.
Get to know Coach Carol Mazur
Are you ready to get to work putting the top 10 systems of top producers in place? Step by step, while on the phone with you, I lead (or drag) you through all the hurdles that most agents will never get past to automate their real estate systems.
Then it's up to you to either work your systems or eventually completely replace yourself from the tasks you would rather not do.
See Google Hangout ----->  How Erin Tripled Her Real Estate Production    
Real Estate Training & Coaching Review and Testimonials
"A leading real estate training company said I could not double my sales in one year.  Thankfully, I chose Top Pro Real Estate Training & Coaching with Carol Mazur and I TRIPLED my production in 8 months." 
- Jennifer Bullock  Realtor
"Coach Carol changed my life. I not only tripled my real estate production, I now have automated systems for almost every aspect of my day to day real estate business with a clear plan for consistant growth. I can't say enough about Coach Carol".
- Erin Alls Marina Del Rey 
Coach Carol Mazur is an award winning real estate coaching expert, published author, top rated real estate coaching director on a company team that closed 3000 units annually, and success center trainer and coach to hundreds of real estate agents and brokers for a BILLION DOLLAR company. She coaches agents to easily duplicate the Top 10 Systems for 50 sales™ to become top producers.
Select a time for a Free Coaching Strategy Call - Contact Us, Today!
REAL ESTATE AGENTS...
Get a FREE Real Estate Business Plan guaranteed to increase your production!

After a long career in real estate, Coach Carol is able to devote her full energy to coaching agents and helping brokers take simple but fundamental steps to real estate success. At Top Pro Training, our goal is to show you how easy it is to create ten step-by-step systems with a minimum of 5 sales to total 50 real estate sales. Everything we introduce into our real estate training & coaching has been proven to work by top producers.
Top Pro Training + Group Coaching - (973) 310-4545 - Join Us, Today!


REAL ESTATE COMPANIES...

Get a FREE Company Coaching Plan to help your agents reach the top, quicker than ever! 
As a Real Estate Success Center Training Director for a company closing over 3000 units, Coach Carol helped her employer lead the company to number 4 in the nation in closed units in the 100-500 agent category. Recently she's extended her training services to all real estate companies and agents in her Top Pro Center for 50 Sales™. 

Become a Company Coaching & Training Partner, Today!
COACH CAROL MAZUR is best known for running the innovative Success Center of a 300 agent Coldwell Banker affiliate where she developed their Advanced Certificate of Education sales training program. The company closed units and ranking grew from #13 in the nation to the outstanding rank of #4 (closed units in the 100 to 500 agent size category). The REALTORS produced results 37% higher in closed sides compared to the total annual closed units reported by the local Multiple Listing Service. Impressed by the results of the REALTORS in her training program, Carol formed coaching groups with her graduates to maintain momentum. Carol fine-tuned her technique until the "top producer" coaching group averaged an amazing 9 units each in 8 weeks. 
Today Coach Carol is the owner and founder of Top Pro Training, LLC. Her business philosophy is simple: create 10 systems of just 5 sales each to reach 50 sales, then delegate and enjoy life as you grow!
Carol holds an active Broker-in-Charge license. She is a Certified eMarketing Specialist, holds a Graduate Realtor Institute designation, SUMMA CUM LAUDE - Ocean County College, a Certified Negotiation Specialist, and a Member of the International Association of Coaching. Past awards include numerous top sales & top listing agent awards, million dollar awards, and top in Bergen County, NJ awards where she managed over 50 listings as an individual agent, and a 95% agent approval rating as a trainer and coach.
An innate love of learning contributes to Carol's ability to implement new and improved ideas, then share the results. She continues to work with super stars, top producers, and newer goal setting agents. Together they continuously discover and share new ideas, the latest technology, and proven wealth, creating marketing systems that lead to success in real estate. Carol shares these ideas in her top pro group coaching to help agents easily learn the systems of top producers.
Carol lives in Jupiter, FL with her husband Tom who loves fishing and her Corgi dog, Beau, who shares their love of the beach. She helped raise two beautiful, successful children, Nicole, Deputy Art Director for People Magazine in NYC, and Tommy an accomplished film editor in New Jersey. Carol is a big believer in giving back and supports numerous local and national charities.
Top Pro Group Coaching offers affordable membership options giving EVERY agent access to personalized live coaching. Carol's real estate training & coaching "Integrity Rule" ensures everything she uses has been tested and proven by current top producers. For more details about Top Pro Training, call (973) 310-4545 or contact us.   
Real Estate Top Pro Center for 50 Sales™. Add custom Top 10 Systems for 50 Sales™ to increase closed units & referrals in your real estate business. 
Coach Carol Mazur's Blog Posts
Real Estate Technology & Tools
–

almost 7 years ago
Real Estate Technology & Tools
–

over 4 years ago
Real Estate Best Practices
–

over 7 years ago
ActiveRain Community
–

over 8 years ago
Top Pro "To Do" Form | Real Estate Training
Real Estate Training, Real Estate To Do Form, Real Estate Time Management. For Real Estate Agents: https://topprotraining.com/free-agent-training/ For Real Estate Companies: https://topprotraining.com/companies-cip-participation-form/#
Certifications
International Association of Coaching
Graduate Realtor Institute
National Association of Professional Women
NC Real Estate Commission License # 258258
U.S. National Committee for UN Women 
PATENTED REAL ESTATE TRAINING FOR AGENTS...
Access training tools used by the best marketers and Realtors® in the world when you join our private Top Pro Group. There are no ninety-minute webinars that put you to sleep in our education center. We share only the most important points with 1–7 minute ACTIONAR® videos, live coaching calls, live workshops, and anytime online training so you can grow at your own pace.
Want to practice your presentations or overcome objections? We have 6 live agent video coaching & training rooms. Need answers quickly from your peers? Post a question in our Private Facebook Mastermind or learn directly from Coach Carol on our Live Group Coaching Calls and Live "Get it Done" Workshops. 
Check out our FREE Agent Training or take a sneak peak at our state of the art live and virtual training center. We help agents become top producers; join us!
REAL ESTATE COMPANIES...
Agents, managers, trainers, and their companies no longer need to learn new systems. We build on the training you have already implemented. We do all the next level coaching for you! Our Free Company Benefits are filled with discounts for your agents and rewards for you. Take your first step towards adding 50 sales, now.
Do you want to be a generous, caring, highly paid real estate professional and gain the highest respect in the industry? Do you want to relax and have the freedom to enjoy life once your systems are on autopilot? Do you want to get to the next level? Choose not to settle for less. Decide to live the life of your dreams. Acquire the right tools and a successful mindset. We make it easy with our Top 10 Systems for 50 Sales™ and our technology tools.
The first step to adding 50 more sales is to become a member of our Top Pro Group. Call 973-310-4545 for more information. Start today!
Skills
Real Estate Coaching
Top Pro Center for 50 Sales™
Sphere & Database Certified
Phone Number Location Expert
Expired Listing Master
Seller Site Follow-up Systems
Buyer Lead Generation
Next Generation Website Builder
Seller Lead Specialist
Helping agents become top producers
Real Estate Coaching & System Strategist
Real Estate Training & Script Master
The Top Producer Group Leader
Real Estate Success Center 
Real Estate Training and Coaching 
Real Estate Lead Generation
Real Estate Lead Conversion
Expired Listing Systems
FSBO Systems
Motivation & Mindset
Lead Capture for Realtors 
Real Estate Follow Up Systems 
Time Management for Realtors
Top Pro Systems of Top Producer
Top 10 Systems for 50 Sales
Testimonials for Coach Carol Mazur
Linda Hall, CRS, ABR, CDPE, REALTOR® & TOPPRODUCER

08/01/2013

I wanted you to know that I downloaded your form the Top Pro "To Do" List. I am actually using it. I like the Urgent, Personal and Important …nice set up. Thank you for sharing it with me.


Elaine Comerford, President Maison International, Ltd, New York, NY

06/26/2013

Carol's coaching is the real deal – no gimmicks or prepackaged plans, but authentic, relevant coaching and consulting that fits you and your business. We researched many of the best real estate coaching plans and felt that a lot of the programs were heavy on motivational content, but short on providing actual plans that could be put into actual practice. Carol, from the very beginning, clarified where we were, where we wanted to go, and how we would get there. From the very first meeting she defined the concepts and marketing plan that we would need to succeed, and was very specific about the steps we needed to take to get there. We love this focus, ingenuity, intuitiveness and clarity that come from her years of experience, and can hands down recommend her to anyone looking to become a top producer.

Jennifer Bullock Realtor Testimonial

06/02/2011

A coach from a leading real estate training company told me I could not double my production in one year, no matter how hard I worked. So instead, I chose Top Pro Training with Carol Mazur as my coach and TRIPLED my production in 8 months.


Jessica Riffle Edwards, Real Estate Marketing and Real Estate Sales and Luxury Home Expert at Coldwell Banker Sea Coast Realty

06/01/2009

Carol is amazing! She is constantly on the cutting edge of new marketing and education for all the agents at Coldwell Banker Sea Coast Realty. Her insight and knowledge has been and will continue to be a direct benefit to my success! I highly recommend Carol!

Chris Baynes, NC Realtor, Managing Parter, NC Real Estate Broker, Property Manager, Broker In Charge at ACT Management

05/26/2009

Carol is an outstanding resource for anyone who would like to break through to new levels in thier own performance and success. She is thorough and cares about the people whe works with.

Christy Nelson Beck, MIRM, CSP Senior VP/ Director of New Homes at Coldwell Banker Howard Perry & Walston Builder Services

05/22/2009

I thoroughly enjoyed Carol's training program when I joined CBSCR. Even though I have had my license for a while now, the information that she trained on was great! She is very supportive and her positive energy is contagious. She truly wants those around her to succeed and she does everything she can to help us do that!

Alex Paen, Realtor, Coldwell Banker Sea Coast Realty

05/22/2009

One of "the" best things that Coldwell Banker Sea Coast did was hire Carol. She brings a special energy and expertise that cannot be matched. As our training director she gets to help hundreds of agents be the best they can be. She takes her time with each one and works with their strengths and weaknesses. We are truly lucky to have her here. She has proven to be a valuable resource for the agents here at Sea Coast.

Rand Burchfield, Team Leader of The Burchfield Group, Re/Max Essential Surf City

05/21/2009

By far Carol is one of best trainers I know. Our team members can always pick out the agents who have taken her training. Their attention to detail, professionalism and knowledge always stands above the rest which is a direct result of her ability.

Karen Schwartz, REALTOR/Broker, ABR, CRS Coldwell Banker Sea Coast Realty

05/21/2009

When I first joined Sea Coast I took her ACE class and learned more in those two weeks than I did in the previous 2 years in Real Estate. She is great at giving "real life" examples while making it fun! She also works non-stop, always trying to find new ways to make our lives easier. I have gone to Carol numerous times to get help for different client situations and she is always eager to help plus she gives great advice. Carol is a huge asset to Coldwell Banker Sea Coast!

Tim Milam, Owner, Coldwell Banker Sea Coast Realty

05/21/2009

One of the very best things I have done as the owner of Coldwell Banker Sea Coast Realty is to hire Carol Mazur as our Training Director. She has literally helped so many Sales Associates make a lot more money with detailed training and support. She is a delight to work with and I am very proud to have Carol teaching our Sales Associates at Sea Coast. She is absolutely AWESOME!!
Introducing a fresh new look for your Profile.
Click the 'Edit Profile' button below to enter 'Edit Mode' and continue the tour.