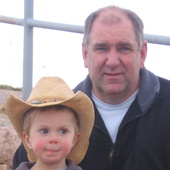 Home Inspector
Dan Callahan
Casper, WY

—

Callahan's Home Inspections
If you or someone you know is in need of a pre-listing or buyers home inspection or Radon testing in the Casper, Glenrock, or Douglas areas of Wyoming, please give us a call at 307-251-5595.
Get to know Dan Callahan
I know buying a new home is the biggest investment you will ever make. Although the process is very exciting it quickly becomes overwhelming. While the home you have selected may appear to be just what you're looking for, how can you be sure there aren't potentially serious unknown defects which can make your investment in your future very costly. Having your new home professionally inspected by us as early as possible in the buying process can save you thousands of dollars on items which you may be able to have the seller or builder correct.

I strongly encourage my clients to accompany me during the inspection. You should feel free to ask me any questions you may have during the inspection process. I will point out problems and explain them to you. I will also show you the good points of the house as well. Plus, I will explain what routine maintenance is needed to keep the house in top condition. This will help you to get the most benefit from the inspection and gain the most understanding of the systems that make up your home, and how to maintain it. I believe the commitment to the client is "Truth in Reporting," and I will furnish a full, easy to read, in-depth and unbiased report on the actual conditions of the property at the time of the
home inspection.

Callahan's Home Inspections is a fully independent company with no connections to anyone who makes home repairs. Any home inspector that gives you prices for repairs, offers to do repairs or provides a list of repair persons is an unethical inspector.

Choosing the right home inspector can be difficult. Unlike most professionals, you probably will not get to meet me until after you hire me. Furthermore, different inspectors have varying qualifications, equipment, experience, reporting methods, and yes, different pricing. One thing for sure is that a home inspection requires work, a lot of work. Ultimately a
thorough inspection depends heavily on the individual inspector's own effort. If you honor me by permitting me to inspect your new home, I guarantee that I will give you my very best effort. This I promise you.
Buying a home? The process can be stressful. A home inspection is supposed to give you peace of mind, but often has the opposite effect. You will be asked to absorb a lot of information in a short time. This often includes a written report, checklist, photographs, environmental reports and what the inspector himself says during the inspection. All this
combined with the seller's disclosure and what you notice yourself makes the experience even more overwhelming. What should you do?

Relax. Most of your inspection will be maintenance recommendations, life expectancies and minor imperfections. These are nice to know about. However, the issues that really matter will fall into four categories:

1. Major defects. An example of this would be a structural failure.

2. Things that lead to major defects. A small roof-flashing leak, for example.

3. Things that may hinder your ability to finance, legally occupy or insure the home.

4. Safety hazards, such as an exposed, live buss bar at the electric panel.

Anything in these categories should be addressed. Often a serious problem can be corrected inexpensively to protect both life and property (especially in categories 2 and 4). Most sellers are honest and are often surprised to learn of defects uncovered during an inspection.

Realize that sellers are under no obligation to repair everything mentioned in the report. No home is perfect. Keep things in perspective. Do not kill your deal over things that do not matter. It is inappropriate to demand that a seller address deferred maintenance, conditions already listed on the seller's disclosure or nit-picky items.
Dan Callahan's Blog Posts
Certifications
InterNachi (The International Association of Certified Home Inspectors) is the best and largest home inspection trade association in the world. Our home buying clients enjoy the HI Experience® only InterNACHI Certified Inspectors can provide. Formed in 1990, InterNACHI is both a non-profit organization as well as tax exempt.InterNACHI has Home Inspector chapters in 43 coutries and 9 languages.Only the top few percent of all home inspectors reach InterNACHI status. These Master inspectors have all successfully passed InterNACHI's Inspector Examination, adhere to a Standards of Practice, abide by a Code of Ethics, attend required continuing education courses, and all are InterNACHI Certified.IAC2 is the non-profit, certifying body for home and building inspectors who have fulfilled certain educational and testing requirements including those in the area of indoor air quality. Indoor air quality issues include Mold, Radon, Biologicals, Carbon Monoxide, Formaldehyde, Pesticides, Asbestos and Lead. IAC2 Certified inspectors have fulfilled the following minimum requirements:IAC2 Certified inspectors are all members in good standing of the International Association of Certified Home Inspectors (InterNACHI) which is the largest inspection association in the world with strict membership requirements.IAC2 Certified inspectors have all completed at least one additional 8 hour approved indoor air inspection-related course.
Introducing a fresh new look for your Profile.
Click the 'Edit Profile' button below to enter 'Edit Mode' and continue the tour.