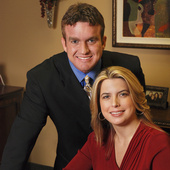 Real Estate Agent
Brad & Traci Brusenhan
Plano, TX

—

Brusenhan & Associates Realty - Dallas, Texas
We help families buy and sell homes in the N. Dallas & Collin County areas of TX. We also have a local team of pre-foreclosure specialists who negotiate bank approved short sales.
Get to know Brad & Traci Brusenhan
Brad Brusenhan has been named by D Magazine as one of the "Best Realtors in Dallas"!
It Isn't Hobbies That Bring Brad & Traci Together -
It's Their Approach to Life.
Brad & Traci Brusenhan know the beautiful parks in Plano don't have anything to do with the fine dining in Dallas. They realize that local youth sports are integral to the community, but there is no connection between them and the cultural diversity of the people or the access to world-class shopping and amenities. Brad & Traci can tell you that when you bring all these significant elements together, it equals a great place to live.
A Deeper Commitment
Like the area they love, Brad & Traci also reflect a myriad of independent tastes, interests and pursuits. Brad enjoys spending time at the gym and Traci prefers curling up with a good book. A Saturday barbeque at home is a vacation to Brad, while Traci loves to travel to distant destinations. As you can see, their hobbies and passions are different. The foundation of their relationship - mutual respect and their common philosophies, values and ethics - are what forms the solid, lasting bond they share. These core essentials guide them in the way they raise their sons, as well as how they approach their serious commitment to each other and their careers in real estate.
Brad has always been driven by his dedication to hard work. After completing his education he became fascinated with home renovation, and when his ambition took hold he accepted a position with a home remodeling contractor. It wasn't long before he learned the intricacies of construction and set his sights on the next phase of his career. His "can do" attitude, entrepreneurial spirit and interest in building and remodeling led to a career in home inspection, where he and Traci paired their skills, worked hard and established a thriving business.
Joining ForcesWhen Brad first met Traci, he was struck by the depth of her personality and how quickly she made people feel cared for and comfortable. Brad found it no surprise to learn she had been working with severely handicapped individuals for several years, and she loved their spirit and sincerity. She discovered how rewarding it was to help them in their daily lives, and their genuine appreciation was heartwarming to her. However, after Brad & Traci married, Traci made the decision to team up with her husband in both life and business, joining forces as devoted spouses, loving parents and committed professionals.
In the spirit of working together, Brad &Traci decided to continue their partnership in the real estate industry, serving the needs of home buyers and sellers throughout North Dallas and Collin County . Working together has enabled them to combine their expertise in the construction, investing and mortgage lending businesses to provide their clients with clear guidance and valuable knowledge regarding all facets of the real estate industry. As a lender, Brad will help locate the best mortgage available by shopping a large network of lending institutions. Pairing Brad's top-notch marketing and negotiating skills with Traci's sharp instincts and natural ability to make people feel at ease ensures the process will be an efficient and pleasant experience.
Working Together for Your SuccessThrough the years, Brad & Traci have garnered a network of associates who can assist you with all aspects of your move. From lenders and contractors, to their own transaction coordinator, you can trust that every detail of your sale or purchase – whether in new construction or resale property – will be handled with complete professionalism and the utmost care.
When you've made the decision to buy, sell or invest in the North Dallas or Collin County area, give Brad & Traci Brusenhan a call. From the moment you meet them you can tell they will be Working Together for Your Success. Contact them today at 972-312-1052. You'll be glad you did.
Brad & Traci Brusenhan's Blog Posts
Certifications
Brusenhan & Associates Realty is not a standard real estate brokerage. Through The FHA Pre-Foreclosure Short Sale Group, we offer homeowners across the United States a complete solution to FHA mortgage delinquency issues. For a small fee, which barely covers our own expenses, we help homeowners negotiate to stay in their home. If they do not have the small fee, we often find a way to help them anyway. For those homeowners (Distressed FHA Mortgage Loans Only) who wish to sell the home and move on, we offer a complete program to help them achieve their goals, regardless of equity, at no direct charge to the homeowner.
Through a long standing relationship and valued partnership with our friends at America's Home Rescue, we offer comprehensive Short Sale coaching services to real estate professionals across the nation. I understand that short sale training has become the new "thing", but I can assure you that there is a difference. America's Home Rescue has been training agents for years. Before talk of bailouts and a national foreclosure crisis, they were intently focused on short sale training. They have helped to elevate my business and experience to levels beyond anything that I had ever imagined. Training national audiences of Realtors at the National Association of Realtors (NAR) convention and holding meetings with high level officials at HUD and other state level real estate commissions has been an honor for Michael & Stacey Spickes. Being asked to join their elite team of coaches to help provide short sale training for our colleagues in the industry was a tremendous honor for us as well. If you would like additional information on how we can help you learn more about short sales, please email us directly at Options@FactsOnForeclosure.com or call us direclty at 972-312-1052.
My dream is that the short sale services and training division of our brokerage would be put out of business. While I have little faith in our government to achieve this, I have tremendous faith in our country and the entrepreneurs that make it great. I would love nothing more than to close our final short sale file because there is no longer a need for our services. In the mean time, we will continue to focus on helping homeowners and agents through the process.
Last, but certainly not least, Brusenhan & Associates Realty - Dallas, Texas is also a residential real estate brokerage providing traditional services for DFW area residents. Traci and I have helped thousands of DFW area families with a variety of real estate and mortgage related needs since 1996. Helping families buy and sale homes is the core of our business and always will be. Combining substantial "past life" experience as a home inspector with our current real estate, lending and pre-foreclosure services, we offer a wide range of knowledge and experience that can be difficult to find.
posted by: Brad Brusenhan
Introducing a fresh new look for your Profile.
Click the 'Edit Profile' button below to enter 'Edit Mode' and continue the tour.