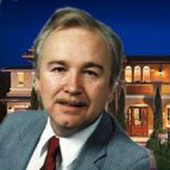 27951
Real Estate Agent
Beryl Gosney
Broker, Veterans Real Estate & Short Sale Expert
Lakewood, WA

—

PNW Towns & Sound (Puget Sound Realty Group)
a leading agent on Internet using hi-tech system since 1995. 95% of my buyers clients save an average of $3000 in out of pocket expenses at closing! Referrals are given high priority!
Get to know Beryl Gosney
As a leading agent on internet since 1995:
I continue to invest heavily in high tech and intergrate them to my internet presence.  I have over 200 websites online which are devoted to practically every facet of real estate. 

I host the "Ultimate Home Search Website", http://www.pugetsoundrealtygroup.com,  which connects buyer clients to over 40,000+ available properties for sale within Washington State; to over 2.5 million properties listed for sale in all 50 US States and Canada; and finally, to tens of thousands of properties for sale throughout the world. 
Serving US Military Veterans and their families since 1995, Real Estate has actually been my second career.  My first career was 27 years with the U.S. Navy.  Today, as a real estate broker, I serve active duty, retired, and discharged U.S. Military personnel throughout the world.  Together with my lending associate, we host a regional VA Homes & Loans Center for Veterans of the Military. 

I personally serve all military commands in Western Washington on a weekly basis:  Naval Station Everett, Naval Air Station Whidbey Island, Naval Station Bremerton, Naval Sub Base Bangor, Regional Seattle Coast Guard, McChord Air Force Base, and Ft Lewis WA.   We have direct contact with experienced VA agents at every military commands throughout the United States. I have sponsored two Veterans home search websites for 20 years!  One of them is current under construction so bare with us.  Visit http://veterans-realestate.com and also our site located at http://veteransrealestate-online.com
Sellers, please visit http://www.homesale-guarantee.com/ which addresses my guarantee program for selling your home and the seven (7) systems I use to achieve results.
My Team Assists Homeowners that want to AVOID FORECLOSURE.  We have a 95% short sale success rate since 2007.
I have over 15 Years of Short Sale & Negotiating experience.  Our short sale negotiating team partners with legal law teams, escrow and title companies, home inspectors, and top mortgage lenders, who specialize with Short Sale closings. 

Be sure to visit http://shortsales-online.com


Our team and partners accumulated 150+ short sale approvals as an annual average since 2007 , primarily due to experience, perserverance, and unique stratagies and techinques not commonly known.
Here are other real estate websites you may find of interest:
http://pugetsoundrealtygroup.com 
http://www.veteransrealestatetoday.com                                              
http://veterans-realestate.com
http://veteransrealestate-online.com
Beryl Gosney's Blog Posts
Certifications
First of all, clients need to know.....I am NOT your average agent.Brokers & Agents need to know... (I can show you how to cut your overhead to ZERO! I am recruiting in 7 Western Washington Counties and all the cities below!
Brokers and Agents:Here's your chance to join me and make considerable residual income like never before.Yes even in a challenged market --- thats the beauty of converting -- just like I did.
We have the tools to put our businesses on the fasttrack for you and our families.  We've reduced our overhead just like you can do.  I'll show you how.Your earnings potential goes out of site --- the synergy within our teams is like nothingI have ever seen in my 40 years of retailing!The hardest part is making the decision to join the team --- once you do, you'll never look back --- and your family won't let you, seriously!Would you like to be a Short Sale Team Member or Team Leader for your WA State county?  (contact Beryl Gosney at my personal email address at berylgosney@aol.com)
75 more cities coming online once I can get these above started.  So if you know of someone in these cities,come on board with my team, and you can service the territory yourself.
7500 Square miles of coverage.  I have lived in Western Washingtn most of my life and know the area very well --- I lived in the Olympia-Tacoma area, Bremerton-Silverdale area, lived 17 years in Oak Harbor on Whidbey Island, in Seattle off and on, in Bellingham and Mt Vernon areas, and of course, the past several years, in surrounding Everett area.
I am a student of learning when it comes to real estate.  I am so fascinated with the industry that I just surpassed over 2200 hours of classroom training which has signficantly benefitted my career and my clients.   The average agent takes about 360 hours in a 20 year career.
I believe the combination of my knowledge, skills, and abilities has given my clients the advantage in real estate transactions. 

I have a work ethic which many clients have noted in their testimonials --- I never give up nor do I quit!  Since 1994, I have NEVER lost a client as the result of a real estate transaction I have managed.  I work hard to ensure my negotiations are a WIN-WIN for both parties.  I am honest, fair, and I take great pride in saving an average of $5000 in out-of-expenses for 95% of my buyer clients at closing.
My list of real estate specialties is rather lengthy  However, it clearly demonstrates why I have 2200 hours of classroom instruction and why training for me, is an on-going event for the benefit for those I serve.  Here's the list:
-First Time Home Buyers
-Homeowners upsizing or downsizing or moving out of area
-Military & Civilian Relocation
-Employer-Employee Benefit Program Specialist
-Senior Citizens
-Past, Present, & future U.S. Military personnel
-Wedding couples (my wife owns www.PugetSound-Weddings.com - she marries folks and I find them homes!
-Home Selling Specialist (guarantee sale program at www.homesale-guarantee.com)
-Expired Listing Specialist (I can sell listings that have not SOLD previously!)
-1031 Exchanges
-Stop a Foreclosure!
-Buy a Foreclosure!
I specialize in the following kinds of properties:
-Single family homes
-Condominiums
-Townhouses
-Multiple Family Properties
-Victorian (vintage) Home Specialist
-Luxury Homes
-Equestrian, Farms & Ranches
-Vacation Properties
-Investment Properties (single family rentals)


I have a reputation for helping folks make money through real estate.  I do not support the idea of buying manufacturered homes on a lot or in a park.  There are certainly are agents who make this facet of real estate their speciality.  I'm just not one of them.
I have one of the most deversified "teams" in the industry...
Financial Planning & Counseling Services
Leading Loan Officers with Unsurpassed Loan Products
Reputable & Affordable Home Inspectors
Real Estate Attorney's
Best Title & Escrow Companies
You name it, we have the resources and the team member with the experience!
Testimonials for Beryl Gosney
Outstanding!
I must say, I had a real smooth experience when dealing with Beryl as my agent. I would highly recomend him and his services to anyone! As matter of fact I have multiple times. I wil be useing him again in my future purchases as well.

- Jon Beste (Bought a home with Beryl Gosney in Everett, WA)

--------------------------------------------------------------------------------

The VA Short Sale was Painstaking, but with Beryl´s knowledge and experience he never gave up.

Short sale or a VA "compromise sale" You just got get out there and YouTube it! Make sure you educate yourself. Then Talk to Beryl to get the rest.

A short Sale can be like a boxing match. You want someone in your corner that will get you prepared for match of your life. It´s the championship bout and you´re your setting yourself up to go toe to toe with your mortgage holder. You only have 12 rounds each round is like a month. Don´t think you can do this yourself if had to do if all over again I would have listen MORE to Beryl. If you have been transferred do not miss that payment! Buy your next home first if you can. Ask about a quick strategic short-sale and see if it is right for you if you´re not sure what I´m talking about, talk to Beryl!!! Time is ticking away and you need to get with someone who knows this stuff inside and out. Remember an offer needs to be submitted to the bank before they will even get started. When they get stared it takes time so be prepared. Have the sale pending accepting other offers and get as many backups as you can. Look out for the would-be investor offers that ties up your property and then drop their offer for the greener yard next door. Get lined up with someone who wants to live in the house and get them to do an inspection up front. If they really want the house they will do this if not you don´t have time to waste.... again the time is ticking..... Get Beryl he knows how to set theses contracts up so you´re not sitting there off the market without provisions that protect you and backup plans when things go south. Believe me, they can and will go south and Beryl is prepared! Time is ticking.. you don´t have any time to waste with someone who thinks they can do this, get someone that can and will do this!

I would recommend Beryl to anyone doing a Short Sale or VA compromise sale he´s the one you want in you corner who will go the distance and WIN !! I was able to buy my second home after I got transferred then do a VA short sale on my house. I got my deficiency waved, and a year later back to 700 and climbing. Very Smart Beryl, VERY SMART! Thank you and God Bless!

- Thomas Van Lew (Sold home with Beryl Gosney in Lake Stevens, WA)

--------------------------------------------------------------------------------

Responsive, Swift and Knowledgeable.

I met Beryl Gosney in 2001. He helped my by my first house. A couple years later he helped me sell that house and buy the next house. I am currently working with him to sell the second house and buy a third house.
I have kept Beryl locked in my cell phone over the last 11 years because no matter what is going on, he has the answers and keeps up to date with all things housing and banking. He is a one stop shopping real estate agent.

- David Lee (Bought a home with Beryl Gosney in Shoreline, WA)

--------------------------------------------------------------------------------

Went quite a few extra miles

I found Beryl by chance. I was looking for someone with Veteran ties when I came across his website. Our first day out, my wife and I had a VERY WIDE area of homes we wanted to see. Beryl took us to each one, smiling the whole way. Along our journey, he imparted knowledge to us that helped us make a good decision based on what we wanted. He was very thorough and talked us through each step of the offer process and everything that followed. He has a great reputation with other agents and people in the biz. We not only found a great realtor but now have a good friend that we made in the process. Give him a call and you will find out why for more reasons than one that he is ..."The King". Elvis has left the building.

- Jon and Stephanie (Bought a home with Beryl Gosney in Snohomish, WA)

--------------------------------------------------------------------------------

Goes the extra mile

Professional, knowledgeable, courteous and patient sum up our home purchase experience with Beryl. We had exacting criteria for our home search and location and Beryl was very helpful sharing his experience and knowledge during the purchase process. We highly recommend his services. In all of this, we´ve become friends through one of the most expensive purchases we´re ever going to make.

- Dan & Annette (Bought a home with Beryl Gosney in Mountlake Terrace, WA)

--------------------------------------------------------------------------------

Got the job done!

Beryl did a great job with my short sale and kept me informed throughout the entire process! He also was not discouraged at all when things did not go exactly as planned and stayed committed to getting the job done and the short sale closed! Thanks Beryl!

- David (Sold home with Beryl Gosney in Marysville, WA)

--------------------------------------------------------------------------------

Beryl is extremely knowledgeable at what he does!

Beryl sold us our first home in 2007, we liked him so much through the whole process that we used him again with our short sale! He has become more than just a realtor to us, he has also became a friend. We would highly recommend him and we look forward to doing business with him again in the future.

- Dave and Karen (Bought a home with Beryl Gosney in Marysville, WA)

--------------------------------------------------------------------------------

Voice of calm and reason in the rough waters of short sales

My husband and I have a unique situation where we are selling one home on short sale and purchasing another on short sale at the same time. Between the two transactions (especially as I am a first-time home buyer) it has been confusing, frustrating and a bit scary to say the least. Beryl has been a calm voice of reason throughout these transactions and is an absolute bull dog when needed to make sure that the job gets done. His quick, organized and no nonsense approach has helped us remain calm and collected! I would highly recommend him to our friends or family.

- Adrienne L. (Bought a home with Beryl Gosney in Shoreline, WA)

--------------------------------------------------------------------------------

Short Sale Assistance

Been working with Beryl on the Short Sale of our home. He is persistent, knowledgeable, personable and extremely hard working. He is determined to be successful and is on top of things every minute. My husband and I would highly recommend him.

- Patricia Headrick (Worked with Beryl Gosney in Marysville, WA)

--------------------------------------------------------------------------------

Beryl helped me with a short sale when others couldn´t

He claimed to close 95% of his clients short sales. Now I see why and how. He has an extraordinary network of professionals and was coaching the law teams when they hit obstacles. He has contacts in these banks to get the ball rolling. I closed my short sale in 3 1/2 months.

- Ben Gomez - Bothell (Sold home with Beryl Gosney in Bothell WA)

Introducing a fresh new look for your Profile.
Click the 'Edit Profile' button below to enter 'Edit Mode' and continue the tour.